Men's WCHA Hockey
'Ice In His Veins': Mavericks Freshman Akito Hirose Is Making An Impression
'Ice In His Veins': Mavericks Freshman Akito Hirose Is Making An Impression
Akito Hirose is turning heads at Minnesota State and in the WCHA. What can the freshman phenom cook up next?
Jan 7, 2021
by Tim Rappleye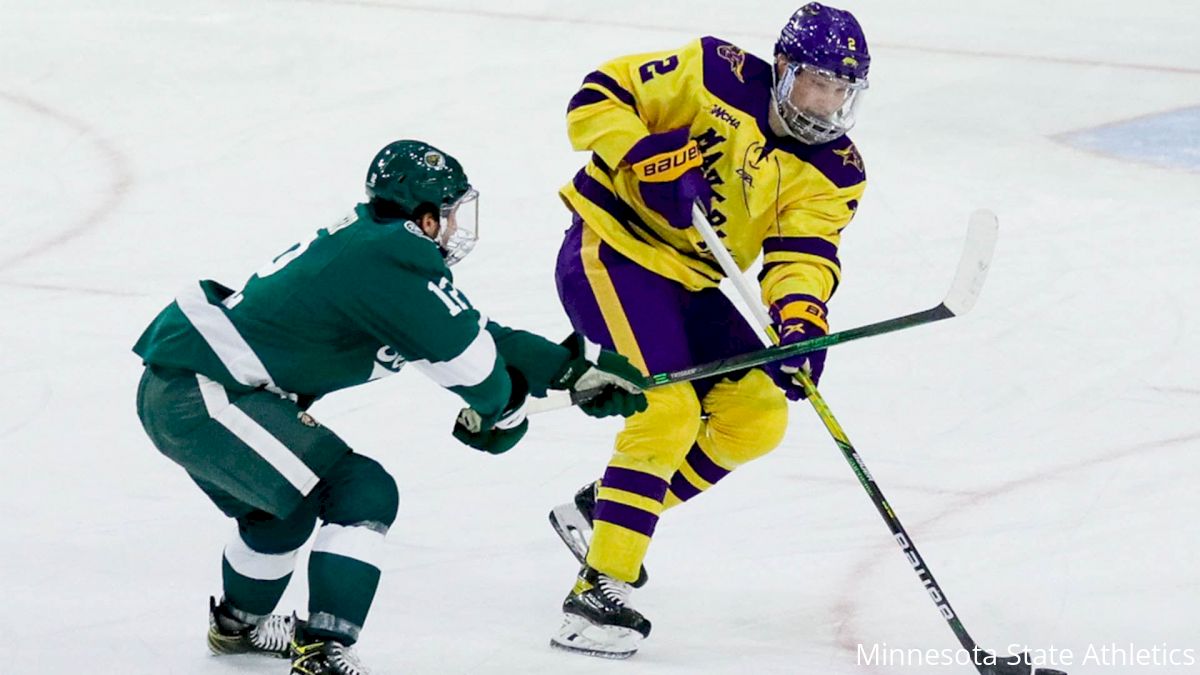 Unless you were watching the live stream of last Saturday's Minnesota State vs Northern Michigan game, you probably missed it. And because of the 9-0 goal differential in the series, Nathan Smith's power play goal in the first period did not jump off the scoresheet. But those who saw it live saw something remarkable: a freshman treating Division I hockey like child's play.
Akito Hirose to Nathan Smith for a pretty PP goal. 2-0 Minnesota State leads Northern Michigan in the first period. pic.twitter.com/9SkUe9xYDy

— Chris Dilks (@ChrisDilks) January 2, 2021
That world-class helper was courtesy of Akito Hirose, known to his teammates as Kit, the WCHA's Rookie of the Month and the Rookie of the Week two times running. A defenseman with a remarkable hockey IQ, Hirose thrived on the Olympic-sized ice at Northern Michigan, picking up a goal and three helpers to raise his scoring totals to 1-6-7 in seven games played. It's not just his vision that allows him to thrive.
"There's a little deception to him," said Mavs associate head coach Todd Knott. "You draw people to one spot, and you throw it to another. He's done that a couple of times for us on the power play this year."
Hirose runs the Mavs power play, percolating at over 31 percent this season, and gets a lion's share of ice time at even strength as well. Knott cannot recall the kid known as Kit ever having one of those turnovers that are usually part of the DI learning process.
"Ice in his veins," said Knott. "Whether that's on a power play, whether that's on a breakout with pressure, he does a good job handling that. He never gets too high or too low."
Although Knott is credited for getting Kit from his Salmon Arm junior squad up to Mankato, former Mav Brett Knowles deserves a primary assist. Knowles was a trainer for Hirose's BCHL Silverbacks, and called Knott about a 150-pound defenseman with a large upside. Knott's ears perked up half a sentence into the call: "I know we talked about, if there was ever a special player . . . "
Knowles had been seen enough of Hirose to see a future star.
"He brings up Kit," said Knott. "He said he was around every day of practices.'This kid, between his poise and his vision, he's just not strong enough right now, but the other tools are there,'" recalled Knott of the Knowles pitch back in 2018. "That's how the whole process started. From that point on, both Coach Blue and I went to watch him early that next year, and the rest is history. It's a small world in recruiting."
A critical part of Hirose's development was how Salmon Arm coach Scott Atkinson helped the teen transition from forward to defense.
"Scott Atkinson did a phenomenal job with him," said Knott. "Because what he lacked — defensive detail, the rush stick play, all those little things — every time I went back and watched him, it got better and better and better."
Under Mike Hastings, the Mavericks have had a Who's Who of stud defensemen, names that are reeled off by coaches and writers alike: Zach Palmquist, Kurt Davis, Casey Nelson, Daniel Brickley, and last year's star Connor Mackey. But none of them is a proper fit when trying to describe Hirose's game. Knott had to go deep into his memory bank to come up with the best comparison, and it was a forward, not a defenseman.
"We had a kid by the name of Zach Lehrke," said Knott. "Zach was pretty small. His senior year with us he ran the power play from the point. There's similar things that those two do. It's a terrible comparison because it's a forward and a defenseman, but they have a lot of the same intangibles."
When describing Hirose's upside, Knott concedes that "the sky's the limit" because of Hirose's work habits and consistency.
"There hasn't been the good day/bad day, good game/bad game — I don't see an emotional swing. He just goes about his business, and that's what makes him special, that's why I think there's such an upside."
It's no mystery that Kit needs to add bulk to his 6-foot, 170-pound frame, and that's why he's been a fixture at the David Backes weight room in the bowels of the Mayo Clinic Health System Event Center.
"Our strength coach is going to have to be his best friend for the next couple of years," said Knott. "He knows that's the one thing, (and) he's committed to it."
Another asset for Hirose are his bloodlines. He is following the path of older brother Taro, who also progressed from Salmon Arm to NCAA (Michigan State) before making the jump to the NHL Red Wings organization.
"Kit talks to his brother all the time," said Knott. "He's got someone, a direct line he can call if there's any questions some of the things he's going to be going through in a few years."
In the meantime, the younger Hirose will be patiently marking his time in Mankato, a freshman who appears to have mastered a level of competition that often humbles newcomers. The Mavericks were scheduled to host Michigan Tech this weekend, a series that has been postponed. Whenever we do see that series, though, Hirose will find himself matched up against the Huskies 6-foot-5 freshman winger Carson Bantle. Bantle edged out Hirose as the WCHA's pre-season Rookie of the Year before the season's first puck was dropped. Fans can judge for themselves who is the more impressive newcomer when these two teams finally clash.
---
Tim Rappleye is the author of two books: Jack Parker's Wiseguys and Hobey Baker, Upon Further Review. You can find him on Twitter.