ECHL
Playing With Speed: Lawton Courtnall Gels With The Wheeling Nailers
Playing With Speed: Lawton Courtnall Gels With The Wheeling Nailers
Lawton Courtnall plays like his dad: with speed. Hear more about how the Wheeling Nailers forward is transitioning from college to the ECHL.
Jan 7, 2021
by Mike Ashmore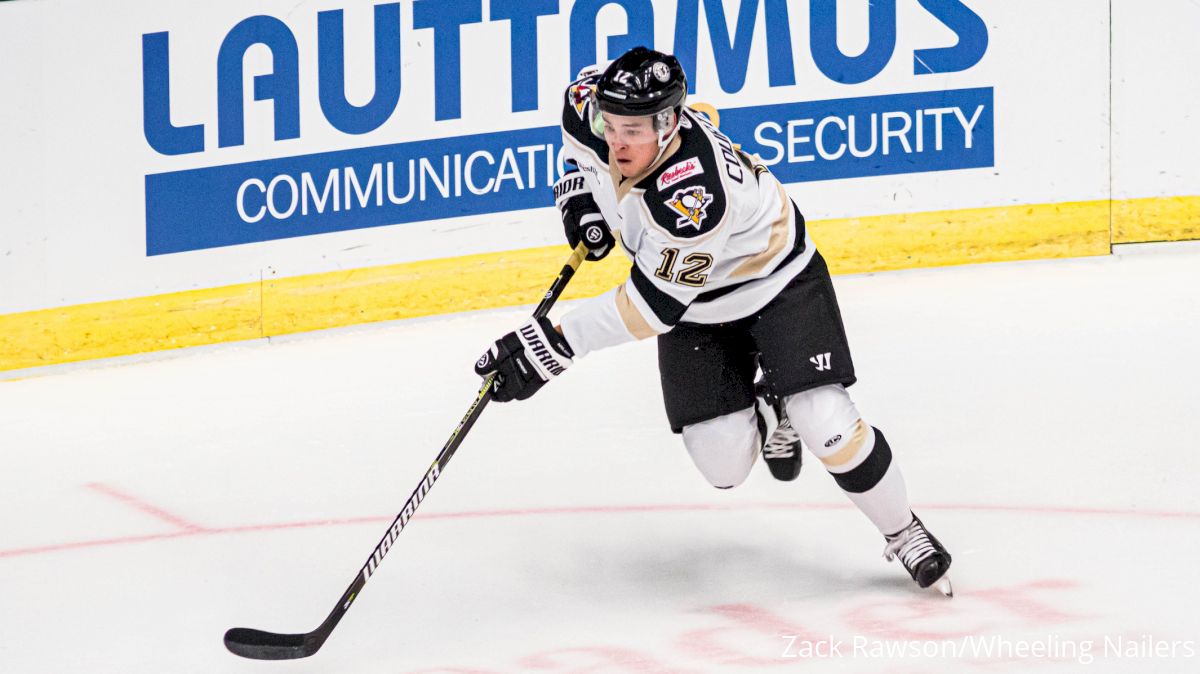 Lawton Courtnall is used to it by now.
The first-year Wheeling Nailers forward has a recognizable last name in the game of hockey – his father, Russ, and uncle, Geoff, combined for 2,078 games in the National Hockey League and potted a whopping 664 goals between the two of them – and knows that, sooner or later, the questions are going to start coming about his famous bloodlines.
"I've lived it with it my whole life, obviously," Courtnall told FloHockey through a chuckle.
"My dad has helped me out a lot, and he's taught me so much about the game and how to play and how to be a pro, pretty much. I told him at an early age that I just wanted to do things on my own, that I didn't want his help getting on teams and stuff like that, and that I wanted to put the work on my back and do it my own way. But he's definitely helped me. I still call him after every game, and he's watched every single one of my games pretty much my whole life. He's got a lot of good input."
Surely, he's liked what he's seen so far out of his 24-year-old son on the FloHockey broadcasts.
The former Western Michigan University standout has a goal and an assist in his first seven ECHL contests this season, and has fit in well as he's quickly had to get acclimated to the pro game under the unique circumstances of a pandemic.
"It's kind of a weird year, and I didn't even know if I was going to be playing this year, so just the fact that I'm on a team and playing games, it's been amazing," Courtnall said. "I love Wheeling, it's been amazing. They're a great organization and they treat us well. It's been a good start, and I can't really ask for anything more."
Courtnall kept his options for playing open after the conclusion of his collegiate career, but the uncertainty over which leagues would be playing and when made for some difficult decisions. In keeping in touch with his agent, Europe was an option, but with many more experienced players heading over there given the potential shortage of opportunities, joining the Nailers seemed like the best possible fit.
However, it's been a slow start for the team as a whole, as Wheeling is off to a 1-3-3 start over the first few weeks of the season.
"We have a lot of rookies on the team, and we're still just trying to figure out our identity as a team," Courtnall said. "We've been playing well and had a lot of close games that didn't go our way towards the end, but I think we're moving in the right direction and have added some good players and players that will definitely help us out. I like the direction our team is going, and we're working hard every day in practice. Guys are working hard, figuring out their roles, and it's all going well."
Courtnall is among those players in Wheeling trying to settle into a role.
While he has his dad's trademark speed that helped keep him in the NHL for 16 seasons, their styles of play are somewhat different; Lawton Courtnall profiles as more of a defensive-minded forward, which, while it doesn't lead to some of the garish numbers his father was able to produce at the top level, is still a skill set that every team at every level can use.
"He could fly around, and luckily, I got that as well," Lawton Courtnall said. "That's what I kind of model my game after, is that speed. I like to do things fast, and luckily, I got the legs that he had. My skating ability is a big part of my game, but besides that, I think we're pretty different players. He was a pretty skilled playmaker, and I'm more of a penalty killer — I grind. I like to say I'm a power forward and I get the puck to the net."
The six-foot, 210-pound California native is hopeful that style of play is what gets him moving up the ladder to one day follow in his family's "big league" footsteps. But, he's also shown he has some scoring touch as well, having posted a 15-goal campaign in his last season in the USHL.
"To be playing at all, I'm just lucky and I take it as a blessing," Courtnall said. "I want to take some steps with my game offensively here in Wheeling. In college, I was a very defensive player, and that was the role I took on. I loved it, I loved (penalty killing) and doing all that, but I want to round my game out a little bit more and have better touch around the net and get pucks there in general. I'd love to, and if I do get the opportunity on the power play or something like that, I think I could be an asset. But I just want to play my game, I don't want to be somebody I know I'm not. I know I'm a defensive player, but if I can also add some numbers, that's just another attribute that would be good for teams to see."
---
Mike Ashmore has 17 years of experience covering professional and college sports. You can follow him on all social media channels at @mashmore98.