Men's WCHA Hockey
WCHA RinkRap: Bowling Green Stunner, Tale Of 2 Games & Escalating Rivalry
WCHA RinkRap: Bowling Green Stunner, Tale Of 2 Games & Escalating Rivalry
Bowling Green won a stunner (and earned some tasty pizza), an insane penalty shot, and a Michigan rivalry that's quickly escalating
Dec 21, 2020
by Tim Rappleye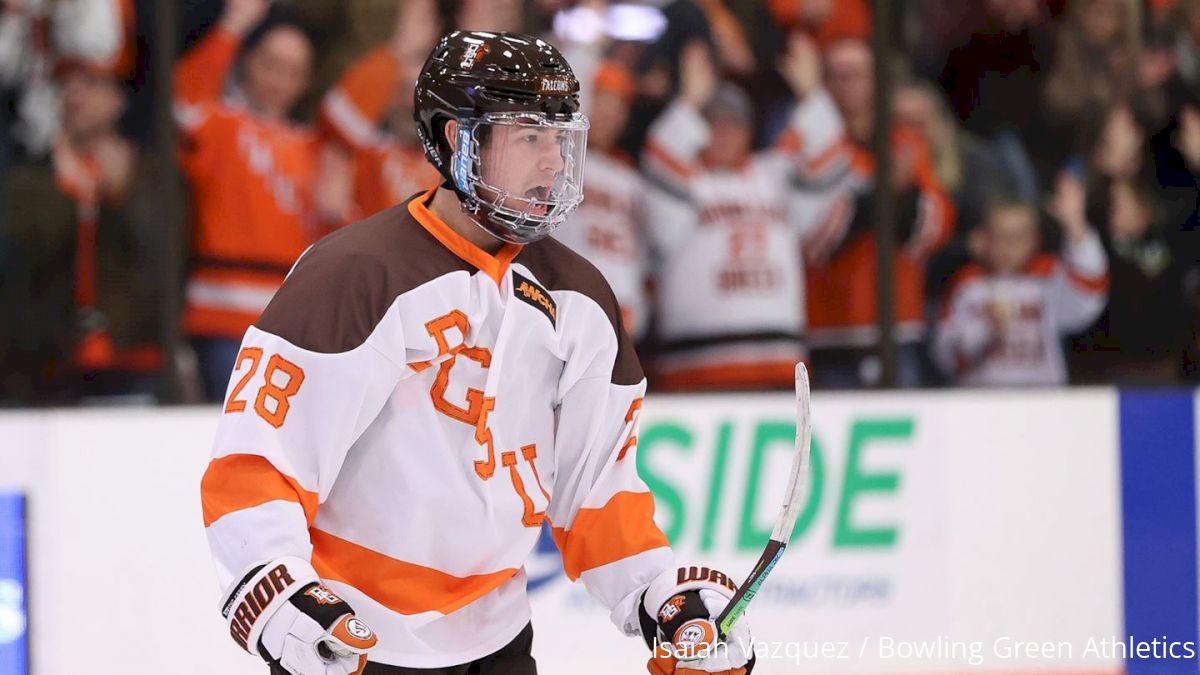 This Christmas version of the WCHA RinkRap features a tasty reward for the BGSU Falcons after their impressive sweep in Pizza-town, a German sniper conducting a shootout clinic in Mankato, and a Yooper grudge match createing serious ripples off the ice.
Bowling Green senior Brandon Kruse has always been a pass-first player. On Saturday night, all that changed. Trailing No. 11-ranked Quinnipiac 2-1 with barely six minutes left in regulation, Kruse found a loose puck deep in the attacking zone. Very deep. Like just a few inches inside the goal line, below the faceoff circle.
"Not a lot of time left in the game," said Kruse, who did a rapid-fire assessment of his options. "We knew this goalie has been struggling controlling pucks."
That goalie was the much-decorated Keith Petruzzelli, a 6-foot-5 shot-blocking pyramid that appeared to have the game under control. So Kruse chose option B, something out of character and completely unexpected. He wound up and let it fly.
"I just wanted to get the puck on net," said Kruse.
And did he ever. It's now a rarity to beat a college hockey goalie without the aid of a deflection, screen or rebound, yet this terrible-angle laser did just that.
"I got good wood on it and put it by his ear."
It was his only shot of the night, but it was Bunyanesque.
"A big-time shot!!!" said Falcon coach Ty Eigner, who included all three exclamation points in his response.
Viewers and readers will have to take his word for it. The supreme cameras employed at Quinnipiac's palatial People's United Center couldn't track it, but the celebrations were real. Kruse's tying goal generated momentum for the Orange and Brown, translating into a late power play snipe for Connor Ford which proved to be the game-winner. A strong case could be made that the Kruse missile flipped a loss into a win, transforming BGSU's weekend from just another split into a road sweep against a national power.
The word "triumph" was part of ancient Rome's culture, when war heroes returned home with hard-fought treasures from distant lands. There were echoes of Caesar when BGSU's sleeper buses stopped at New Haven's Wooster Street and its famous Pizzeria Napoletana, where the Falcons loaded up on the region's local treasure
"Being one of the top pizza places in the United States and getting the sweep, it couldn't have tasted any better!!" said Kruse.
To the victors go the spoils.
How Sweep It Is! @BGFalconHockey's East Coast road trip ended on a tasty note with a trip to famed Wooster Street. pic.twitter.com/4HgHgfOgeB

— Tim Rappleye (@teeraps) December 21, 2020
A Tale Of 2 Games
The WCHA's battle of Minnesota — Bemidji State vs Minnesota State — was a tale of two games: the first a high-scoring affair with defense as an afterthought, and the second a defensive struggle with neither team able to generate more than a single goal. After a futile five minutes of overtime, Beavers coach Tom Serratore left his bench to chat face-to-face with counterpart Mike Hastings to discuss whether or not to conduct a shootout. After all, there was no point in the standings to vie for, and no fans in the Mayo Clinic Center to entertain. They ultimately decided to go through with the shootout, a good rehearsal for upcoming WCHA league games.
Through the first four rounds of the shootout, the goalies remained dominant. But then German junior Julian Napravnik demonstrated what Europeans refer to as technical skill. Although it would not add to his official goal total, it left FloHockey viewers in awe. The trail run served its purpose — Coach Hastings has found his shootout specialist.
.@MavHockey Julian Napravnik making a Shootout look like child's play. pic.twitter.com/IDBy83auDW

— Tim Rappleye (@teeraps) December 21, 2020
Michigan Rivalry Escalates
The latest chapter in the battle for Yooper bragging rights had repercussions beyond Michigan Tech's convincing sweep over rival Northern Michigan. Wildcats coach Grant Potulny is officially fed up with his team's tendency to take costly, unnecessary penalties. He is now using his ultimate weapon to combat his club's bad habits: ice time. Scoring star Griffin Loughran learned the hard way after an early major for interference.
"Grif didn't play a shift after his penalty," said Potulny in the aftermath of the sweep.
Potulny also put a player in the stands for illegal play that the refs missed.
"It's still an issue. It's got to get worked out."
Meanwhile, on the other bench, Joe Shawhan conducted a world-class rant in Friday's post-game, venting his frustration with the officials despite winning in overtime. Commissioner Bill Robertson showed some holiday spirit by not enacting any supplemental discipline. Neither Robertson nor WCHA supervisor of officials Greg Shepherd chose to comment, and Michigan coach Mel Pearson, who was mentioned as a fellow victim of the refs during his time coaching Tech, had not yet seen the tape. Robertson apparently took Shawhan at his word, when Coach Joe admitted repeatedly to Huskies broadcaster Dirk Hembroff that he was venting.
There is now a strong "Us Against Them" mentality up in Houghton, one that has unified a team that appears to be on a mission.
Sweep celey. #mtuhky #FollowTheHuskies pic.twitter.com/zSUwNSPuXs

— Michigan Tech Hockey (@mtuhky) December 20, 2020
---
Tim Rappleye is the author of two books: Jack Parker's Wiseguys and Hobey Baker, Upon Further Review. You can find him on Twitter.