ECHL
One Strange Night: GM Thiessen Steps In As Coach For Kansas City Mavericks
One Strange Night: GM Thiessen Steps In As Coach For Kansas City Mavericks
Ten on the COVID-19 restricted list, no goalies, and a GM as head coach — the Kansas City Mavericks had an opening night to remember.
Dec 18, 2020
by Jason Guarente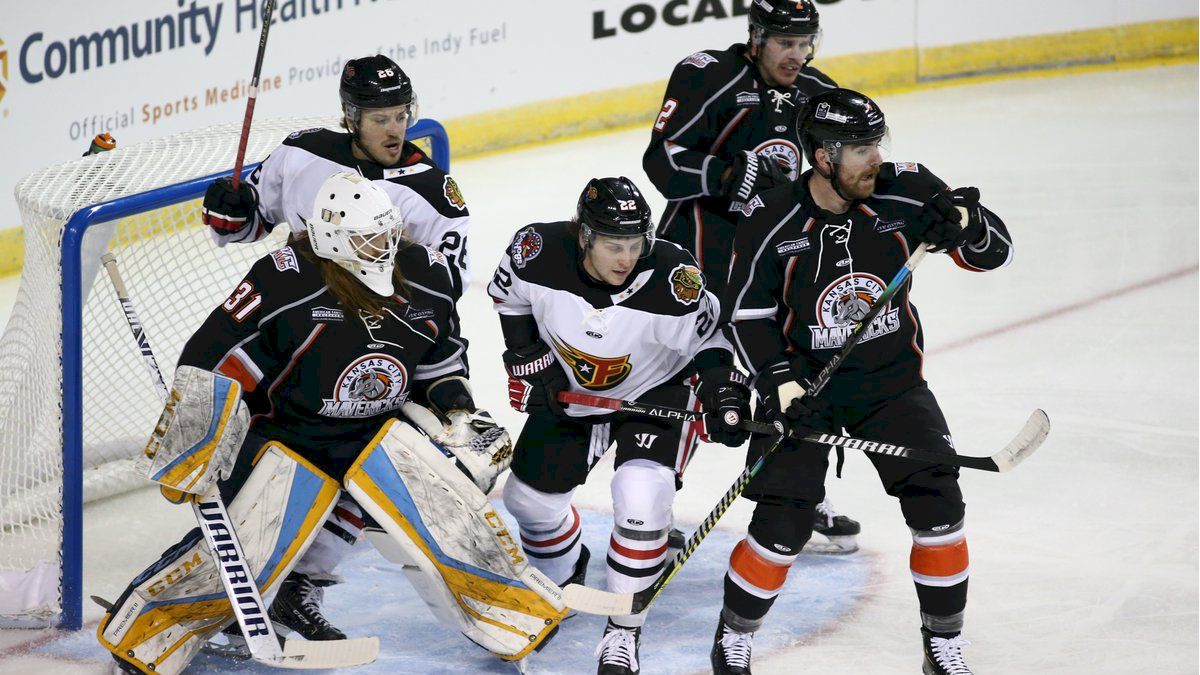 Brent Thiessen never thought much about coaching. He's a lifetime executive who didn't play pro hockey and is usually more focused on the business side of things.
Thiessen was the man who helped pick the coach. He had no aspirations to be one.
One strange night, opening night, those plans had to change. Someone had to run the bench for the Kansas City Mavericks and their team president was the best option left.
Thiessen made his coaching debut against the Indy Fuel on Dec. 11.
"We were very prepared," he said. "We were one of the first teams that opened training camp. We had guys in that room that knew what we were trying to do. They knew the systems that we were putting into place. I certainly felt that I could do it."
What it came down to is the Mavericks felt like they had to play. Even with 10 players on the ECHL's COVID-19 restricted list. Even with head coach Tad O'Had and assistant Kohl Schultz unavailable. Even with no goaltenders.
So much effort was put toward opening night. They had to play.
"It was important for us to show that COVID is going to make all of us have to adapt," Thiessen said. "It was important to get the game in. We figured out a way to do that. We were flexible. Everyone stepped up."
The Mavericks played three defensemen at forward. They signed veteran Sean Bonar at the last minute to be in net. The puck dropped as scheduled.
Thiessen called out the line changes. He picked the power play and penalty kill units. He made in-game adjustments. During intermissions he had brief phone calls with O'Had and Schultz to keep everything on track.
The Mavericks, incredibly enough, nearly pulled out two points. They were ahead 3-2 heading into the third period. Derek Barach's goal with nine seconds left forced overtime and the Fuel won in a shootout.
Maybe that was the best possible introduction to coaching. It can be a gut-wrenching job.
"The coaching staff told us right away it's going to be a strange year with everything that's going on in the world," forward Austin Farley said. "One day you're going to look back and say, 'Wow that was pretty strange.' The president running our bench. He did a phenomenal job."
Thiessen, who grew up in Colorado, played hockey from when he was about three through high school. He was a football player in college. Most of his professional career has been spent running the Mavericks, a franchise he helped launch in 2009-10 as part of the Central Hockey League.
The ECHL became the first league to resume play outside of a bubble. At least eight of the teams have opted out. Thirteen teams elected to start this month.
Getting the Mavericks on the ice was a monumental task.
"If I told you everything that went into getting us to play, you wouldn't believe me," Thiessen said. "We had to cross it off the list and get to the next item."
There were moments when it was fair to question whether it was worth it. The health crisis has crippled major league teams that have much greater resources than those in the ECHL.
For Thiessen and the players on his bench, returning to action felt cathartic. This is what they love. It's how they make a living. Nearly 300 days had passed since the Mavericks last played a game.
"It's been a very busy year so far," said Thiessen, who serves as the ECHL's Chairman of the Board of Governors. "But I'll tell you what, there was no better feeling in the world than being in that locker room and seeing how happy those players are to be playing hockey."
The Mavericks had a week off before their second game Friday night. They're starting to get players back from what's being called the Commissioner's Exempt List. Their coaching staff is ready to return.
Thiessen's time on the bench was limited to one game. His wife and kids made the trip to Indianapolis so they could see it.
"This will definitely be a story that we tell forever," Thiessen said. "I really enjoyed it. It was great. But I'm excited to get back to normal."
Thiessen's coaching record is 0-0-1. He hopes it stays that way.
---
Jason Guarente has covered the Reading Royals and ECHL for 10 seasons. He can be found on Twitter @JasonGuarente.