Men's WCHA Hockey
Hockey Hatred Is Back With The Northern Michigan-Michigan Tech Rivalry
Hockey Hatred Is Back With The Northern Michigan-Michigan Tech Rivalry
There's no love lost between Northern Michigan and Michigan Tech. The two rivals square off twice this weekend and it's bound to get heated.
Dec 17, 2020
by Tim Rappleye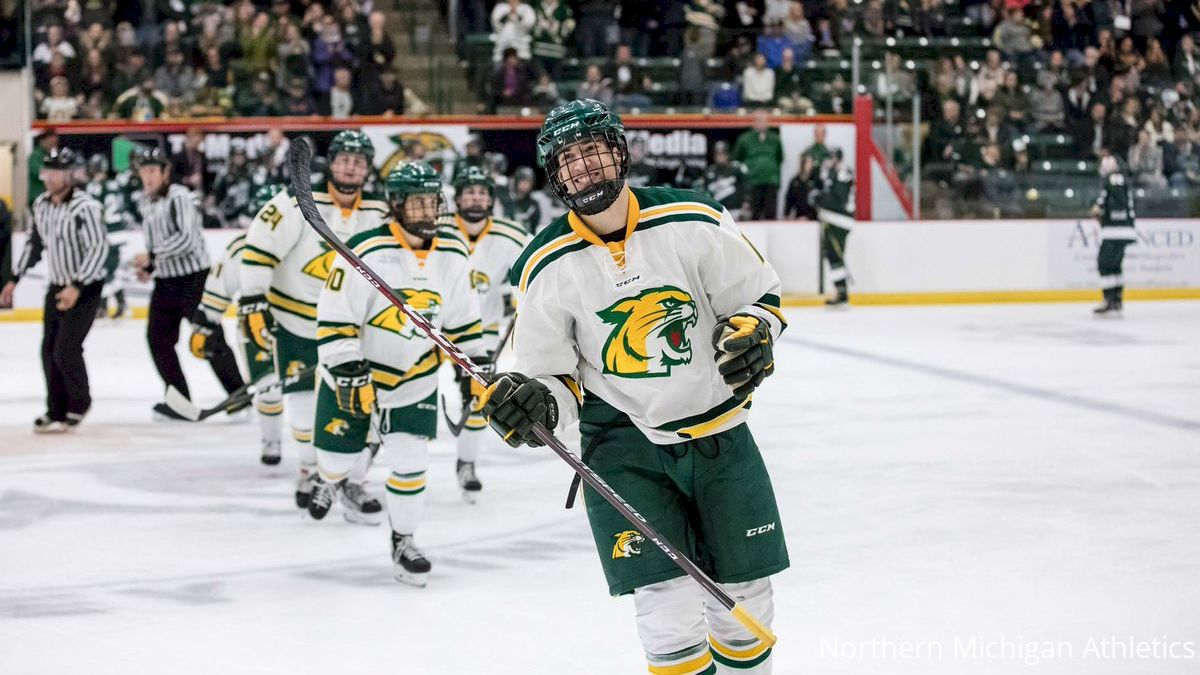 As the COVID-19 curtain rose on the 2020-21 hockey season, the prevailing sentiment has been one of gratitude rather than grit; coaches and players have paid homage to the old trope, "Just happy to be here." And rightfully so, as these games are being played under the narrowest of medical margins.
But starting Friday in Houghton, Michigan, gratitude will be replaced by good old-fashioned hockey hatred, the fuel that burns from ancient rivalries and recent indignities. Last March, in the WCHA quarterfinals, home-ice favorite Northern Michigan had their season snuffed out in triple overtime by Upper Peninsula blood rival Michigan Tech. Adding insult to extermination, the entire Husky squad skated to center ice with sticks cocked like spears, and in unison thrust their blades into the Wildcat logo at center ice.
Watch Northern Michigan vs Michigan Tech LIVE on FloHockey
"Fans or not, this rivalry has been here for a long time," said Wildcat captain Joe Nardi. "We look forward to every year, marking our calendar."
Nardi, who potted the game-winning goal versus Ferris State in a see-saw opening night win, spoke of "redemption" about this weekend's opportunity.
Rivalries generate emotion, and in hockey, emotion often translates to penalties. Last year's marathon finale between the Cats and Huskies saw a steady march to the penalty box, with a dozen penalties whistled. On Wednesday, coach Grant Potulny's Cats were called for a whopping seven minors versus Ferris, a painful reminder for the coach frequently frustrated last season by his team's lack of discipline.
"Gotta manage your emotions," said Potulny in Wednesday's post-game presser. "We gotta play a better defensive brand of hockey, gotta stay out of the box."
Northern's ace sniper Griffin Loughran's last penalty of the 2019-20 season was a minor for slashing in the third overtime versus Tech. During the offseason, it was elevated to a major for spearing, resulting in a game misconduct. That relegated him to the stands Wednesday night versus Ferris. He will make his debut Friday, a 5-foot-6 pepper-pot, whose last campaign brimmed with goals (23) and penalty minutes (93). He is the WCHA's version of "The Little Ball of Hate," and Potulny will throw him right back into the fire on Friday.
"He's going to play with Nardi and Vinnie (Vincent de May), on the power play, and hopefully he can jump right back into it," said Potulny.
One hundred miles west, Huskies coach Joe Shawhan expects no surprises.
"Northern will come out ready to play," said Shawhan on his weekly radio show. "We want to be able to set the tempo. It's just exerting your will when you're on the ice."
It's a case of "Ready or not, here we come," for Northern, a team that has spent more time working out on Zoom this month than on the ice. But according to captain Nardi, playing Ferris in the opener was like riding a bike.
"Honestly, when you get out there and play the first period, your tempo starts to get into the game," he said.
Look for emotions and a familiar setting to transform this home-and-home series from a glorified exhibition for Northern into another chapter in this classic rivalry. It's two former national champions commuting along the base of Lake Superior; it's a continuation of a series that defined two seasons' it's Northern Michigan and Michigan Tech, and it's live on FloHockey.
---
Tim Rappleye is the author of two books: Jack Parker's Wiseguys and Hobey Baker, Upon Further Review. You can find him on Twitter.