Men's WCHA Hockey
A Hockey Odyssey For Alabama Huntsville's Aussie Freshman Tyrone Bronte
A Hockey Odyssey For Alabama Huntsville's Aussie Freshman Tyrone Bronte
A hockey player from Australia on a hockey team in Alabama — you don't see that every day. Tyrone Bronte is forging a unique path from Down Under.
Dec 16, 2020
by Tim Rappleye
The WCHA's rookie of the month is from Australia.
Let that sink in for a moment.
Alabama Huntsville freshman Tyrone Bronte of Melbourne is only the second man raised in "Oz" to ever play Division I hockey, the first since 1992 (Damian Holland, Chicago Circle). On the ice he's merely one of a dozen Chargers freshmen fighting for ice time, but off the ice, well, that's a different story.
"When someone holds the door open for me, I'll say, 'Cheers mate,' something a little bit Australian that people don't get much," said Bronte. "I'll get a weird look."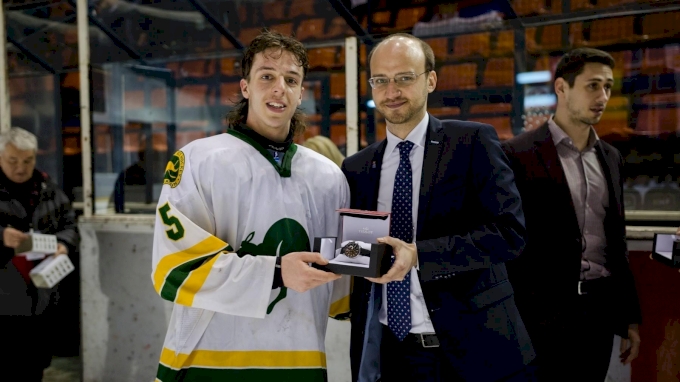 Bronte is a mainstay on Australia's national team.
Language issues in the USA's Deep South are trivial compared to the ones Bronte experienced in the first leg of his hockey odyssey, a prep school in French Canada. English is a second language in Quebec.
"I had to do classes in French," said Bronte, who spoke only English. "It was hard. I had to learn to understand French, which I did. Now I can speak a bit of French."
Aside from the linguistic challenges, Quebec was nirvana for hockey junkie Bronte, where every SportsCenter led with hockey highlights and burger joints honored NHL heroes.
"Everything in Quebec is about hockey, from its meals at McDonald's, like the 'Gallagher Trio' and things like that," he said.
Bronte was immersed in the culture of Quebec Major Junior, but his journey bypassed the QMJHL (aka "the Q") when he hopped over to Michigan to play AAA midget hockey in Lansing. During his free time, Bronte attended a handful of Michigan State games at majestic Munn Arena, where his ambitions took a turn.
"I was like, 'Wow, this is the real deal,' a good comparison to Major Junior," said Bronte, whose former prep school coach Dan D'Astoli had repeatedly told him there was life beyond the Q. "He planted the seed on helping me set my eyes on NCAA instead of Major Junior."
Bronte ended up playing his junior hockey in the U.S. for Wilkes Barre (PA) of the NAHL, a college hockey breeding ground. By his third season he'd become a bona fide DI prospect. But the school he committed to — Alabama Huntsville — was suddenly in the news for all the wrong reasons. During his last season at Wilkes Barre, Tyrone checked in with his old junior pal Adrian Danchenko, who was a freshman at Huntsville. Danchenko alerted Bronte that the Chargers were on the verge of shutting down the program.
"I thought that going into my last year of juniors I would be left with some options," said Bronte, who like most of the hockey world, never finished the 2019-20 season. "I didn't really have many options. I was looking at maybe going overseas, playing Division III, didn't really know what I was going to do."
True odysseys contain many twists and turns, and Tyrone's was no different. Despite losing its coach, Huntsville salvaged their program, and the Chargers' first-year skipper picked up the phone.
"Coach Westy reached out," said Bronte, who was assured he would get his shot in the WCHA. "Getting an opportunity to play, whether it's a program struggling a little bit or not, that's all I could ask for."
The speedy center has made the most of his chance, ringing up three assists in his first college series to earn WCHA Rookie of the Week honors. His phone lit up with good wishes from dozens of virtual strangers, many with accents stranger than his.
"A lot of people I've only talked to a few times," said Bronte. "Honestly, I was just flattered by the outpouring of support."
He is one of a dozen freshmen on the Chargers, all playing for a rookie head coach. In their second series up at Lake Superior State, they found themselves down a pair of goals in a league where goals are precious. On a team as young as the Chargers, ignorance was bliss.
"We don't really know what's normal and what's not," said Bronte, "certainly I don't."
He swears there was no Knut Rockne speech during that intermission, but the Chargers came out flying, scoring a pair of goals in the second period. Bronte's power play marker resulted in the eventual tying goal. The next night the upstart Chargers outshot Lake State 23-18 in a one-goal loss, the kind of moral victory that's vital for a program battling for its life.
"Our goal is to take a step in the right direction — whether it be a win, a loss or practice — every time we play," said Bronte. "We believe if we keep doing that, then things will turn around."
LSSU coach Damon Whitten knew his Lakers had escaped with a win and a tie in their series with Huntsville.
"It's a young team looking for success," said Whitten. "They do a good job, they're willing to sacrifice."
The Chargers youth movement is led by the twice-decorated Bronte, a hockey globe-trotter looking to plant his flag in the NCAA's only outpost in the American Southeast.
---
Tim Rappleye is the author of two books: Jack Parker's Wiseguys and Hobey Baker, Upon Further Review. You can find him on Twitter.