ECHL
Max Novak Makes An Immediate Impact For The South Carolina Stingrays
Max Novak Makes An Immediate Impact For The South Carolina Stingrays
Veteran Max Novak scored the first goal of the year for the South Carolina Stingrays, and after last year's COVID-19 ending, he wants to do a lot more.
Dec 15, 2020
by Mike Ashmore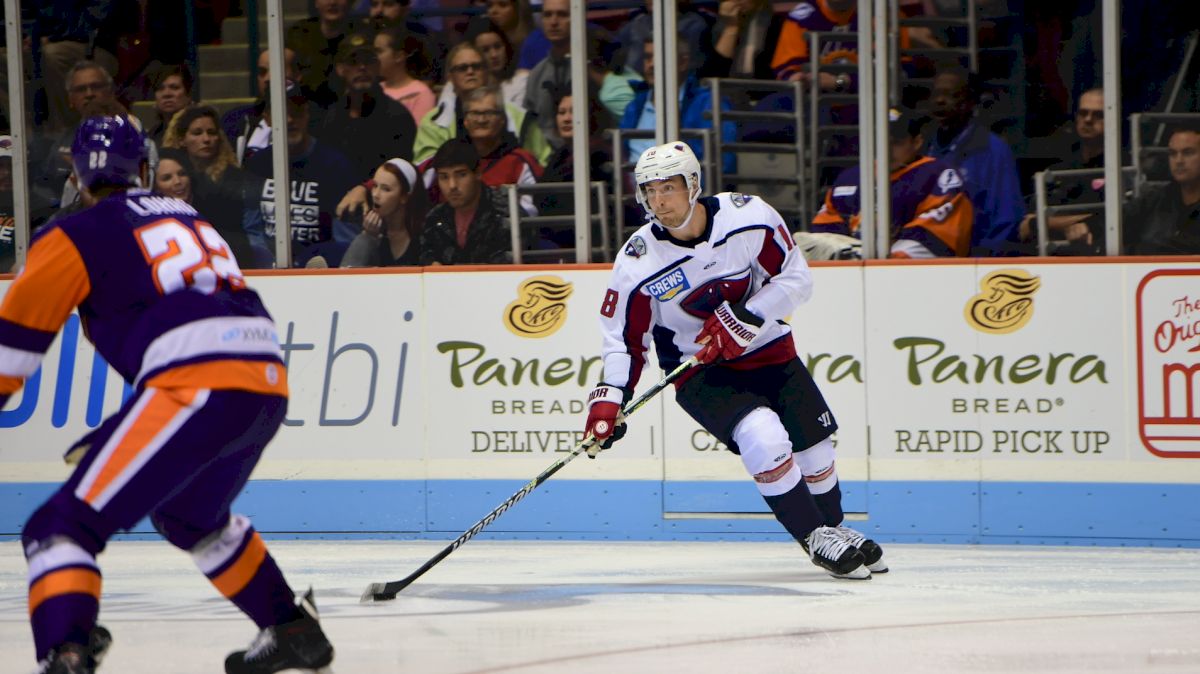 New season, same Max Novak.
The veteran forward potted the first goal of the year for South Carolina, helping the Stingrays earn a critical point in the standings in a 3-2, shootout loss to the Greenville Swamp Rabbits on Friday.
The 29-year-old is seemingly picking up right where he left off last year, as the Oak Ridge, NJ, native put together a stellar 15-36—51 stat line in 2019-20 in his first season back from playing in Europe with Tingsryds AIF in Sweden.
"It was a pretty easy transition to come back last year," Novak told FloHockey prior to the start of this season. "I've played that North American-style my entire life, so there wasn't really much to think about. South Carolina was great for me . . . I have family there, so just to get to play in this area in general, in Charleston, is somewhere I was really familiar with and made it more of a smooth transition. Plus, the team was great last year, so that always helps things when everyone gets along and you're winning games."
Novak, who may best be remembered by hockey fans for the crucial role he played in helping Union College win the national championship in 2014, seemed to have a very real chance to earn his first title in professional hockey last year given how the Stingrays were playing. South Carolina was neck-and-neck with their South Division rival, the Florida Everblades, for the league's highest points total with 92 each, but it was the Stingrays who earned an ECHL-high 44 wins to get there before the March shutdown wiped out any chances to see how it all would have unfolded.
"It was difficult," Novak said. "Pretty fairly early in the year, we realized we kind of had something special. No one could have predicted how things would have unfolded, but things happened the way they happened and there's nothing that we can really do about it. It's out of our control, so it's a little disappointing, but at the end of the day, it's about trying to keep everyone healthy and safe."
That is, of course, the appropriate perspective. But to have gotten that far through a year, the feeling of "what if" remained for some time this off-season, and understandably so.
"It's a strange feeling, because usually at the end of the year, if you win your last game of the year, you're the champions of the league and there's nothing really other than that, and then other times you'll lose your last game, and you know it's over," Novak said. "To not really have that closure on the season, it was strange. But it all happened so quickly, I guess it was more tearing the Band-Aid off quickly than that slow pull. It just was what it was."
So far, so good on getting this season to a proper culmination, however, and Novak looks to be a big part of getting the Stingrays back to the top of the standings according to first-year head coach Ryan Blair, who got to see what Novak could do first-hand as an assistant last season.
"I'm excited to have Max back for sure," Blair said. "He's a guy that can really fly out there, he's got some high-end skill, and he's obviously played at the next level, so he knows what it takes. Honestly, and it could maybe be a knock against him, but he's happy no matter where he is in the lineup. He just comes to work every day and he's a laid-back guy, but when he gets on the ice, he's intense and he wants to win. He's a really good teammate. I'm excited to have him back. He's a great guy and we're looking forward to seeing his career continue here in South Carolina."
---
Mike Ashmore has 17 years of experience covering professional and college sports. You can follow him on all social media channels at @mashmore98.