ECHL
After COVID-19 Snatched AHL Debut, Winiecki Reloads With The Everblades
After COVID-19 Snatched AHL Debut, Winiecki Reloads With The Everblades
Blake Winiecki was just hitting his stride in the AHL when COVID-19 hit. Now he's got a chance to once again prove his talent with the Florida Everblades.
Nov 25, 2020
by Mike Ashmore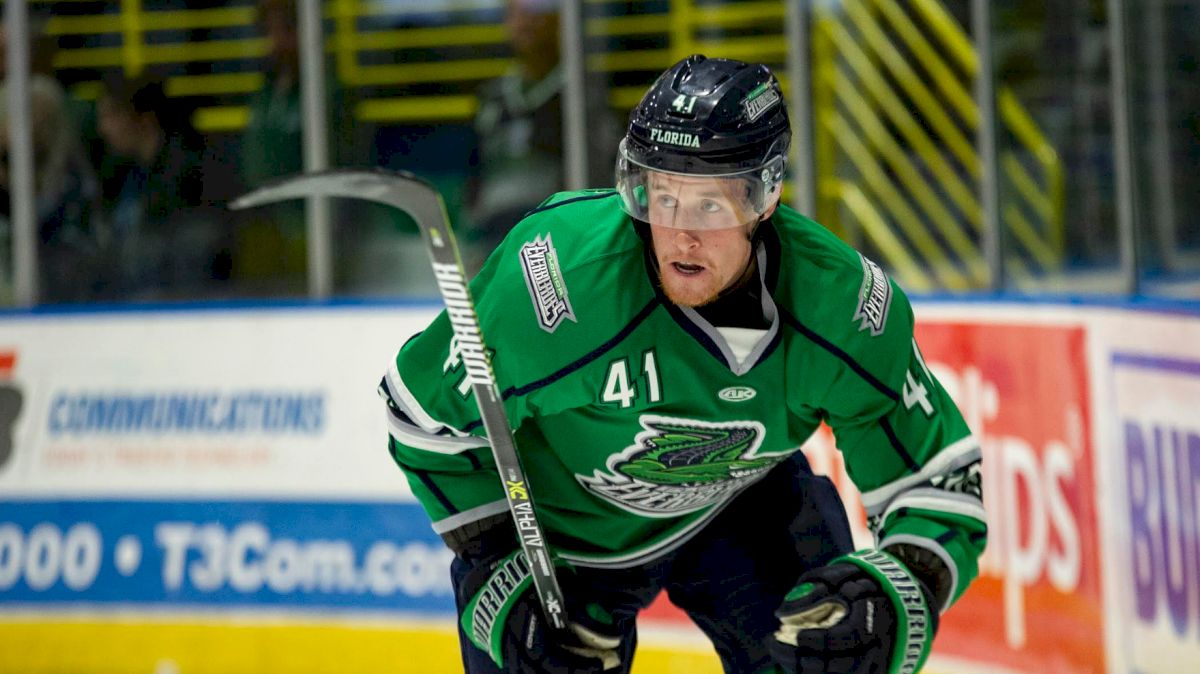 Last season's unexpected shutdown didn't come at a good time for anyone.
Blake Winiecki very much included.
After nearly two full seasons of grinding away as one of the ECHL's top forwards, the Florida Everblades star finally got his chance at the next level, signing a PTO (professional try-out) with the American Hockey League's Charlotte Checkers during the last week of February.
The 26-year-old managed to get on the scoresheet in his seven-game stint, bagging a goal that ended up serving as the game-winner in a Feb. 29 contest against the Lehigh Valley Phantoms. About a week and a half later, that opportunity came to a sudden halt thanks to COVID-19.
"It obviously wasn't thrilling when they made that decision to shut the leagues down," Winiecki told FloHockey.
"It was my first call-up, and I worked hard for it, but I was fortunate that I got to play those seven games and I was there for three weeks. I got to experience a lot, and was lucky Charlotte gave me a chance. I don't think it killed too much momentum (for me) or anything. I was just really happy to have gotten a glimpse of what the AHL was like and to show that I can play in that league. I was disappointed as anyone that all of our seasons ended so abruptly, but hopefully we have a strong team in Florida again this year. I think we do."
"Strong" is actually somewhat of an understatement given what the Everblades have accomplished since he's been there.
A seemingly impossible-to-follow 2018-19 campaign — a trip that saw the former St. Cloud State standout put together a point-per-game postseason — was backed up last year by a 43-14-4-2 start that had Florida tied for league's highest point total (92) and points percentage (.742) in the league before the early-March stoppage.
All of that has the 26-year-old eager to get back onto the ice.
"It's been a long time coming, eight months or so, and I just can't wait to get down to Florida and see all of the guys," he said. "Getting back to practice has never sounded so fun. To do a regular practice in the middle of the season, a lot of times you wouldn't be saying that, but right now practice sounds pretty fun."
Games will soon follow, with the Everblades having been included in the initial group of teams that is set to open play on December 11 as part of the ECHL's split-season schedule format. This approach might already need to see some modifications made after the entire North Division — all of their teams were set for a January start — opted out of the season. As part of that development, all players set to play for those teams became free agents, which will likely make an already-stacked South Division even more competitive when they begin the season with five teams following the opt-outs by two of their own teams.
"First off, I feel so bad for all of those guys in the North Division, as well as Atlanta and Norfolk a couple weeks ago when they called it on the season," Winiecki said. "It's unfortunate for them, and I feel bad for them and hope they can find a spot to play whether that's here, Europe or something. But it is weird with how it will all shake out with the teams that are for sure playing right now, and then a couple that are still deciding. I don't know if all of those teams will be picking up guys from the North Division teams or how that will all work, but I know a lot of teams have signed most of their guys for their own teams. Like everything else in 2020, it's probably going to be weird."
Weird? Sure.
But it'll at least bring some stability for Winiecki, who knows his spot is secure with the Everblades after back-to-back seasons of over 50 points. For Florida head coach Brad Ralph, bringing back his top point scorer from 2019-20 was a no-brainer.
"I think Blake has continued to evolve," Ralph told FloHockey.
"Last year, he had his first crack in the AHL, and he's just a good person. He's certainly been a core player for us the last two years here, and at this level we're all just trying to get better every day here. I still think Blake has another level he can get his game to, but he's a good person who buys into the culture and the style of hockey we want to play here. He's a very talented hockey player, and it'll be exciting with the ECHL being very different this year with a fraction of the teams and the caliber (of play) being much, much higher. That's going to challenge our players to take their game to a new level, and that's exciting."
---
Mike Ashmore has 17 years of experience covering professional and college sports. You can follow him on all social media channels at @mashmore98.