2020 Minnesota State vs Bemidji State - Men's
The Mavericks & Beavers Are On A Superstar Goaltender Collision Course
The Mavericks & Beavers Are On A Superstar Goaltender Collision Course
Minnesota State and Bemidji State boast two of the best goaltenders in the nation — and they're squaring off this weekend.
Nov 17, 2020
by Tim Rappleye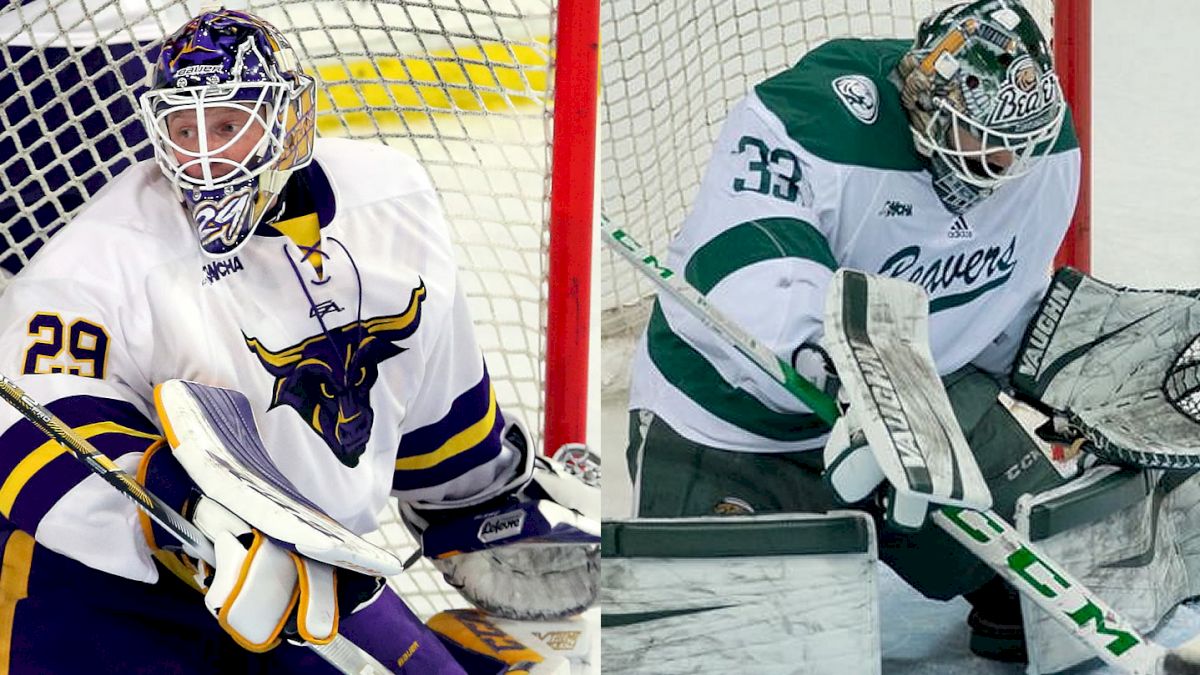 Goaltending.
It is by far the most important position in hockey. A star goalie carries significance comparable to an entire baseball pitching staff. The WCHA has two such aces: Minnesota State's Dryden McKay and Zach Driscoll of Bemidji. McKay had the best statistics in college hockey last season, and he was a finalist for the Richter Award as well as a semifinalist for the Hobey Baker Award. Driscoll, a star in his own right, finished as a second-team All-WCHA selection behind McKay. McKay is this year's projected WCHA player of the year; Driscoll finished fourth in the voting.
For fans of hockey pitching duels, COVID-19's freaky scheduling snafu has served up a bonanza: Driscoll and McKay could meet four consecutive times to open the season, a déjà vu from last year's climactic final regular-season series. Fans will remember Driscoll forcing a winner-take-all finale after his dramatic Friday night victory over the more lauded McKay. The next night, the Mavs superstar restored order, shutting down Driscoll and the upstart Beavers 4-1, clinching their third straight MacNaughton Cup. Head-to-head, Driscoll versus McKay finished the season 2-2.
Watch Minnesota State vs Bemidji State LIVE on FloHockey
For the past decade, analytics have marched relentlessly toward the forefront of hockey tactics. There are dozens of statistical models that coaches pore over in search of a winning edge. One stat lords over all the rest: save percentage. A team with a goaltender that turns away 93 percent of the opponents' shots will likely carry his squad into the winner's circle, just like McKay and Driscoll did last season.
Bemidji's Zach Driscoll put up a .937 save percentage in 2019-20, five-one thousandths of a point below national leader McKay. Driscoll's breakthrough season vaulted the Beavers into title contention and their first 20-win season since 2016-17.
McKay won goaltending's "Triple Crown" in 2019-20: save percentage (.942), goals-against average (1.31), and shutouts (10). He also led the nation with 30 wins, and if not for two losses to Driscoll and the Beavers down the stretch, he would have claimed an unprecedented fifth major category, winning percentage; he lost that race to Cornell's Mathew Galajda by one-thousandth of a point — .862 to .861.
There is another story buried beneath these cold, hard numbers. Specifically, McKay's stats from last season are inflated by the fact he played for a juggernaut. This is the only explanation as to how he lost the Richter Award to Maine's Jeremy Swayman, who trailed McKay in every statistical category. McKay's 10 shutouts and miniscule 1.31 GAA were clouded by the fact that he played for a team that spent entire periods in the opponents' end. McKay shut out Fairbanks with only seven saves last year, he enjoyed a double shutout weekend against 'Bama in which he faced a mere 15 shots per game, one shot every four minutes. Of his 14 career shutouts, he's only faced 20 or more shots six times.
Coach Mike Hastings admits that McKay, the NCAA's best goalie on paper, actually has something to prove this year.
"He understands it's a restart," said Hastings, who lost three studs on defense and a supreme first line from last season. "I think you're gonna see Dryden McKay be a little busier than he might have been a year ago . . . he's going to have to earn the opportunity to win hockey games."
FloHockey reached out to Minnesota's most astute college hockey observers for their WCHA goaltending preference: Mick Hatten, Matt Wellens, and Jason Feldman, and they were unanimous in their vote for McKay. His season-opening streak through Arizona State, North Dakota, and Minnesota Duluth last year was a common theme. Beavers coach Tom Serratore, hardly objective but always passionate, stated that he wouldn't trade his guy for anyone. Can't blame him based on how Driscoll carried his Beavers into national contention with an outrageous 18-game stretch, one in which he posted a 1.50 GAA and a stunning .945 save percentage (stats courtesy of Mick Hatten).
The best way to settle a classic sports argument is on the field, or in this case, on the ice. Challenges like this are always preceded with a disclaimer, "All things being equal . . . " Well, unlike last year when the Mavericks had once-in-a-generation talent, the Beavers and Minnesota State have comparable talent this go-round. So in these games, four popcorn matchups that elevate WCHA viewing into "must-see TV," the two supreme goaltenders get to establish the betting favorites for the MacNaughton Cup on equal footing. The only question for the enthralled fans settling into their armchairs this weekend is, "Who you got?"
'The X-Factor Moves North'
There has been a ton of attention paid to the star WCHA goalies patrolling the state of Minnesota, and rightfully so. Dryden McKay and Zach Driscoll deserve all their wealth of accolades. But lost in the off-season news cycle dominated by COVID-19 and three WCHA programs on life support, was the transfer of Hunstville goalie Mark Sinclair up to Michigan Tech. Sinclair is the WCHA's X-factor, the guy who faced more rubber — by far — than any other WCHA goalie last year. He averaged over 32 saves per game, facing exactly 36 shots per game. No other WCHA goalie approached those numbers.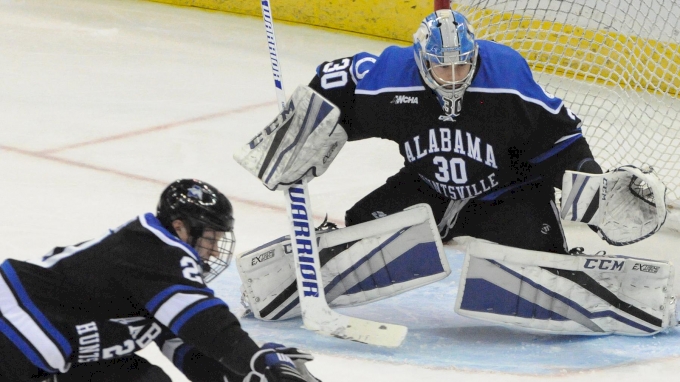 Sinclair back in his Alabama Huntsville days.
Sinclair is the guy that derailed Bowling Green's final weekend in 2019 with the infamous George McPhee Bobblehead night massacre, turning aside 28 out of 30 shots in a 4-2 stunner. A year later he kicked out a league-high 54 shots against the Falcons, as BGSU barely escaped Huntsville with a 4-3 win. Sinclair went a perfect 47 for 47 in a scoreless tie up at Lake Superior State in February, and the next night his aura of invincibility spread into Canada, keeping his shutout streak alive for most of the game in the Ontario Soo. The six-foot junior gave the struggling Chargers a puncher's chance in every game they played last season, and now he brings that competitive drive to Joe Shawhan's Houghton Huskies.
"A big loss for Alabama Huntsville is our gain," said Shawhan. "He has the ability to steal a game . . . he'll certainly get a lot of minutes in our net."
This is Sinclair's fourth and final year of NCAA hockey, his first with a contender. If he finds a way to steal games against the league's elite, and his body of work suggests he will, Tech will be a frontrunner for home ice in the 2021 WCHA playoffs.
---
Tim Rappleye is the author of two books: Jack Parker's Wiseguys and Hobey Baker, Upon Further Review. You can find him on Twitter.