Men's WCHA Hockey
Pretenders, Contenders & Rear-Enders: The WCHA Squads Of Michigan
Pretenders, Contenders & Rear-Enders: The WCHA Squads Of Michigan
Contender or pretender: examining the WCHA teams in Michigan and how they'll fare in conference play this year.
Nov 16, 2020
by Tim Rappleye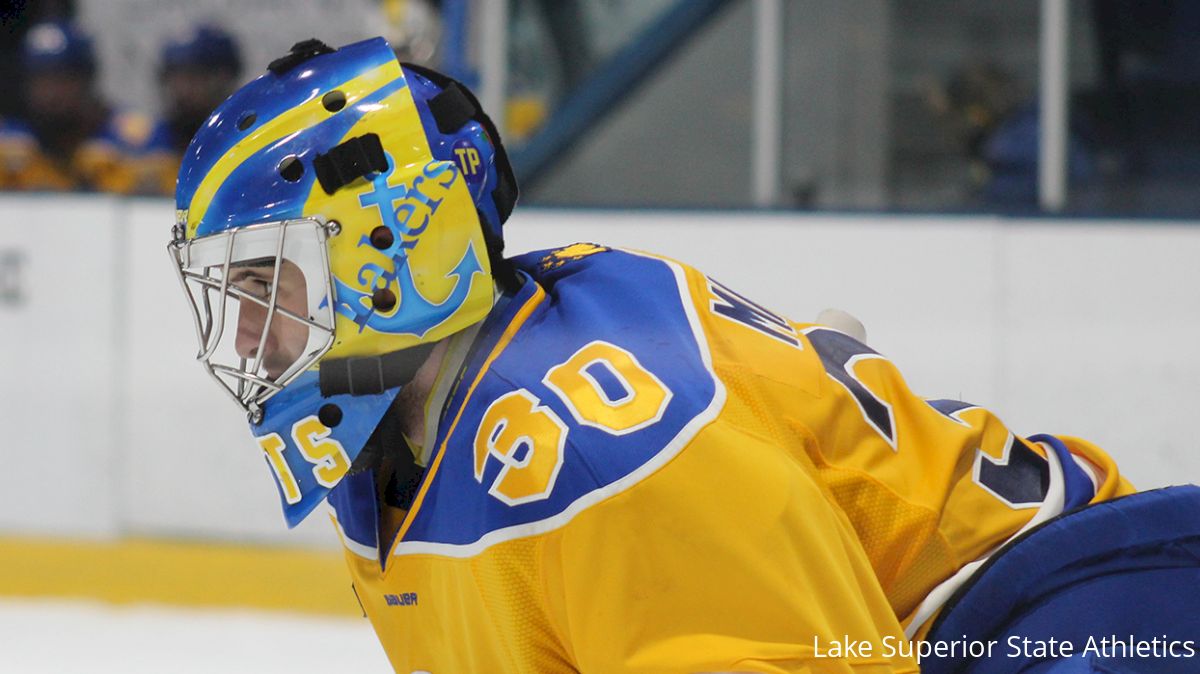 Northern Michigan, Lake Superior State, and Ferris State have all enjoyed degrees of success this past decade: Ferris with three trips to the NCAAs (including a competitive NCAA title game in 2012); Northern Michigan with a return to 20-win seasons under Grant Potulny; and Lake Superior waking its echoes of dominance with a Great Lakes Invitational title and a 23-win season in 2019.
All three underachieved in 2019-20, yet all have cause for optimism this season. How these Division I fixtures shake out in the time of COVID-19 requires further examination.
Lake Superior State
Despite a whopping 23 losses last year, the Lakers added two pieces of hardware from their intra-peninsula battles with Michigan Tech and Northern. Against the former, LSSU won the famed MacInnes Trophy for its total goals victory during Tech's Winter Carnival in Houghton, and also captured the 30th annual Cappo Cup in similar fashion at the expense of Northern Michigan. Those are two impressive silver chalices for a club that nearly self-destructed over the first half of last season. They suffered through a 2-11 stretch of futility that torpedoed hope of a second straight WCHA playoff series on home ice. The primary culprit, according to coach Damon Whitten, was inconsistent goaltending.
"Mareks Mitens got off to a slow start," said Whitten. "We know he can be one of the best in the conference, in the country when he's playing his game. We're looking for major contributions his senior year."
When you look at Mitens' stats from last year, you realize he had the lockdown second half Whitten expounded on during WCHA press day: a .911 save percentage, a .257 goals-against average, and a playoff victory over Zach Driscoll. The Latvian's senior three-year body of work has established him as a powerful presence in this league.
The question up in the Soo then is whether there will be enough offense to stave off another devastating losing streak should Mitens loses his touch. The graduation of Max Humitz (64 career goals) will be tough to replace. Whitten suggests that Pete Veillette and Soo native Ashton Calder — a dozen snipes apiece — along with Frenchman Louis Boudon (a team-leading 21 helpers) can accomplish this, and his club's up-tempo forecheck should generate goals by committee.
Prognosis: Competitive margins are so slight, and with goals at such a premium in the WCHA, the Lakers will struggle to get over .500, and won't return to the 20-win plateau. They might be a "pretender" but Mitens will do his best between the pipe to stop that from happening.
Northern Michigan
Don't be fooled by the 16 league wins, home-ice in the playoffs, and a two-month reign in both national polls: 2019-20 was a season of misery for Grant Potulny's Wildcats, both literally and figuratively.
"Tanner Vescio got his jaw broken in a freak accident, you lose Jeff Jungels the first game of the year, AJ Vanderbeck has eight [nine, actually] points in eight games and is out for the year, leading scorer Griff Loughran was so banged up he couldn't practice, another defenseman playing with a broken hand," Potulny said in a rush. "I'd never seen so many injuries in my life."
Despite being the skating wounded at year's end, his Cats still extended Michigan Tech to three overtimes before their season of promise expired in sudden death. Potulny has taken extreme measures to prevent another manpower shortage in Marquette — a 31-man roster.
"Depth is going to be king," said the fourth-year coach in search of his first NCAA bid as a head coach.
Potulny's recruiting prowess was not visible due to so many of his studs being shelved last season. Unless Murphy's Law repeats itself up at Marquette, Potulny will have a wealth of riches to implement up in the Berry Center. There remains, however, one bold question mark, and it lies in the blue paint: goaltending. In three late-season series that derailed the nationally ranked Cats — Minnesota State, Bemidji, and Michigan Tech — Northern suffered from inferior goaltending. Potulny's solution might come from the unlikeliest sources: Division III.
Connor Ryckman was the best small college goaltender in the nation before transferring to Northern: a national championship ring and a 33-0 record with Wisconsin Stevens Point. He was originally recruited by Boston University before he got snagged by an academic tripwire. This has all the makings of a Cinderella story in the heart of the Upper Peninsula: an elite coach whose horses are finally healthy, and a DIII transfer playing the lead role.
Prognosis: Don't dismiss Ryckman because of his stint at Stevens Point; he's a 24-year-old man who has won and won big at every level he has played. Label Northern as a "contender" that should threaten Minnesota State and Bemidji for the 2021 MacNaughton Cup
Ferris State
Bob Daniels' Bulldogs have found themselves in a unique position — missing the playoffs for two straight seasons.
"As a coach, I'm very disappointed about those years," said Daniels, who conceded that his goaltending over that stretch was "problematic." Perhaps there is a solution to the playoff pall in Big Rapids. Six-foot two goaltender Logan Stein has arrived on campus from the USHL, a guy with four shutouts in his 20 appearances with Waterloo. Daniels calls him "outstanding."
Prognosis: Although it would be disingenuous to call Ferris a true "contender" in this year or next, the Bulldogs should find themselves back in the WCHA playoffs this coming March.
---
Tim Rappleye is the author of two books: Jack Parker's Wiseguys and Hobey Baker, Upon Further Review. You can find him on Twitter.