Men's WCHA Hockey
WCHA Round-Up: Alabama Huntsville's Victory, COVID Protocol & The NCAAs
WCHA Round-Up: Alabama Huntsville's Victory, COVID Protocol & The NCAAs
Just days until the puck drops, we're bringing you huge news from Alabama Huntsville, changes in the MacNaughton Cup race, and much more.
Nov 12, 2020
by Tim Rappleye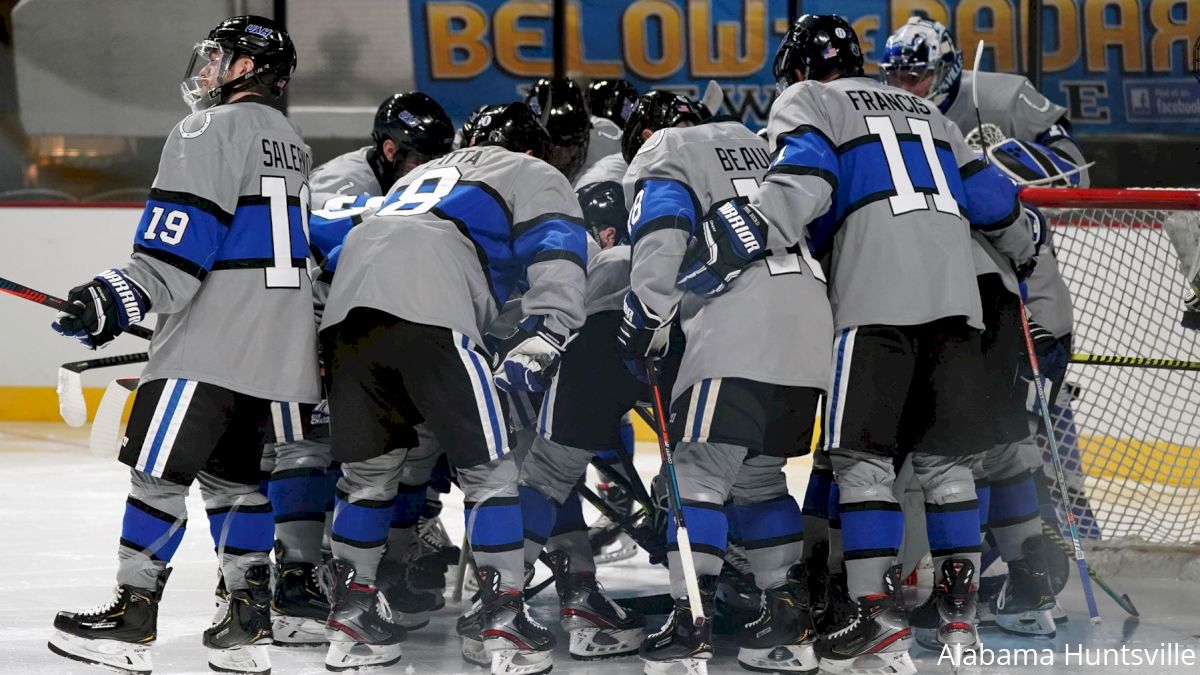 The WCHA's men's media day on Wednesday was business as usual in the new world order of COVID-19, meaning that it was unlike any in the eight-year history of the league's rebirth. It was two months delayed, took place via Zoom, and was bursting with short-term and long-term news headlines.
The lead story was teased by none other than ESPN's John Buccigross, who waived a WCHA member jersey to his social media posse of 400,000 Tuesday night.
Great #cawlidgehawkey news...sources tell me..👇🏻 👂 🗣 pic.twitter.com/yEgg3maymH

— Bucci Mane (@Buccigross) November 11, 2020
By lunchtime on Wednesday, Alabama Huntsville first-year coach Lance West was taking a victory lap for his alma mater's program, the beneficiary of a relief package worth $17M over 10 years, which includes preliminary funding for an on-campus arena. The individual getting most of the credit was current Minnesota Wild goaltender Cam Talbot, the man who led UAH to their lone NCAA Division I tournament appearance back in 2010. But according to West, donations came from a broad range of hockey people throughout the U.S. and Canada.
"We had such a huge amount of support from the hockey community all over North America," said West, who played for UAH when they were a Division II power in the mid-1990s. "I had an opportunity to look at a lot of the names. It was very impressive and humbling to see the amount of people that supported us in our comeback bid. We hope this year we can make them proud."
There was a great deal of backchannel support responsible for the concerted effort: NHL club executives from Tampa, Nashville, and the advocacy group College Hockey, Inc. The underlying logic is that Division I NCAA hockey in the southeast is an important component to hockey's national footprint, from the youth programs all the way to the NHL. Hockey people who shared that belief opened their checkbooks, and as a result of this effort and the initial Chargers GoFundMe campaign in May, the WCHA will have all 10 members vying for their 2020-21 championship.
New Protocol for the MacNaughton Cup
Due to the volatility of sports during the pandemic, commissioner Bill Robertson conceded that it was very unlikely that each team would play the same amount of games. Thus, the famed MacNaughton Cup will be determined by winning percentage for the first time in its history, not total points acquired. It's now possible that a team with fewer wins and ties will finish higher in the standings than its counterparts with more losses, due to potential differences in games played. As of now, each team has 18 official league games scheduled — each team playing every member school twice — beginning in late December and early January. Due to the compact schedule, there will only make up games lost to unanticipated COVID travel bans.
Out-of-Conference Games & the NCAA Tournament
The vast majority of out of conference games, both in the WCHA and the rest of the country, will remain in conference. For example, Minnesota State and Bemidji State open the season playing each other four times to close out November, but none of the games count in the WCHA standings until league play officially commences. As a result, the RPI index and the Pairwise Rankings — the primary tools used by the NCAA tournament committee — are obsolete in this season of COVID. College hockey returns to the day of opinions and "eye tests" to determine the at-large entries into the NHL tournament. Suddenly the weekly polls will have much more significance than they have in the past. Passionate debates will rule the day come Sunday, March 21, tournament selection day for NCAA hockey.
Streamlining Games, Overtime & Beyond
In an effort to shorten the length of games, the WCHA has eliminated five-on-five overtime. After a tie in regulation, each team will be awarded one point in the standings. The ensuing three-on-three five-minute overtime session, and the ensuing shootout (if necessary), will give the successful team an additional point in the standings. Teams can no longer "win" games in overtime, just add a point to the previously earned tie.
Other new game-shortening methods include no more tossing players out of the face-off circle for violations. This season, referees will simply point to the offender which will serve as a warning. A second violation will result in a minor penalty, which is standard procedure from prior years.
And finally, no more lengthy replay reviews for on-ice infractions.
"We don't want our officials using replay as a crutch," said WCHA director of officials Greg Shepherd. The one exception is head contact penalties. When it comes to brain safety, it is imperative to Shepherd, "that we get it right."
---
Tim Rappleye is the author of two books: Jack Parker's Wiseguys and Hobey Baker, Upon Further Review. You can find him on Twitter.