ECHL
Inside The Atlanta Gladiators' Decision To Opt Out For 2020-21
Inside The Atlanta Gladiators' Decision To Opt Out For 2020-21
The inside scoop of Atlanta's decision to opt out of the 2020-21 ECHL season.
Oct 30, 2020
by Jason Guarente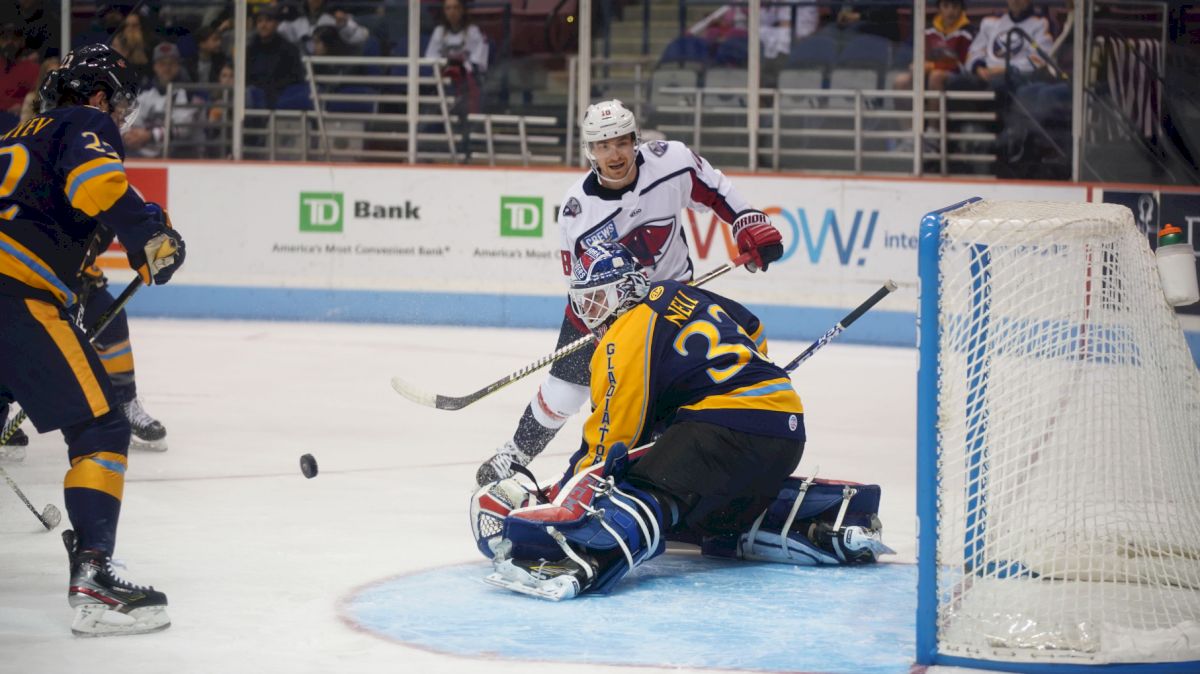 There were 5,000 fans in Infinite Energy Arena the last time the Atlanta Gladiators played a home game.
Life was still normal then. People were talking about wins, losses and magic numbers.
No one could have imagined what was next.
"We were playing out of our minds," Gladiators president Jerry James said. "We were rolling into the playoffs. Attendance, presales, everything was up. Then no playoffs. It was just a gut punch."
The sports world stopped a few days after that March 6 game. Instead of dreaming of a possible Kelly Cup run, teams began conducting exit interviews.
The impact of the coronavirus pandemic on the ECHL is still being felt seven months later.
October is usually Christmas morning for front offices around the league. All their hard work from the summer is realized as a new season begins. Every team thinks attendance will rise and a championship banner will hang.
There's no hockey this October. The ECHL opener was pushed back until mid-December for many teams. Others are waiting until January to drop the puck. Two teams, Atlanta and Norfolk, have chosen not to play at all and others will likely follow.
Instead of the adrenaline rush of opening night, the Gladiators are coping with the void of a blank schedule.
"You're supposed to be doing something," James said. "You're supposed to be playing games. You're supposed to be marketing. It's like having your arm cut off. You know it's supposed to be there. You still kind of feel it. Now we're marketing and we're thinking about next season."
The Gladiators were the first team to opt out. It was a painful, yet pragmatic, decision. The numbers simply didn't work.
Crowd sizes are still limited in many places and the additional cost of COVID-19 screening and other safety protocols made playing impossible.
"The liability concerns and the risk was too high," James said. "The testing. The costs pre- and post-game. The cleaning. The monitoring. All of a sudden those prices just get crazy."
Major league sports that have returned to action without sequestering their players in a bubble have encountered problems. There have been outbreaks that have disrupted the schedule and forced offices to shut down.
Minor league teams don't have the resources to withstand those issues. An outbreak could end a season. It could throw the entire operation out of whack.
This ECHL season will be tenuous for everyone going forward.
"It only takes one case to tilt that domino," James said. "The house of cards comes down. The schedule is so reliant on other teams. At what point do you have to start having to deal with canceled games and rescheduled games?"
James has stayed connected to Gladiator fans throughout this process. He has made videos, issued press releases and held Zoom calls.
Fans have understood there was a chance 2020-21 might not happen. When it became official earlier this month, they were prepared.
James has been encouraged by the response. Many fans have elected to roll over their season ticket payments into the 2021-22 season. They're on board until the team is back on the ice. That makes the ECHL hopeful it can withstand this health crisis.
About 19 months will pass between Gladiators home games. That's hard to comprehend or even imagine. James realized there was no other way.
"I pride myself that we were the first," he said. "But I'm not happy we were the first. We'd rather play hockey. We want to play. We just can't."
For now.
The hope is one day 5,000 fans will come through those gates again.
---
Jason Guarente has covered the Reading Royals and ECHL for 10 seasons. He can be found on Twitter @JasonGuarente.