ECHL
From Crease King To Cuisine Editor: Parker Milner's Life After The ECHL
From Crease King To Cuisine Editor: Parker Milner's Life After The ECHL
After a solid ECHL career, including one of the most dominant seasons for a goalie on record, Parker Milner's new gig is entirely different.
Oct 22, 2020
by FloHockey Staff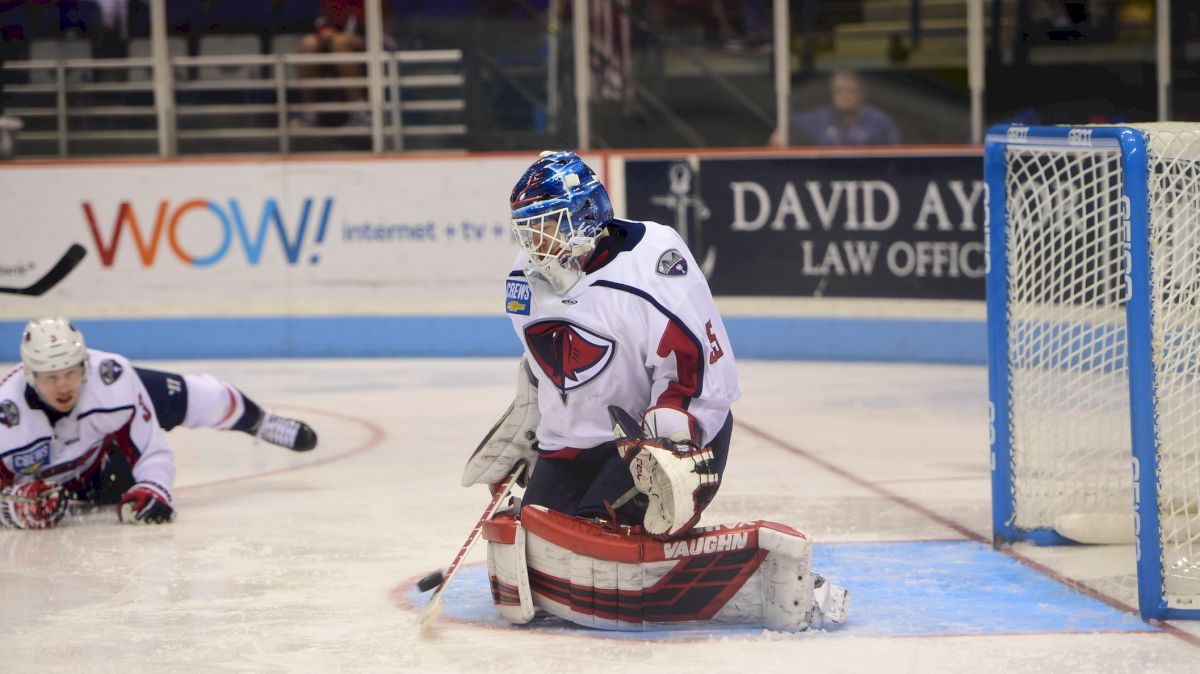 By Jason Guarente
---
During his long road trips with travel teams, from Cleveland to Detroit to wherever, Parker Milner was laying the groundwork for life after hockey.
The former ECHL goaltender couldn't have known it then. He was 10 and it was just dinner with his dad.
It wasn't a typical dinner. They weren't speeding past whatever drive-through window they could find. It was a meal and it was always something different.
Those were the rules set by Chris Milner.
"He was adamant that I would have to try all different kinds of weird food at a very young age," Parker said. "He wasn't a hard-ass about it, but he was like, 'If you don't like it, you're not going to eat.' Typical kid, I would complain a little bit. Eventually I realized that I loved every place we went. Even if I didn't admit it at the time."
Two decades later, his skates finally packed away, Milner is more than a food aficionado. He's the Cuisine Editor for the Charleston City Paper, an alt-weekly in the South Carolina town where Milner spent much of his seven-year pro career.
Instead of following the typical athlete path to sports journalism, he reports on restaurant openings and chef hirings. He assigns writers and he edits their stories.
This was a freelance pursuit when Milner was putting up crazy-good stats for the Stingrays and helping them navigate one run to the Kelly Cup finals. It became a second career when the ECHL season was abruptly canceled in March.
Milner was already planning to retire. The coronavirus pandemic's effect on sports simply removed any lingering temptation to stay.
"It felt like it was meant to be," Milner said. "Having done this for so long, there were always things that kept pulling me back. That's great and everything but I've been ready to move on for a couple of years now. I guess in a way it was relieving to feel like it was really time."
That doesn't mean it was easy.
For many players who were contemplating calling it quits following the 2019-20 season, there was no feeling of closure. They couldn't mentally wrap their minds around the curtain falling. There was a game. Then there were no more games.
Milner's last call came on a routine Wednesday night in Orlando. He made 32 saves and the Stingrays lost to the Solar Bears 2-1.
That was the night the NBA shut down, and it soon became apparent sports were going on a hiatus. The ECHL ended its season, and Milner's career, later that week.
"To have that be your last game is a little hard to swallow," Milner said. "That definitely made me really sad, especially the week after we found out the season was canceled. I think for me it was important to take a step back and realize very few players have a grand finale where they finish, they win and it's this big magical thing."
Milner's career was, if not magical, on a higher plane. He posted a .916 save percentage and 2.44 goals-against average in 245 ECHL games. The final 151 were played with South Carolina.
One of the many reasons he stayed in Charleston, beyond loving the city and the Washington Capitals organization, is many of the Stingrays' road trips were to Orlando, Greenville, S.C., Atlanta, or Jacksonville — good food places.
Sometime between the day he left Boston College and the day he rode his final minor league bus, Milner surrendered his NHL dream. He stopped thinking about moving up the ladder and enjoyed the moment.
"My first year pro I had a former agent who convinced me I had a chance at something that I didn't," Milner said. "That honestly made it way more difficult for me. I like to be a realist. I like to be told what to expect. That's how I succeed the most."
Milner's name will surface in conversations about great ECHL goalies for years to come. His 1.86 goals-against in 2017-18, when he was named Goaltender of the Year, is one of the best seasons in league history.
Even though he was still enjoying success at the end, the veteran knew it was time. He just turned 30. He wanted a normal life where he could make plans on weekends.
Milner is at peace with how it all unfolded.
"It was more than I expected really," he said. "I was never the goalie who was highly-touted or targeted to be something. So I think in many ways each step and each year I got to keep playing felt like a bonus."
There are no more hockey trips left for Milner. He still has the meals. He has his new job and he has the chance to see where this road might take him.
---
Jason Guarente has covered the Reading Royals and ECHL for 10 seasons. He can be found on Twitter @JasonGuarente.