ECHL
Alex Kile & The Maine Mariners Are Primed For For An ECHL Playoff Run
Alex Kile & The Maine Mariners Are Primed For For An ECHL Playoff Run
Alex Kile's wealth of experience at Michigan and in the AHL is helping him lead a dangerous Maine Mariners team in 2020-21.
Oct 15, 2020
by Mike Ashmore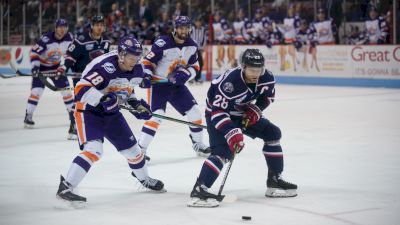 The old saying goes that you save the best for last.
This was not the case with Alex Kile — but in a good way, of course.
When the Maine Mariners were putting together their inaugural roster prior to the 2018-19 season, it was the former Michigan Wolverines standout who was the first player they signed to an ECHL contract.
It was a no-brainer at the time.
Kile was coming off a strong first, full professional season in which he potted 15 goals with the Cincinnati Cyclones and seemed poised to take the next step, albeit now with a new team.
A 13-7—20 line in just 22 games with Maine did just that, but also got him numerous opportunities at the next level; the skilled winger appeared in 39 contests at the AHL level two seasons ago as well, mostly with the Laval Rocket.
Last season, however, he showed that the Mariners signed the best first.
The 6-foot-0, 194-pounder spent the full season in Portland and flourished as the team's leading scorer, getting on the scoresheet at nearly a point-per-game clip (16-35—51 in 57 games) and cementing himself as one of the league's elite players.
With the 26-year-old leading the way, it seemed as though a 32-26-3-1 start last year would catapult the Mariners to finally be able to erase the heartache of missing the playoffs without Kile in 2018-19, but the league shutdown in early March wiped out any chances of that.
The progress the franchise made from his first year to his second, however, wasn't lost on him.
"That first year, we really didn't have any older, veteran players. We were just a bunch of younger kids just kind of playing," Kile told FloHockey. "Last year, we just had a better culture. (Head coach) Riley Armstrong did a great job, and our older players started becoming better leaders and understanding we needed leaders. That first year, we were so young and didn't have direction as a group. Some guys this past year just took charge and it really got us playing as a team."
That leadership role is also one Kile himself found himself growing into, not that it's anything new for him, of course. He helped Michigan to their first NCAA Tournament appearance as a member of the Big Ten in 2016, and he was the senior captain for the Wolverines the following season.
"I took pride in (being a leader) for sure," said Kile, who wore an "A" as an alternate captain for half of last season. "I just felt like somebody needed to step up, and I was more than willing to do it."
However, from a tangible standpoint of earning that elusive playoff berth, it didn't pay off, but Armstrong is confident that Kile's contributions over the past two seasons have laid the foundation for that to finally change once their part of the "split schedule" 2020-21 campaign — which can be seen right here on FloHockey — gets underway in January.
"Alex is a special player in this league," Armstrong said. "I think from the way that I coach, we want to have guys be creative offensively, but at the same time, not be afraid to make mistakes . . . when Alex is confident and he's getting those opportunities and those looks and those touches, you can really see his game take off and get to that next level. We saw that in that first year when he had 13 goals in 20 games, and then last year being that point-per-game player even with missing some parts of the season."
If there are any concerns for Kile's game going forward, it's surely the same issues with being able to train properly that many players in the ECHL have had given the uncertainty of things for them and the league as a whole since the shutdown.
"The challenges have mostly been in how hard to train," he said. "When we get to early December or so, I think everybody, we've been talking in our group chat, it's time to start really working out and skating a lot. We actually found out about that staggered start a few days ago, and everybody just wanted that set date so we knew how hard to train . . . training is expensive, so we have to plan our summer out and how expensive it's going to be. So, we really have to pick our spots. It was weird for sure. You just can't train hard for six months with how expensive it is."
Kile, who lives in Michigan, says that between roughly May to July, it was difficult to even find ice given the restrictions in his state, but has found it easier to find an open sheet to skate on as things have eased up a bit.
Unfortunately, with Maine being a part of the second group of teams to get their season underway, he'll have to stick to the local rinks while that first group plays meaningful games.
"It's funny, but we're just excited to have a definitive date," Kile said. "If we're not starting in December, that's fine. We really just want to play, whenever it is."
---
Mike Ashmore has 17 years of experience covering professional and college sports. You can follow him on all social media channels at @mashmore98.