Atlantic Hockey
Atlantic Hockey Juggles Complicated Return-To-Play Protocol
Atlantic Hockey Juggles Complicated Return-To-Play Protocol
Returning to play is tough for any league or sport during COVID-19, but Atlantic Hockey faces particularly unique challenges.
Aug 28, 2020
by Matty OBrien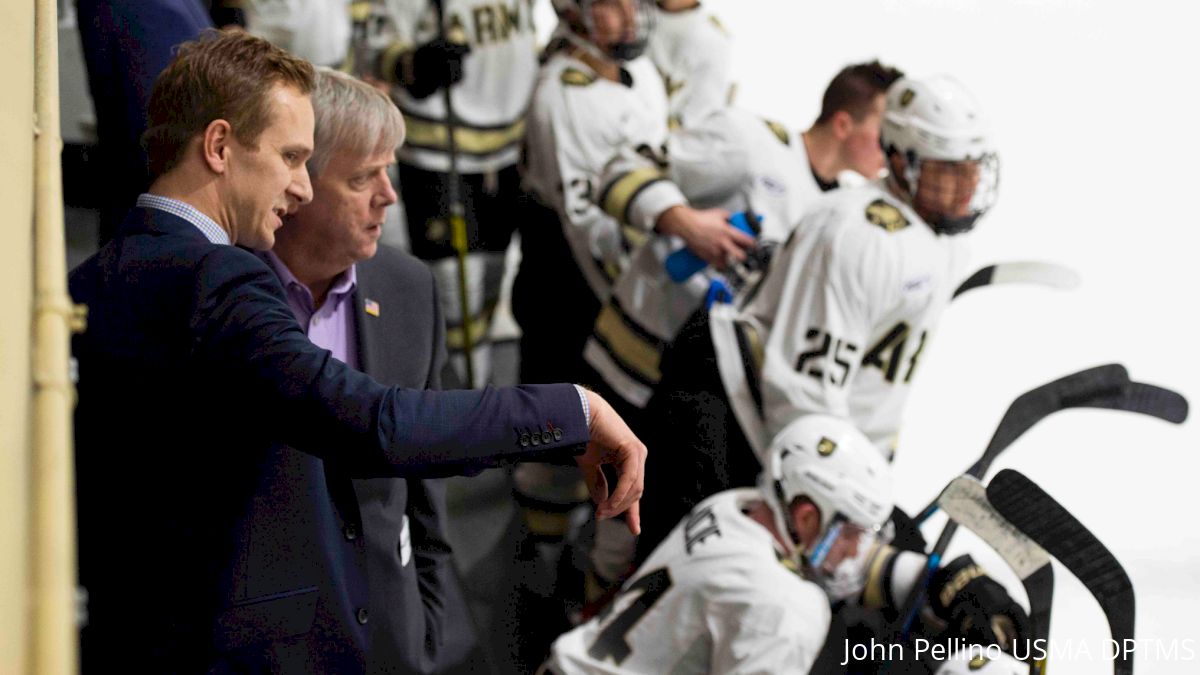 In March of 2020, with conference tournaments underway and the national tournament right around the corner, college hockey was canceled as we knew it. Nobody knew for how long, or what each circumstance would lead to. Now, many months later, as college campuses begin to return and athletes look towards their seasons, it seems as though times around the country are becoming more and more unprecedented. With 11 institutions making up Atlantic Hockey, each with different return-to-campus procedures, many different plans have been formulated by leaders within the conference.
Over the next several weeks, Atlantic Hockey will know for certain where they stand. As schools begin to return within the conference, officials will know which version of which plan will be the best move going forward. Director of communications Steffan Waters has been heavily involved in creating schedules and return-to-play procedures.
"We are doing everything in our power to make sure that we can play," Waters said. "We're having multiple meetings a week with directors, coaches, and other bodies and we are certainly trending towards playing."
The main area of focus, of course, for any return-to-play protocol and procedure, revolves around player safety. How testing can take place and be administered is a major factor in player safety and because of these questions marks on a national scale, the typical October start date cannot be expected right now.
"We have alumni who are doctors and scientists and engineers, who run their own companies. We have a long track record of helping to set our student-athletes up for what's next and we never want to put them in a position where that can be affected," Waters said.
Advancements in testing procedures can lead the way towards an early start date for Atlantic Hockey as they look to play as soon and as safe as possible. Waters specifically mentioned the new saliva-based test created by the Minnesota Timberwolves and Yale, Saliva Direct.
"It's going to help colleges, especially those that may be budget-strapped, and I think that can help get us on the ice in November."
Aside from testing, a second leading obstacle is scheduling and travel. Depending on when play can get underway, the season will have a differing amount of games scheduled. What if one school decides to suspend athletics entirely because of safety precautions? What if an institution decided they don't want to travel or have any overnight visits? Atlantic Hockey and the NCAA continue to work through these hurdles.
To remain prepared throughout ever-changing circumstances, Atlantic Hockey officials created multiple schedules and scenarios for their coaches and athletic directors to see. Schedules have been cut down depending on specific start dates and shifted down to conference-only play in some scenarios. What eventually becomes put into to place, all depends on what progress is made over the next several weeks.
"We took a 28-game schedule and made it conference only eyeing a Halloween season start for us, in the event the season is pushed back a month. We've also created additional 24- and 20-game schedules so that we will be ready to go when our time comes," explained Waters.
What is unique about Atlantic Hockey is that out of its 11 institutions, two are military academies: Air Force and Army West Point. These two institutions are in vastly different circumstances than their peers within the league. With an incredible infrastructure and leaders in place, these schools have been able to manage return to campus and play procedures while most other schools are testing their own policies now, as students return.
Speaking with Army West Point head coach Brian Riley, it was clear that they were in a much different position than most other non-service schools within the conference.
"I was blown away by the planning. That is just what the Army does. They viewed this like we were fighting a war," Riley said. "By the middle of July we had our whole core of cadets here and have been in school for over two weeks."
As for sports, each team has strict protocols and phases to follow. As each phase advances, groups can get larger and workouts can grow. "We are in a 'crawl, walk, run' mentality," Riley said.
This exemplifies the variety of schools Atlantic Hockey has to take into account when declaring their return to play policy and start date. Schools such as Army West Point and Air Force have vastly different resources than others within the conference. Additionally, there are schools with multi-divisional sports with teams in multiple conferences.
Despite the challenges and hurdles that may arise after campuses come back together over the next few weeks, Atlantic Hockey remains poised and prepared with a plethora of procedures to have hockey this school year.