An NCAA-Built Blue Line Is Helping The Rangers Reforge Their Franchise
An NCAA-Built Blue Line Is Helping The Rangers Reforge Their Franchise
The New York Rangers' rebuild is looking extremely promising after landing the No. 1 pick and forging a blue line of former NCAA players.
Aug 17, 2020
by Jacob Messing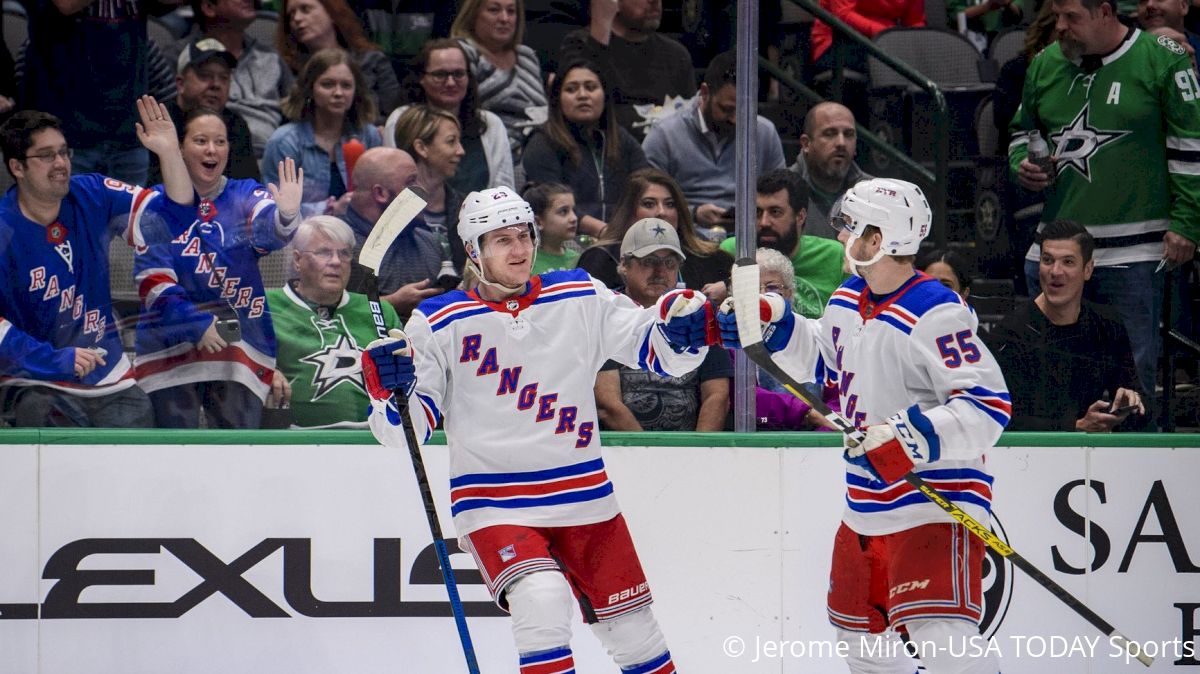 The draft lottery-winning New York Rangers are poised to select consensus No. 1 pick Alexis Lafrenière in the 2020 NHL draft as another core piece to an impressive rebuild and budding powerhouse.
Prior to the 2018 trade deadline, Rangers president Glan Sather and general manager Jeff Gorton penned an open letter to the fans, generally stating that the organization had made the difficult decision to focus on a full rebuild.
In two years since, Gorton has the organization looking like the instruction manual for a rebuild done right. While there has been luck along the way — e.g. the No. 2 pick in 2019 and No. 1 pick in 2020 — Gorton is evidence of the proverb "good things come to those who wait."
It was in 2015 that Gorton took over the annually contending team that had lost in the Stanley Cup Final the year prior. He continued to make moves to keep their window of contention open despite fluctuating playoff performances.
Gorton seemed to be focused on the old adage of "defense wins championships." From 2015-2018, the Rangers featured a variety of prominent names on the blue line including Ryan McDonagh, Dan Girardi, Anton Stralman, Brady Skjei, Kevin Shattenkirk, Dan Boyle, Kevin Klein, Keith Yandle, Neal Pionk, and Nick Holden.
Each of those defensemen has since moved on, leaving via a combination of trades, buyouts, free agency, and the 2018 expansion draft.
But Gorton's dedication to the future hasn't changed his mindset for building a team. He's remained active via trade and free agency since that 2018 letter, but his activity has been with a dedication to the future.
Gorton has built up a young core at all three positions without cherry-picking player development by rushing prospects through the system. But he also hasn't been afraid of paying the price when it comes to getting what he wants.
He was willing to pay the big bucks for Artemi Panarin, who led the team in scoring this season on his way to a becoming a Hart Trophy finalist. Gorton has also traded away assets to build for the future he's envisioned. While still in their contending window, he moved Derick Brassard and Ryan Spooner for Mika Zibanejad and Ryan Strome, in separate, respective deals.
Gorton also made the tough choice to turn down prospects and/or draft picks for 29-year-old winger Chris Kreider by signing him to a contract extension. But Kreider's game is one that teaches the up-and-coming players how to play solid two-way hockey with speed and intensity.
A Bold Blue Line
Even through the reshaping of the offense, Gorton has appeared to retain that defense-first mentality. He's rebuilt the blue line with grit and skill; of the eight defenders to play during the regular season, only Marc Staal and Brady Skjei were drafted by the Rangers organization.
Skjei was moved at the 2020 deadline to the Carolina Hurricanes, leaving Staal, Brendan Smith, Anthony DeAngelo, Libor Hajek, Ryan Lindgren, Jacob Trouba, and Adam Fox as the likely seven defensemen on the roster ahead of the 2020-21 season.
Additionally, the Rangers' 22nd overall pick in 2018, defenseman K'Andre Miller, will be competing for a role out of training camp. Miller was signed to an entry-level deal in March just days after the NHL paused the season.
Coming out of two strong years at Wisconsin, Miller is another piece to the increasingly enviable blue line that Gorton is constructing: a blue line built on NCAA alumni. Through trades, he has brought in collegiate alumni Smith, Trouba, Lindgren, and Fox.
With each of the four defensemen joining the team via trades — and the number of European defensemen he also could have realistically traded for — Gorton appears drawn to that proverbial North American style.
It's a style known for its overall toughness. A style that finishes checks, blocks shots, and is persistent in the corners and along the wall. One that is fine-tuned in the NCAA, where players can physically mature and grow their game against similar talent as they likely improve with each season.
With North American players making up the bulk of the NCAA, it's a league where such a style often shines and allows those types of players to develop a work ethic and an understanding of what many NHL front offices typically embrace.
RELATED: Detroit Red Wings Using The NCAA To Develop Prospects
It's one that Gorton's front office seems to embrace — a mix of grit, skill, and intensity. Moreover, these defensemen are continuing to develop in the NHL, with the average of the Miller and the other seven being 24 years old. Remove Staal and Smith to focus on the future core Gorton has constructed and the average age of Miller, Trouba, Fox, Lindgren, DeAngelo and Hajek is only 22 years old.
The young core of the Rangers has them looking like a dangerous team in the near future. But when compared to past Stanley Cup winners, there remain some missing pieces. To truly reopen that window of contention, veteran leadership, a stable second-line center, and another proven top-four defenseman will be required. Could Gorton look to find those missing pieces in more college alumni scattered through the NHL?
---
Have a question or a comment for Jacob Messing? You can find him on Twitter @Jacob_Messing.