Atlantic Hockey Breakout Candidates For 2020-21
Atlantic Hockey Breakout Candidates For 2020-21
The NCAA hockey season is (hopefully) a few months away, and these players are ready to step up in Atlantic Hockey.
Jul 14, 2020
by Jacob Messing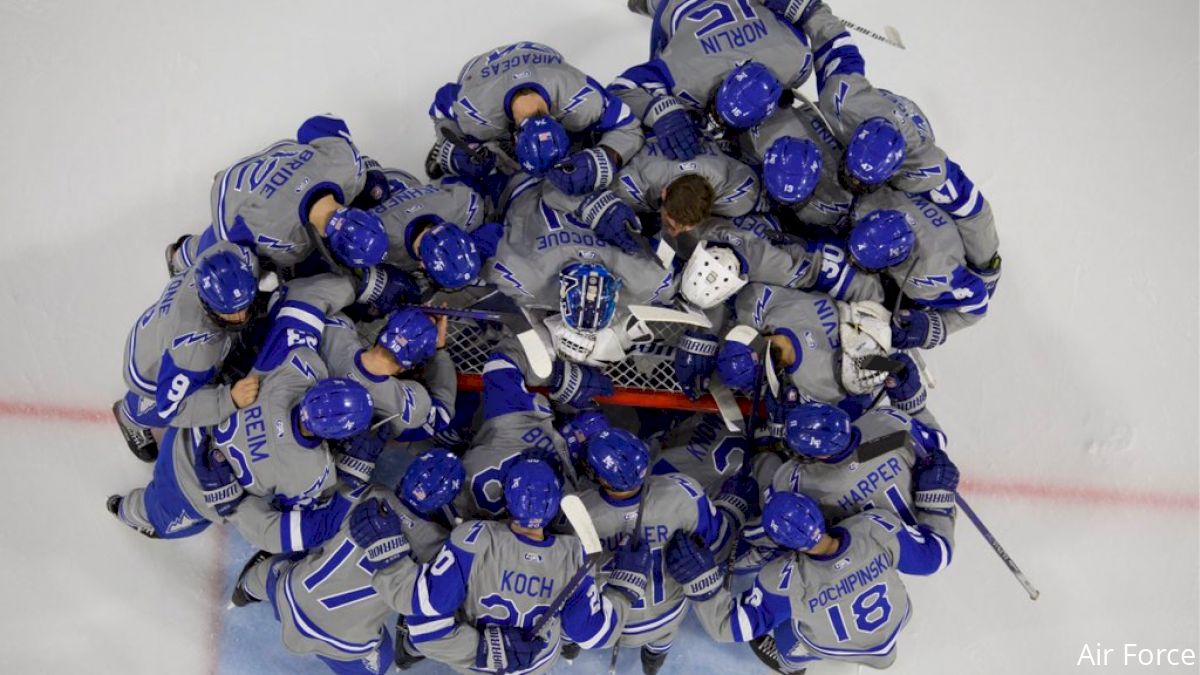 The sports world remains in flux as COVID-19 continues to spread and resurge across the United States, and while the 2020-21 season schedule seems uncertain, the prospect of breakout players and career-bests is a certainty in Atlantic Hockey.
As a conference that has developed NHL players and prospects, including Chris Tanev, Jason Cotton, and Cory Conacher, the next wave of talent is ready to take the reigns in 2020-21.
Check Out The WCHA Breakout Candidates For 2020-21
Air Force
Brandon Koch | D
Koch was the Falcons' second-leading scorer with 19 points (6 G, 13 A) as a defenseman in his rookie season. He has shown offensive inclination throughout his career, finishing second in NAHL defensive-scoring as a rookie in 2017-18 and eighth in BCHL defensive-scoring the following season.
Koch returns to AH as the second-leading defensive scorer in the conference. His ability to take the next step will be pivotal for the Falcons in 2020-21 and will help push the game into the offensive zone.
American International
Elijiah Barriga | F
Barriga was one of four Yellow Jackets to hit double-digit goals and is one of two returning in 2020-21. Roster turnover pegs him as the third-leading returning scorer following the departure of five seniors ahead of him from last season.
With 19 points (11 G, 8 A) in 28 games, a larger role to fill will help him build on those numbers and keep AIC as the top dog in the conference as it eyes a three-peat regular-season title.
Bentley
Jakov Novak | F
One of a handful of AH players already drafted into the NHL (2018, Round 7, No. 188 via Ottawa), Novak doubled his production from his rookie season with 16 goals and 30 points in 35 games.
He led the Falcons in goals and points and is primed for bigger things in his junior season where the offense will once again flow through him as the team looks to improve on its 17-16-3 record from 2019-20.
Canisius
Lee Lapid | F
Lapid took a significant step forward from a seven-point freshman season, not only becoming a full-time piece but also third in team goals and fourth in points (11 G, 10 A). With Griffins' three leading scorers departing, Lapid returns as the primary point-driver.
While offensive growth is expected, Lapid was one of three outliers in team plus/minus — the other two being his linemates — and a better dedication to playing in his own zone will be important in improvement offensively.
Niagara
Score More, Give Less
After sitting out 2018-19 due to a transfer from DIII Salve Regina, Jack Billings' technical sophomore campaign was a success with 12 goals and 27 points in 34 games, leading the team in each of the three categories. Billings will need to continue to make those around him better as the closest returning scorer had just six goals.
As the offense works to find some consistency, goaltender Chad Veltri will need to match his 2019-20 stats of a 2.10 GAA and .931 SV%. He was a force in the crease as a freshman and will earn more starts in the fall. But he will need support from a defense losing three seniors.
RIT
Sophomore Studs
Freshmen Elijah Gonsalves and Caleb Moretz each recorded nine goals and 24 points in 2019-20 as the Tigers have a pair of blossoming young players to build on a good 19-13-4 season.
The pair became a duo early into the season and built strong chemistry together to form a dangerous second scoring line that helped the Tigers contend every night. They'll take over top-line responsibilities in 2020-21 and threaten AIC for the conference, so long as they receive some support themselves.
Sacred Heart
Braeden Tuck | F
After a historic season for the program, the team's three leading scorers have moved on, leaving a deep offense a tad shallower. Tuck played second fiddle to the upperclassmen, but posted an enticing 28 points (5 G, 23 A) in 34 games as a freshman.
Tuck was a dominant playmaker, but with the loss of the top three goal-scorers (totaling 44 goals), he'll need to become more patient, less predictable, and shoot more to duplicate and expand on his abilities.
---
Have a question or a comment for Jacob Messing? You can find him on Twitter @Jacob_Messing.