2020 NHL Draft: Lafrenière Leads Best Of The Best Position Breakdown
2020 NHL Draft: Lafrenière Leads Best Of The Best Position Breakdown
A position-by-position of the top prospects as we look forward to the 2020 NHL Draft.
Jun 24, 2020
by Jacob Messing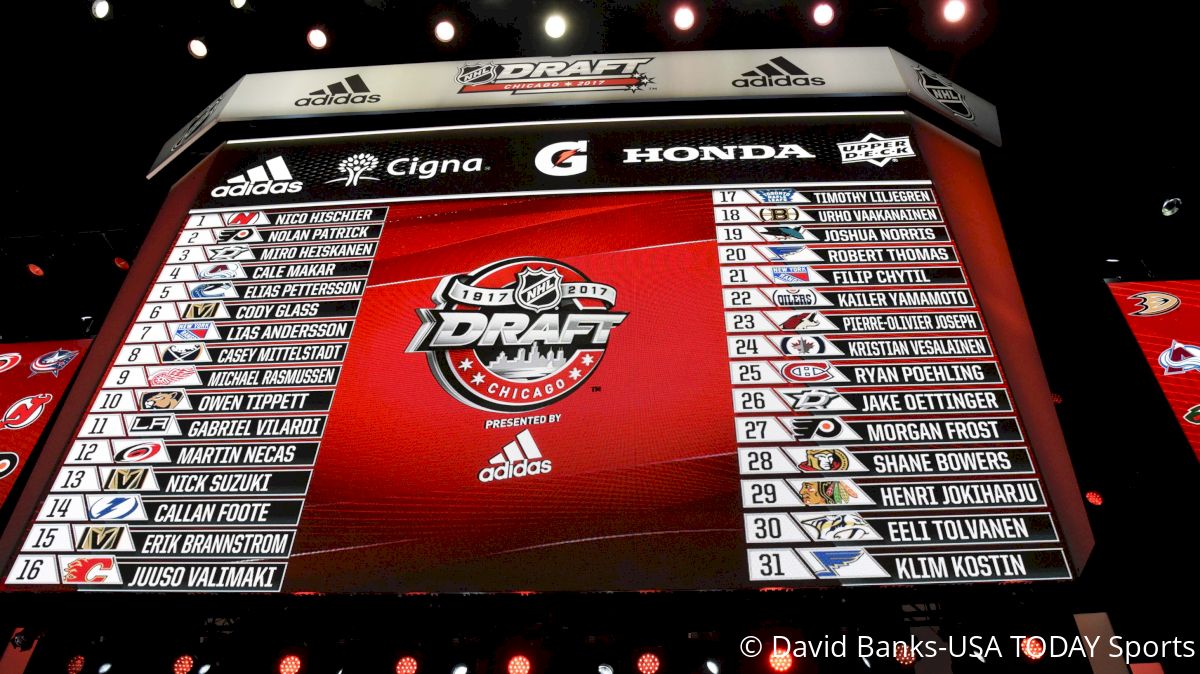 The date of the 2020 NHL Entry Draft remains in flux during the league's continued navigation around COVID-19 concerns and new extended playoff format laid out.
With no current on-ice competition, the draft rankings probably will not see much change from now to when the best players walk — figuratively — onto the stage and sport a new No. 20 team jersey.
Individual rankings will vary across websites and analysts; FloHockey brings you its own rundown on players to search on YouTube and study with positional breakdowns.
Centers
A true No. 1 center — and center depth — is a key to any team, be it rebuilding or contending. This is a prime position for the 2019-20 basement teams to know front and back to determine a good fit for the organization's future pivot.
1. Marco Rossi
OHL | Ottawa 67's | 56 GP, 39 G, 81 A, 120 pts.
The OHL's Most Outstanding Player is not warranting the hype that would typically come from such a huge season. Pegged as a No. 8-10 overall pick — perhaps due to the fact that he's got a rare background for NHL players, coming from Austria — Rossi is a multi-faceted player with extreme speed, exciting creativity, and appears to always be at least one step ahead.
Turning 19 in September, the 5-foot-11 center sports a muscular 179-pound motor and drive to win every battle, a big reason for leading the OHL in scoring in 2019-20. He's NHL-ready, which earns him the spot as the best center in the draft.
2. Quinton Byfield
OHL | Sudbury Wolves | 45 GP, 32 G, 50 A, 82 pts.
Byfield is a towering 6-foot-4, 214-pound tank who won't turn 18 until mid-August, making him an extremely young prospect. By most rankings, the No. 2 spot in the draft belongs to him, but as a center he doesn't outmatch Rossi. Size lights up a lot of scouts' eyes, but learning to use it against veteran defenseman and quicker players takes time.
Still, Byfield has a bright future ahead of him and once he does adapt to the NHL with his size and offensive flair, he'll thrive. His size is typically reserved for wingers, where he's likely to start in the NHL; immediate success could keep him there.
3. Tim Stützle
DEL | Adler Mannheim | 41 GP, 7 G, 27 A, 34 pts.
For the second consecutive year, a German (see Seider, Moritz) sits among the best players available. Stützle has spent time across all three forward positions and for the sake of finding top-tier centers, he is likely to be tasked with a full-time transition to the middle for his drafting team.
"His skating & imagination opens up so many opportunities and when he has the puck, he's dangerous & threatening to opponents..."

With the #NHLDraft Lottery in sight, @CraigJButton profiles the top talent...

ICYMI, Tim Stutzle: https://t.co/3agyeBW77C#TSNHockey #DraftCentre pic.twitter.com/69PSrt4Sjt

— TSN Hockey (@TSNHockey) June 16, 2020
He plays a consistent two-way game with great vision and can think and act as fast as he can skate . . . which is fast. Stützle has a tremendous offensive upside and should he follow in fellow countryman Leon Draisaitl's footsteps, he'll be a true scoring threat.
Honorable mention: Mavrik Bourque
Wingers
Top-tier centers have the ability to make those around them better and while there are double the number of wingers on a team relative to centermen, the consensus No. 1 pick in 2020 is in fact a game-changing winger.
1. Alexis Lafrenière
QMJHL | Rimouski Océanic | 52 GP, 35 G, 77 A, 112 pts.
As the consensus No. 1 pick, Lafrenière is the full package and has drawn comparisons to players including Sidney Crosby and Connor McDavid, both in ability and junior hockey production. Lafrenière cemented his No. 1 status with a massive 2019-20 season.
Lafrenière was named CHL Player of the Year, won a Gold Medal and tournament MVP at the World Juniors, and led the QMJHL in scoring as league MVP. Lafrenière can do it all and is an immediate frontrunner for the 2020-21 Calder Trophy.
2. Cole Perfetti
OHL | Saginaw Spirit | 61 GP, 37 G, 74 A, 111 pts.
Perfetti enters the draft as a wing/center, but his skillset argues winger. Centers drafted in the top 10 are projected to reach No. 1 or No. 2 acumen, but at 5-foot-10, he would come in on the smaller side in the NHL. A permanent shift to the wing would give him an elite setup centerman to help him show off his natural goal-scoring.
Despite his nose for the net, Perfetti showed in 2019-20 that he can be as good of a setup guy as a shooter, which makes him even more dangerous for goalies that know he can burn them either way.
3. Lucas Raymond
SHL | Frölunda HC | 33 GP, 4 G, 6 A, 10 pts.
Raymond's name appears to be slipping to the side in regular draft talk, yet he remains a consensus top-10 pick in the bulk of rankings. It is always difficult to weigh offensive stats overseas, where many prospects play in pro leagues that don't feature scoring as prominent as North American, junior-level hockey.
But that pro experience goes a long way in establishing poise against men, learning to commit to a two-way game and gain confidence. Raymond has a keen hockey sense, smooth skating, and a natural defensive nature as a reliable penalty killer.
Honorable mention: Alexander Holtz
Defensemen
Many coaches build their team and create their systems with a defense-first approach and those aforementioned basement teams are typically in need of reliable defense. The notorious defense gold mine of Sweden has a few players near the top.
1. Jamie Drysdale
OHL | Erie Otters | 49 GP, 9 G, 38 A, 47 pts.
The top defenseman of the 2020 draft class, Drysdale's 5-foot-11 frame is becoming a regular product on the blue line for teams shifting to speed and skating versus size and intimidation on the backend. Any top-10 drafting team eyeing a future No. 1 defenseman won't need to look any further than Drysdale.
Canada's kid 'genius'. @markhmasters has more: https://t.co/Yz2nzkoFrl pic.twitter.com/8KXwxD9OHY

— TSN (@TSN_Sports) December 18, 2019
He brings the smooth, effortless skating becoming a staple on defense, which helps him be able to jump into the play offensively and quickly cut down opponents' room in the defensive zone.
2. Jake Sanderson
USDP | US U18 | 47 GP, 7 G, 22 A, 29 pts.
Sanderson's ranking fluctuates among the top profilers, but his overall game is worthy of going second among defenseman in 2020. Son of 700-point NHLer Geoff Sanderson, he's had a strong role model to learn from to reach his draft class. His ability to defend is complemented by an offensive upside his drafting team will help develop.
USDP associate coach Nick Fohr placed him among the top three guys he's ever coached, which include former USDP defensemen Seth Jones, Zach Werenski, and Charlie McAvoy. That's good two-way company to be compared to.
3. William Wallinder
Allsvenskan | MODO Hockey | 18 GP, 0 G, 2 A, 2 pts.
Elite Swedish defenseman? Those words flow all too well. Wallinder's 6-foot-4, 192-pound frame is a juxtaposition to Drysdale, but he remains a poised, smooth-skating defender. At 17, he's likely to continue to grow into his body and add muscle and confidence in defending and learning to read the offense unfolding in front of him.
Wallinder's rankings bounce around, but he averages as a late first-round pick. That position is more of an acknowledgment of the plethora of forwards versus his ranking as a defenseman.
Honorable mention: Emil Andrae
Goaltenders
Lastly, a team is only as good as its last line of defense and despite the typical reservations of using top picks on goalies, the consensus top netminder in the draft could go quickly.
1. Yaroslav Askarov
VHL | SKA-Neva St. Petersburg |12-3-3, 2.45 GAA, .920 SV%, 1 SO
Askarov is poised to be the future of his drafting organization. The 17-year-old is an athletic monster who carries himself like a seasoned pro, many of which he bested during the 2019-20 season in the KHL's equivalent of North America's AHL. He already poses all the qualities a young goalie learns via learning curve: he's quick, patient, anticipatory, and positionally excellent.
In several years, he'll be among Ilya Samsonov, Carter Hart, Igor Shesterkin, and other up-and-coming netminders as human highlight reels stealing games for their teams and leading them to exciting futures.
2. Joel Blomqvist
U20 SM-sarja | Kärpät U20 | 34 GP, .931 SV%
Where Sweden develops defense, Finland creates walls in the crease. Blomqvist has the ability to follow in the footsteps of countrymen including Tuukka Rask, Pekka Rinne, and Antti Raanta. Per the lack of a full stat line, goaltending stats are a bit more loosely covered in Finland's Tier II below Liiga.
Blomqvist swallows up rebounds and regularly makes the impossible saves look easy, but it's not typically due to a loss of position. Blomqvist's NHL future is still several years away, but that's no reason not to develop him for the future.
3. Nico Daws
OHL | Guelph Storm | 23-8-6, 2.48 GAA, .924 SV%, 5 SO
The 2020 OHL Goaltender of the Year, Daws has the typical 6-foot-4 frame of an NHL starter. Despite being an over-ager at 19 years old, Daws has tremendous upside and a better understanding of the North American game versus Askarov and Blomqvist.
Daws led the OHL in save percentage and shutouts, helping carry the team to a playoff position before the cancelation of the postseason due to COVID-19.
Honorable mention: Jan Bednar
---
Have a question or a comment for Jacob Messing? You can find him on Twitter @Jacob_Messing.