Create a free account to unlock this article!
Get Started
Already a subscriber? Log In
Minnesota State junior Connor Mackey is the poster child for NHL late bloomers. After being an afterthought during his teenage draft-eligible years, the 23-year-old Mackey was the prize of the NCAA free-agent signings, as the Calgary Flames landed their big fish late last week.
#Flames are landing Connor Mackey, the No. 1 player on #TSN's top undrafted free agent list.

— Frank Seravalli (@frank_seravalli) March 20, 2020
It was the culmination of three years of steep development in Mankato, as Mackey bloomed into a WCHA first-team All-Star under the tutelage of Mavericks boss Mike Hastings.
"He knows how to get the most out of his players," Mackey said of Hastings from his family home in the Chicago suburbs. "The little details he taught me in my game really helped a lot."
Offensively, Mackey ran the Maverick power play and loved to jump into the rush, but it was the toughness he developed in his own end that justified his jump to the next level.
"He has a little bit of natural nastiness to his game," Hastings said to Wes Gilbertson of the Calgary Sun. "The physical piece came as he continued to get stronger."
Canadian media outlets hyped the fact that the 6-foot-2 Mackey put on 25 pounds of muscle during his Mankato tenure.
"More like 15," said Connor with a slight chuckle; he now nudges the scale right around 200, depending on the day. He acknowledged how much work he put in at the acclaimed David Backes weight room inside the Mayo Clinic Health Center Event Center. "Credit the strength coach [Tom Inkrott] for putting up with me. The development off the ice helped me a ton."
Minnesota State's two high-profile NHL signings — Mackey and co-captain Marc Michaelis (Vancouver) — both considered turning pro last spring but returned to Mankato for a shot at NCAA glory.
"He and I were talking a little bit; he was over at the World Championships," Mackey said about Michaelis, who was playing for Germany last spring. "We were going to have a great team, everybody's returning, so I knew we were going to have a shot at making a run and winning championships. We both decided to come back — I'm happy I came back, no regrets."
Due to the coronavirus, their NCAA mission was aborted in mid-March.
"We did have a sense of unfinished business, having it come to an abrupt end," Mackey said. "It sucks not being able to play and make that run, but we're the same as everyone else."
Despite the absence of NCAA tournament play, Mackey experienced high-stakes hockey in the Mavs season-ending showdown with nationally ranked Bemidji, on the road, with the MacNaughton Cup and WCHA top-seeding both hanging in the balance.
"That was a fun series, playing in that tough environment at Bemidji, [like] playoff games," he said. The Mavericks dropped the Friday-night opener, and faced the prospect of losing home ice to Bemidji if they dropped the season finale.
With the WCHA regular-season title on the line, Minnesota State came out and stifled the Beavers for 60 minutes in a convincing 4-1 win. Mackey put the cherry atop the sundae with an open-net goal to conclude the scoring.
"We got it done on Saturday," Mackey said. "I had the second empty-netter, put that one in the back of the net, more of a sigh of relief for everybody. The goal was nice, but the MacNaughton's what you're playing for."
Minutes after the final tally of his NCAA career, Mackey found himself hoisting college hockey's century-old Holy Grail, the MacNaughton Cup, 30 pounds of silver for winning the WCHA regular season. He has handled that ancient chalice all three years he's played for Minnesota State.
"You never get tired of picking that up over your head," Mackey said. "To do it on Bemidji's ice, in a game of that magnitude, it was awesome."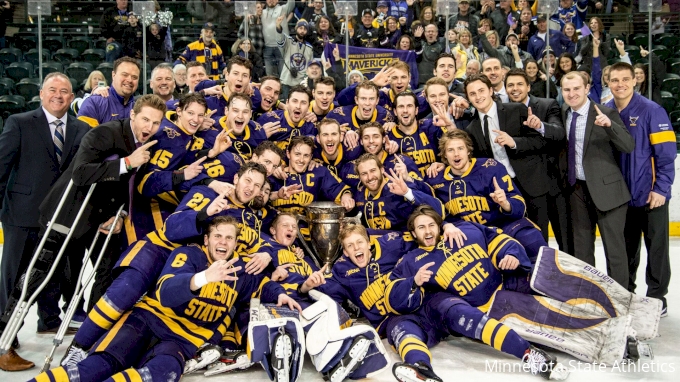 February 29 seems like a lifetime ago, as North America's sports mania has screeched to a sobering halt. Mackey's life in Barrington has downshifted to a routine of finishing his degree on-line, working out, and competing with his twin brother Ian, whether it be rollerblading around the neighborhood or a fierce card game.
"Any game we play, there's always competition," said Connor, the younger brother by three hours.
No matter how intense his battles are with Ian, it's a poor substitute for hockey's version of NCAA March Madness.
"That would have been this weekend, take a crack at the tourney . . . " said Connor, fading off wistfully. "But what are you going to do?"
---
Tim Rappleye is the author of Jack Parker's Wiseguys: The National Champion BU Terriers, the Blizzard of '78, and the Road to the Miracle on Ice. He can be reached on Twitter @TeeRaps.