Checking In On The NCAA's 2019 NHL Draft Class
Checking In On The NCAA's 2019 NHL Draft Class
FloHockey is checking in on some of the biggest collegiate names that got called back in June's NHL Draft.
Dec 11, 2019
by Jacob Messing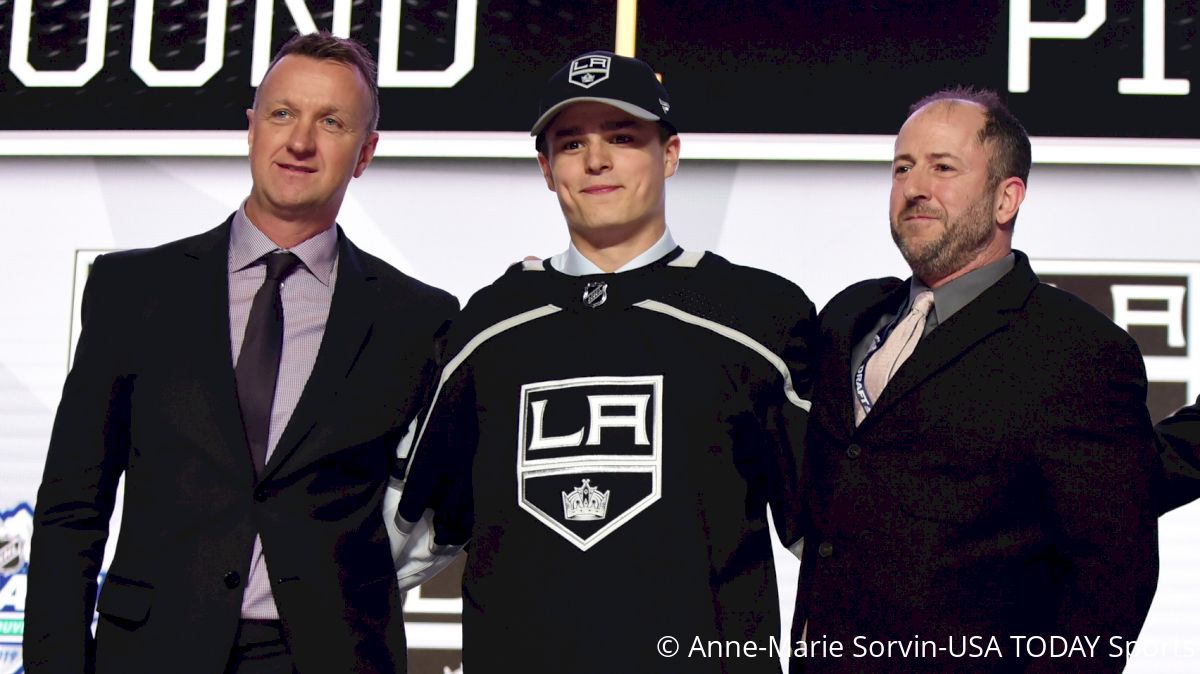 Teams are heading into the semester break as the NCAA regular season is approximately halfway over, and FloHockey is checking in on some of the biggest collegiate names that got called back in June's NHL Draft.
The United States' Development Program was a record-setting squad that highlighted the draft with eight alumni being selected in the first round alone. Regardless of draft position, several of these players have stepped right into the spotlight during their freshman seasons in the NCAA.
A Pair of Badgers
Alex Turcotte's transition from the NTDP to a second-line center at Wisconsin started out as well as he could have hoped with 15 points (5 G, 10 A) in his first 10 games. But mired in a six-game scoring drought, where the Badgers have gone 1-4-1, Turcotte and his teammates are staring down adversity.
But he's continuing to develop his already stellar reputation as a 200-foot player and his offense ability won't be held down for much longer. As the fifth overall pick by the Los Angeles Kings, Turcotte could use a strong second half to fast-track his NHL career. But it may have to wait until after the World Junior Championship.
Four #Badgers on preliminary Team USA roster ??

With 5️⃣ at selection camps, potential there for an historic World Juniorhttps://t.co/ePpFXZy6I6 pic.twitter.com/JRAk2YjpiB

— Wisconsin Hockey (@BadgerMHockey) December 9, 2019
As good as the two-way play of Turcotte has been, he's stuck in the shadow of Cole Caufield, who just continues to score goals. Caufield set the NTDP record with 72 goals in 64 games. Through 18 games with the Badgers, he has 12 goals and eight assists for 20 points.
Caufield finally heard his name called at 15th overall by the Montreal Canadiens, and despite the already high selection, he was projected higher and is proving his diminutive frame means nothing when he has the puck on his stick.
Trevor Zegras
Yet another product of the NTDP, Zegras' play has had its ups and downs this season, but on paper his 17 points (5 G, 12 A) in 16 games are impressive. But when he's on, Zegras is as dangerous as they come with three three-point games on the season.
He's been pivotal in the Terriers high-powered offense, but lackadaisical defense has held the team to a 6-6-5 overall record. Should Zegras begin to find some more consistency, he and the Terriers could begin to find ways to outscore their mistakes.
Drafted by the Anaheim Ducks ninth overall, he's the embodiment of what the Ducks built during their best years in the early 2000s. He's an agitator who isn't afraid to use his body and, as an elite playmaker, he is showing he'll be an integral piece in the Ducks' future.
Boston College Buddies
Spencer Knight was touted as the top goalie in the 2019 draft and he's done everything but disappoint through his first 15 collegiate games. Knight leads all goaltenders with four shutouts while his 1.73 goals against average, .940 save percentage, and .733 win percentage all place him in the top 10 for each category.
Knight is the future of the Florida Panthers, but for now, he's helping to re-establish the once-historic program of Boston College, backstopping a young group into a bright future.
Back in the top-5 of the polls for the first time in three years#WeAreBC? pic.twitter.com/mgNlJKJNSU

— BC Hockey (@BCHockey) December 9, 2019
A young and already-dominant Colorado Avalanche team has even more talent on the horizon and among it is center Alex Newhook. Drafted 16th overall, Newhook has been in the middle of the Eagles' streak with five goals and 11 points in that span.
Michigan Men
If it weren't for the Wolverines' noted offensive struggles, it wouldn't be worth mentioning a pair of nine-point players. But if there are any bright spots on a 6-10-2 Michigan team, it's a pair of freshmen.
John Beecher leads the team with five goals. Drafted by the Boston Bruins 30th overall, the potential is certainly there and his big frame should help him begin to establish himself against opponents when Michigan's second half gets underway.
On the backend, Cam York was an offensive dynamo before coming to Michigan, but he's certainly been deserving of defensive credit, too. However, he can't do it all himself and support has been lacking. Drafted by Philadelphia 14th overall, York — and Beecher — might hit the road before reinforcements get to Ann Arbor.
A Late Bloomer
The NCAA has been an increasingly significant stepping stone for development, where both drafted and undrafted players have gone to hone their skills. Time and again late bloomers find that next gear.
One early promising player is Nick Abruzzese, who was drafted by the Toronto Maple Leafs in the fourth round, 124th overall. Abruzzese leads all freshmen with 1.2 points per game (4 G, 8 A in 10 GP). The Harvard winger's numbers are slightly inflated form a six-point game to start the season, but he's continued to add offense.
---
Have a question or a comment for Jacob Messing? You can find him on Twitter @Jacob_Messing.