2019 Air Force vs Niagara | Atlantic Men's Hockey
Niagara Freshman Ryan Naumovski Sparks The Purple Eagles
Niagara Freshman Ryan Naumovski Sparks The Purple Eagles
The Niagara Purple Eagles struggled to open the season, but freshman Ryan Naumovski has helped turn things around.
Dec 2, 2019
by Jacob Messing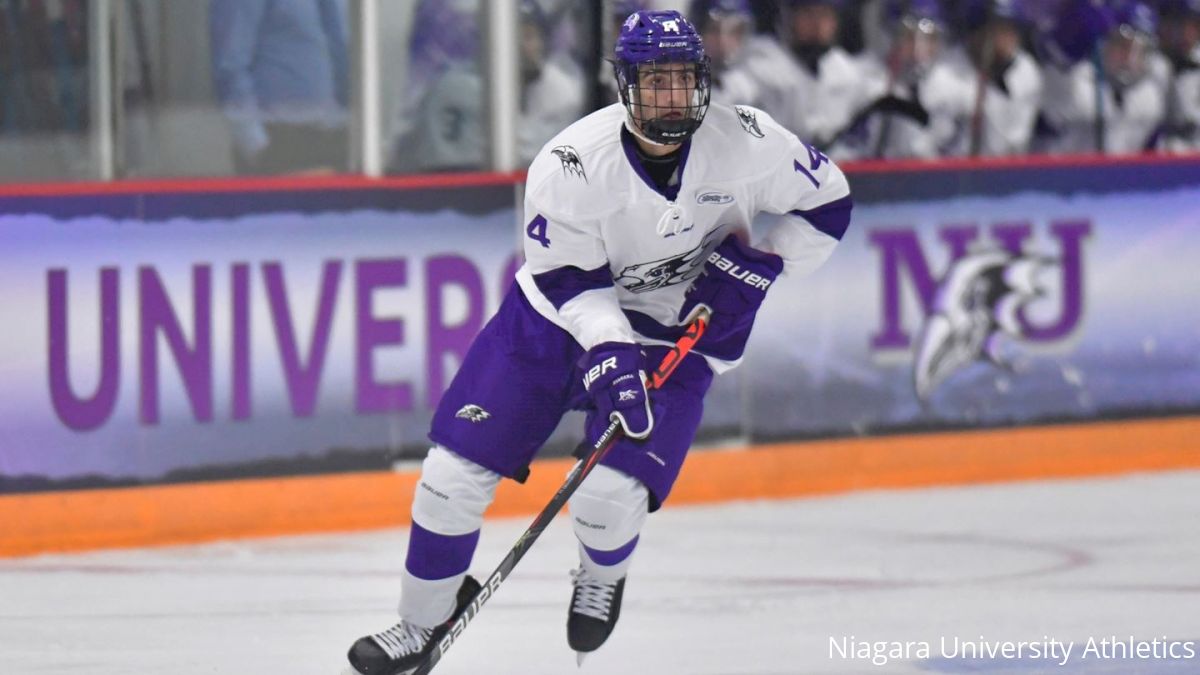 On Nov. 16, the Niagara Purple Eagles defeated Canisius 5-3 for their first win of the season, and freshman Ryan Naumovski was in the middle of it all.
Naumovski assisted on all five goals and marked the first time the Eagles recorded more than two goals this season. The lack of offense brought a 0-8-1 start to the season, but since Naumovski's big game, he and his teammates have stayed hot with a five-game unbeaten streak (4-0-1).
The last five games have been encouraging, not only in the standings but also for players including last year's team leader, Ludwig Stenlund. As a freshman in 2018-19, Stenlund scored 23 goals and added 19 assists for 42 points in 41 games. After recording just one goal and an assist during the 0-8-1 start, Stenlund has three goals and seven points in the unbeaten stretch.
FINAL | Niagara takes four points on the weekend! Purple Eagles get one for going past 65 minutes with Air Force, but the Falcons get the bonus in the 3-on-3.#Uncommon | #EaglesTakeFlight pic.twitter.com/BQUuvpzbLy

— Niagara Hockey (@NiagaraMHKY) December 1, 2019
Two of those goals have come on plays initiated by Naumovski, who has added three assists in four games since his five-point night. The 20-year-old's playmaking ability is well-documented.
In 2018-19, Naumovski finished tied for 19th in scoring in the North American Hockey League (NAHL) with the New Jersey Junior Titans. His 59 points (16-43–59) led the Titans during his second year with the team, where he routinely found his linemates tapping their sticks for scoring chances.
It's that part of his game that stands out. Where a 45-point buffer existed between Naumovski and the NAHL top-scorer in 2018-19, there was only a 19-point difference from the assist leader and Naumovski.
His 43 assists placed him eighth in the league last season. Like many pass-first players, there were times a Naumovski passed on a scoring chance of his own as he opted for a pass. While it can be frustrating as a fan, coach, or even teammate watching some plays get forced, it's hard to argue with success. For a Titans team that made it to the second round of the Robertson Cup, there was certainly some success.
Now, Naumovski is sticking to the style of play that helped him earn a spot with the Eagles and has seen him continue to display his vision and superior passing. With 11 points in 14 games, you'd be hard-pressed to convince a player to change up the way he plays — not that anyone is asking him to.
But with all 11 points coming as helpers, Naumovski does leave something to be desired when it comes to shooting the puck himself. He's seventh on the Eagles in shots, which relays his pass-first mentality. But good things come from players being a little bit more selfish from time to time, and with a little less predictability on a pending pass, the more dangerous Naumovski will become.
But with the five-game unbeaten streak at hand, don't expect coach Jason Lammers to come knocking on Naumovski's door about being more selfish, because things are working and the Eagles' offense is riding confidence.
It's confidence they'll need in two weeks during their final series of the semester when they take on an American International team that holds a 2-10-1 record over the Eagles since the start of the 2016-17 season.
---
Have a question or a comment for Jacob Messing? You can find him on Twitter @Jacob_Messing.