2019 Air Force vs Niagara | Atlantic Men's Hockey
Air Force Offense Takes Flight As Falcons Climb Atlantic Hockey Standings
Air Force Offense Takes Flight As Falcons Climb Atlantic Hockey Standings
After a worrisome start to begin the season, Air Force has found its offensive rhythm.
Nov 27, 2019
by Jacob Messing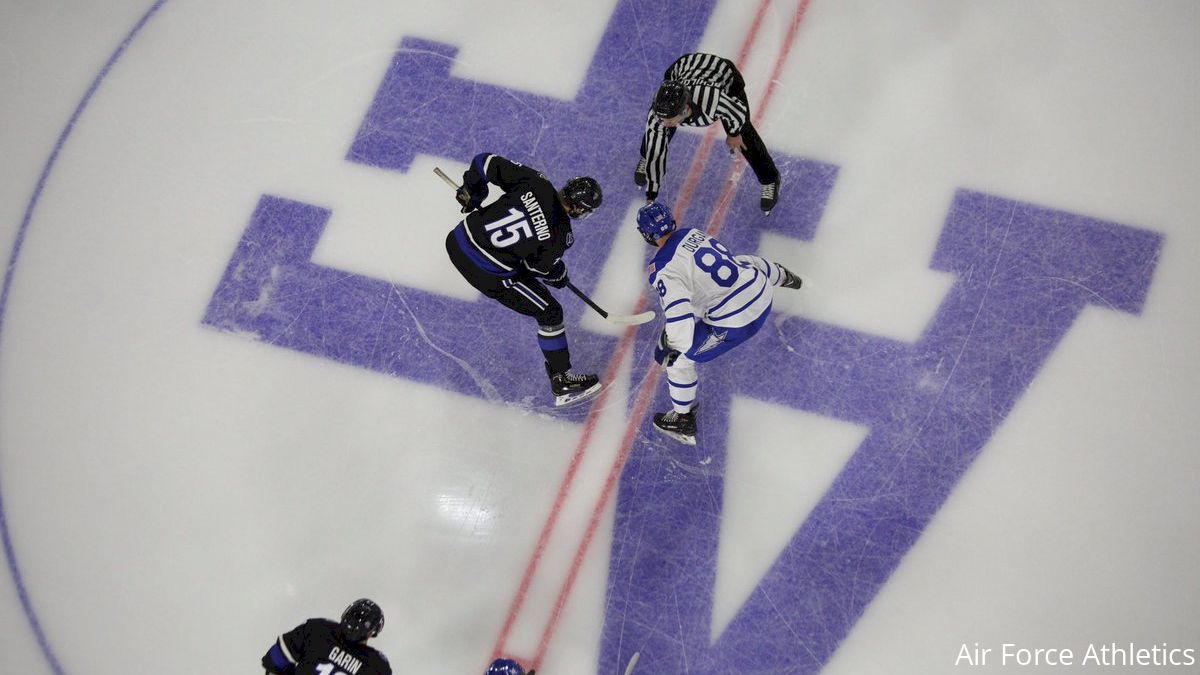 Following a seven-game losing streak to start the season, the Air Force Falcons' offense has come to life during a five-game undefeated streak.
The Falcons struggled to find the scoresheet with just eight goals through their first seven games (1.14 goals per game), but since a 4-3 win over Sacred Heart on Nov. 2, they have averaged 2.8 goals per game during their current streak.
A hot month of November has pulled the Falcons' record to 4-7-1 overall; they currently sit at 4-3-1 against Atlantic Hockey rivals, which places them fifth in the conference. With each of their next three series' coming against conference opponents currently sitting below them in the standings, signs point to more wins on the way.
That next win will be far from any usual win: Air Force's next victory will mark coach Frank Serratore's 400th win behind the Falcons' bench. Presently in his 23rd season, Serratore holds an all-time record of 399-357-87 with the program.
Serratore led the Falcons to Atlantic Hockey tournament championships in 2017 and 2018, earning an automatic bid to the National Championship each year. On the national stage, the Falcons upset Western Michigan in 2017 before losing in the Regional Finals. The following year, they upset top-seeded St. Cloud State before losing in the second round again, this time to eventual champ Minnesota Duluth.
It was in those "written-off," "underdog" games that his team dug deep and played some of its best hockey and it's why Serratore wasn't concerned about the team's slow start. After the Falcons' slow start, Serratore maintained his team's resilience and following a change in goal, two players have led the way.
It was in his first start of the season—after two relief appearances—that sophomore Alex Schilling managed a 4-3 win over Sacred Heart to earn the Falcons their first victory of the season.
It was the start of a 4-0-1 undefeated streak the Falcons are riding, and despite the small sample size, Schilling's .925 save percentage and 1.91 goals against average place him among the league leaders.
Over the weekend, Schilling posted his first collegiate shutout, a 2-0 victory over conference-leader Robert Morris. The next day, he backed the Falcons to a 1-1 tie; it was the first time since early October the Colonials finished a series winless.
While Schilling has locked down the crease, the offense has remembered how to put the puck in the net, and senior Brady Tomlak is ensuring his goaltender has some support.
After three seasons at a scoring rate of 0.49 points per game, Tomlak's per-game rate of 0.9 is helping him lead the offense. Through 12 games, Tomlak has recorded four goals and seven assists for 11 points, leading the team in the latter two categories.
Tomlak is riding a six-game point streak (3-4–7). He had the primary assists on Friday's game-winning goal and the Falcons' lone goal on Saturday. He was a pivotal part in taking five of six points against the Colonials and his coach's excitement is getting hard to contain.
"I really like our team," Serratore told Nathan Breisinger of Sentry Media. "They come to practice every day with a great attitude and they work so hard. We have steadily gotten better and this is going to be a fun team to watch."
Up next, the Falcons will visit Niagara for a pair of 7 PM games on Friday and Saturday. Tune in this weekend to catch both games live, right here on FloHockey.
---
Have a question or a comment for Jacob Messing? You can find him on Twitter @Jacob_Messing.