2019 Alaska Anchorage vs Minnesota State | Men's WCHA
WCHA RinkRap: Michigan Tech Turns Season Around With UP Sweeps
WCHA RinkRap: Michigan Tech Turns Season Around With UP Sweeps
Michigan Tech's season was in the drain, but the Huskies' super sophomore class just turned things around in a huge way.
Nov 26, 2019
by Tim Rappleye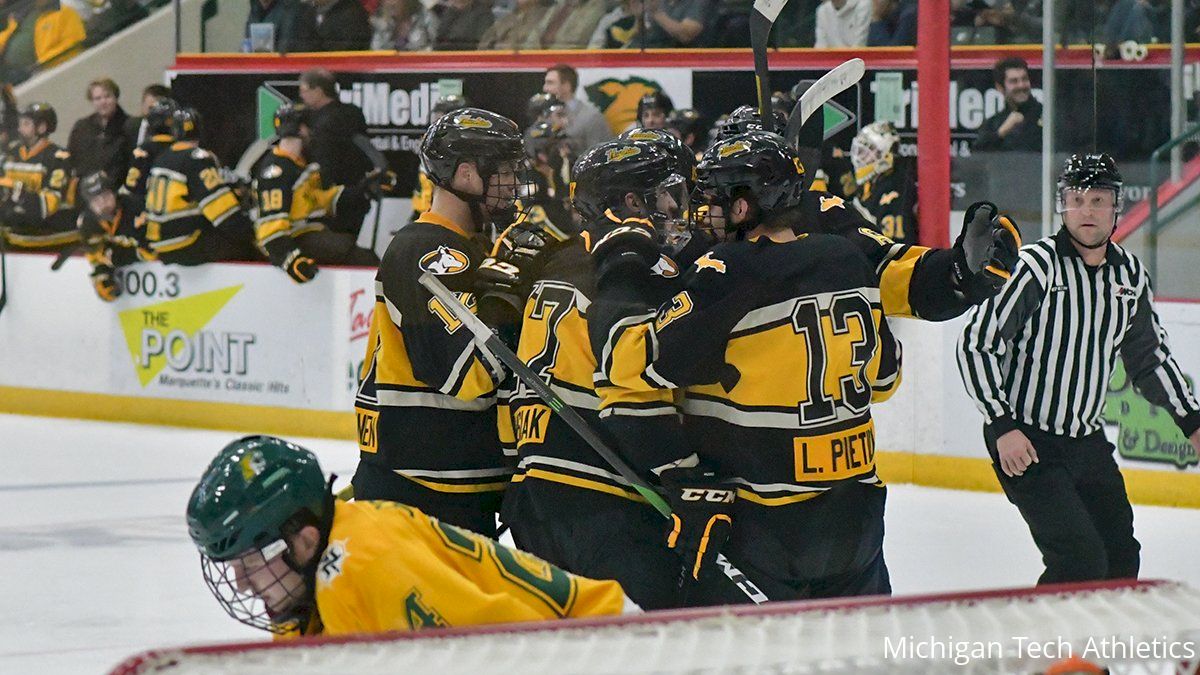 In this Thanksgiving edition of RinkRap, Michigan Tech's sophomore class leads a team turnaround, new names help Ferris State upset Alaska, and a familiar face returns to Mankato.
"There's winning, and there's misery."
-Six-time Stanley Cup champion Mark Messier
There's been a truckload of hockey misery up in Houghton, Michigan, in 2019. Heading into Michigan Tech's UP rivalry week of four games with Lake Superior State and Northern Michigan, Joe Shawhan's Huskies had gone a depressing 5-17-2 in league games in the two seasons spanning 2019, an unrecognizable .250 winning percentage for the 2018 tournament champs who had represented the WCHA in both the 2018 and 2017 NCAA tournaments.
Nine current sophomores, all with sterling hockey pedigrees, found themselves mired in the misery. And then their story spun 180 degrees, as the young Huskies found their way in the forbidding tundra of the Upper Peninsula. In a span of eight days, Tech swept both Lake State and nationally ranked Northern Michigan, amassing 12 league points and securing their first win at home in over eight months along the way.
"Our sophomore class is growing and growing," said Shawhan after Friday night's 3-2 win in Hoghton, breaking a five-game losing streak at MacInnes Arena. "The guys went through a lot of pain a year ago. They're . . . starting to see some reward for their hard work."
Rewards like a gripping come-from-behind win Friday night, powered by sophomores Colin Swoyer (tying goal) and Brian Halonen (game-winner) who both hustled into open ice before ripping their shots.
Powering through the short week like ? ?

Need a little motivation to get you through Thanksgiving? Check out all the highlights and full game replays of the weekend action on the home of College Hockey.#FloHockey pic.twitter.com/Q7UlpTgQQn

— FloHockey (@FloHockey) November 25, 2019
These were the most exhilarating moments from a six-point weekend that brought the Huskies back into contention for a WCHA home-ice playoff spot.
"Great character-building life lessons," Shawhan said. "They learn a lot about life in general by playing every night in this league."
The intensity of Tech's gripping home-and-home series with Northern Michigan stole headlines not only from WCHA's full slate, but from the entire national scene, prompting NCAA hockey's No. 1 fan to tweet out some puck love.
Impressive home and home rivalry sweep by Michigan Tech (7-6-0) over a good Northern Michigan (7-5-2) this weekend. Both games end 3-2. pic.twitter.com/4LAYhqjz0I

— Bucci Mane (@Buccigross) November 24, 2019
Next up for the resurging Huskies is a return date with Alaska, the team that ruined their home opener in October. They now seek to reciprocate the misery dealt to them by the Nanooks, a series sweep that left the Huskies reeling. Next Friday, in the shadow of the Arctic Circle, the education of Shawhan's nine sophomores continues with a shot at second place in the balance.
New Faces for Daniels Scrappy Crew
Ferris State opened their WCHA odyssey Friday night in a world turned upside down: matched up against a first-place team in Fairbanks, playing on a 100-foot wide sheet, and starting a goalie that had never won an NCAA game. The Bulldogs were outshot 37-11, yet they won. Freshman goalie Carter McPhail turned aside 36 Nanooks shots, and three different Bulldogs — Zach Yoder, Liam McDougall, and Brendan Rons — scored their first goals of the season, helping the Bulldogs steal the win 3-2. For 6-foot-6 freshman defenseman Rons, it was his first point of any kind in his six-game college career.
Jaremko Returns in Mankato
After missing six weeks with mononucleosis, junior centerman Jake Jaremko returned to the Minnesota State lineup Friday night and proceeded to score the game-winning goal. Paired with his decade-long linemate Reggie Lutz, the two puck pals combined for a pair of goals and three points in the Mavs' 7-1 romp over Alaska Anchorage
"It definitely felt good," Jaremko said to Shane Frederick of the Mankato Free Press. "It was nice to have the bye last weekend. It helped me get in better shape."
This solidifies the top two scoring lines for national No. 1 Minnesota State, a team whose depth is an embarrassment of riches. Their sweep over Anchorage vaulted them into the top of the WCHA standings by themselves. Unless ambushed by unforeseen circumstances, the rest of the league will be staring up at the Mavericks from here on in.
---
Tim Rappleye is the author of Jack Parker's Wiseguys: The National Champion BU Terriers, the Blizzard of '78, and the Road to the Miracle on Ice. He can be reached on Twitter @TeeRaps.