Men's Big Ten Hockey
Struggling To Score Goals, The Michigan Wolverines Need A Boost
Struggling To Score Goals, The Michigan Wolverines Need A Boost
Michigan's recent seasons have hinged on goaltending, but there's a different reason for this year's struggles.
Nov 21, 2019
by Jacob Messing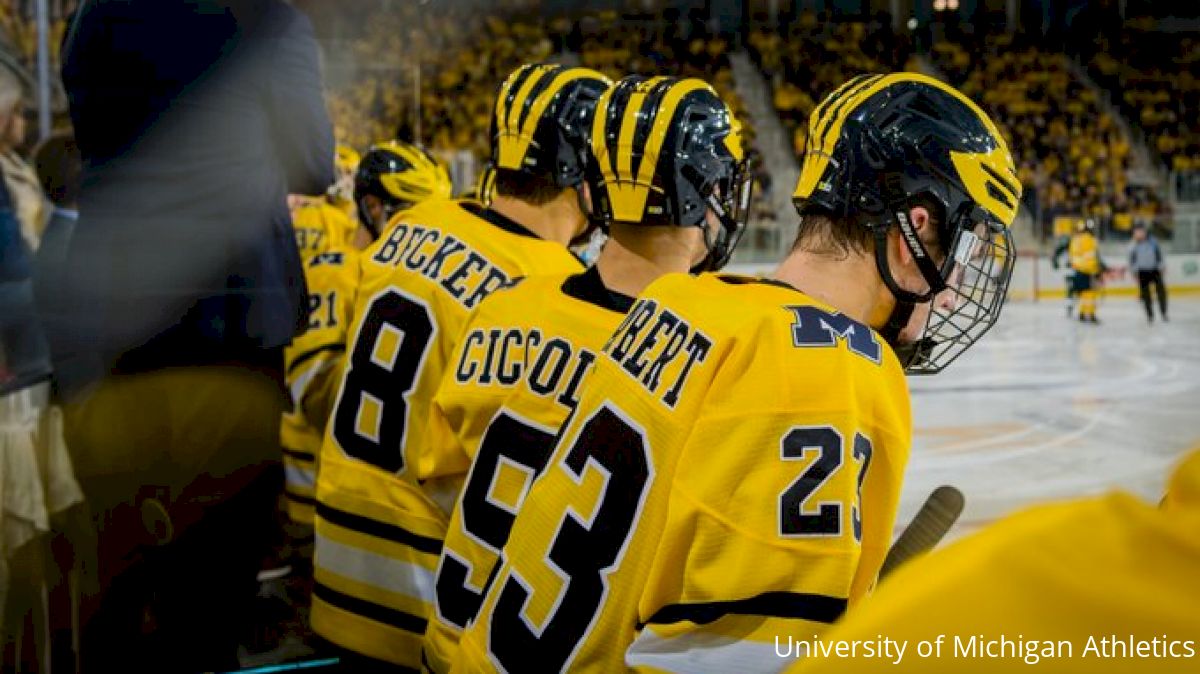 The Michigan Wolverines' trip to the Frozen Four in 2018 seems like a lifetime ago as losses continue to overshadow wins with just 16 victories in their last 49 games.
Michigan remains a prominent choice for top-tier recruits, which is usually a reliable buoy for keeping a program afloat in trying times such as these. In recent years — even in their Frozen Four season two years ago — those trying times came down to insufficient goaltending.
But through 12 games in 2019-20, sophomore Strauss Mann holds a .924 save percentage, 2.25 goals against average, and two shutouts; those numbers place him 22nd, 24th, and second, respectively, among 72 qualified goalies nationally. With senior Hayden Lavigne stopped all 11 shots faced in his near 27 minutes of playing time, it's clear the Wolverines' crease is far from the problem this season.
But something is the problem seeing as the team's third (and most recent) victory came nearly a month ago on October 25. Michigan's 3-7-2 overall record and 0-5-1 conference mark have them aching for answers.
Wins simply don't happen unless you outscore your opponent, and with just 23 goals through 12 games, the Wolverines' 1.92 goals-per-game rate places them 51st of 60 teams. Additionally, goals don't happen without shots, and with a total of 380 shots, the offense is averaging nearly 32 shots per game.
Thirty-two shots per game is respectable, especially considering the Wolverines are only allowing 30 shots against per game. Even the 2.25 goals against per game is good enough for 16th nationally.
Only Yale (5.7 percent), Colgate (5.5 percent), and Vermont (3.9 percent) have a lower shooting percentage than Michigan's six percent; Yale (6 GP) and Vermont (8 GP) are dealing with much smaller sample sizes.
There's also the ugly combined special teams rates (11.8 power play percentage, 80.6 penalty kill percentage) that place the Wolverines at 59th of 60 teams. A slightly more mediocre power play would also add tallies to the goals-for column and potentially result in a few more wins.
Perhaps puck luck and bounces simply aren't in the Wolverines' favor early on and a regression to the current league average of an 8.1 SH% (that would give the Wolverines approximately seven more goals than they're current mark) is in the works.
Or perhaps the improved defensive numbers have Mel Pearson's team focused on defending with an expectation that star talent will inevitably add natural offense.
But whatever the case may be, the offense is struggling and the losses are piling up for Ann Arbor's historic program. Any potential regression will require patience, and with a third of the season already gone, patience is tough to swallow for the team, the staff, and fans alike.
Pearson needs to mix things up and find a way to reestablish the chemistry his players showed during his first year at the helm, the one that resulted in the program's first Frozen Four appearance in seven years.
---
Have a question or a comment for Jacob Messing? You can find him on Twitter @Jacob_Messing.