2019 Ferris State vs Alaska | Men's WCHA
From Princeton To The Great Lakes: Ferris State Transfer Austin Shaw
From Princeton To The Great Lakes: Ferris State Transfer Austin Shaw
Ferris State goalie Austin Shaw transferred to Big Rapids all the way from Princeton.
Nov 20, 2019
by Tim Rappleye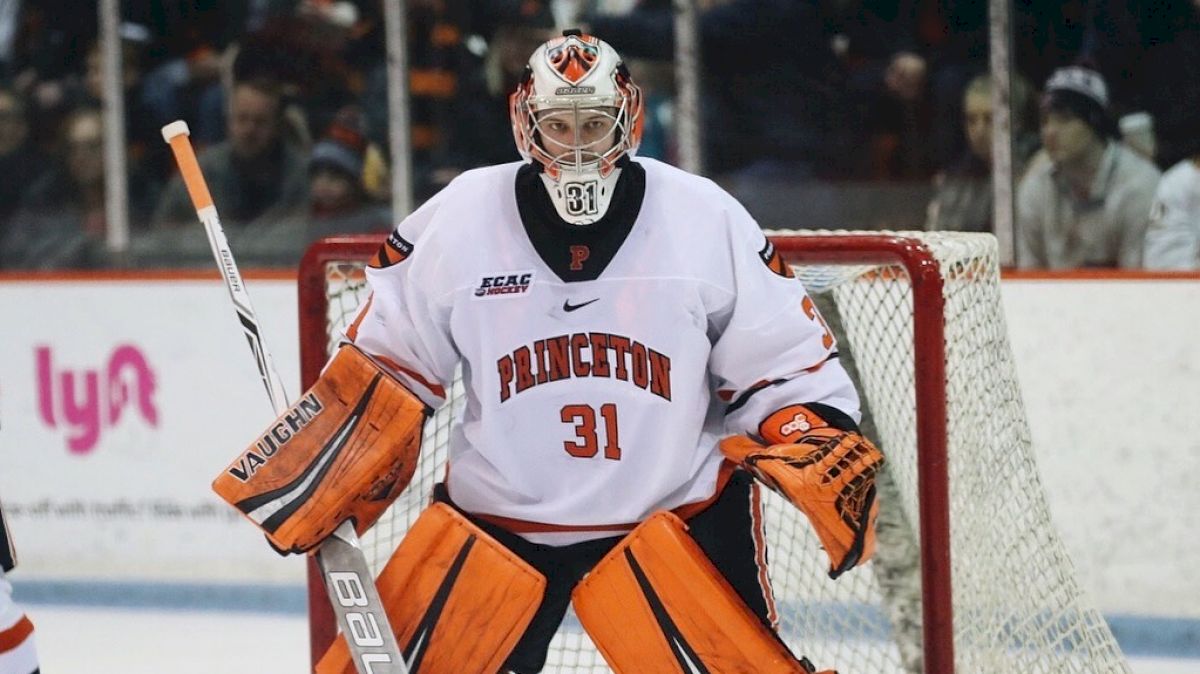 Big News popped from Big Rapids last Friday: Ferris scored its first WCHA win, 2-1 over Bemidji.
Familiar names grabbed headlines for the Bulldogs. Coale Norris tucked in a pair of goals, gutty D-man Joe Rutkowski blocked seven shots, and the goaltending hero was . . . WHO? In his first start at Ewigleben Arena, Austin Shaw, a transfer from Princeton, out-dueled WCHA standout Zach Driscoll in the Bulldogs' much-needed win.
Who knew?
"It's big, really huge," head coach Bob Daniels said about the win, but he might have been talking about the 6-foot-4 Shaw, whose academic pedigree makes him stand out more even than his height. A four-year fixture on the ECAC's All-Academic team, Shaw has a diploma from the No. 1 school in America (according to U.S. News and World Report). His Princeton sheepskin came at a high price, however: a hundred-page thesis had to be submitted before he could pass through ancient FitzRandolph Gate as a Tigers graduate. His new teammates often stare in wonder at Shaw.
"I don't want to say (they were) awestruck," Shaw said. "But they were asking me about the thesis, and were amazed that kids at Princeton have to that. They're like, 'I could never do that.'"
How Shaw transferred to Ferris as a graduate student is a tale typical college hockey's transience, a process that often resembles a game of musical chairs. Former Bulldog goalie Justin Kapelmaster busted out of Big Rapids for Robert Morris, leaving a coveted slot open for Shaw, who had a year of NCAA eligibility remaining. The supply of college hockey players far outweighs demand, so Shaw was forced to work the phones as well as the books his senior spring. Weeks of smiling and dialing cold-calls became months, until he finally got a response when least expected it.
"I was actually on my senior trip on the beach, with a cooler full of beer," said Shaw, who noticed his phone vibrating in the Myrtle Beach sun. It was Daniels buzzing in from Big Rapids. "I had to take the call real quick, before the festivities got going."
After half an hour on the phone, Daniels had helped chart Shaw's new life course. He would postpone the sirens of Wall Street for Big Rapids, and get one last college hockey hurrah in the wild and wooly WCHA. Stuck in swaths of empty space between two Great Lakes, Shaw began to decompress.
"One of the best parts of the Ferris experience is to be able to have time for yourself," Shaw said with a peaceful exhale. "Sometimes at Princeton you felt a little suffocated. It's very busy, a bit of a bubble. It's hard to get out of things, to relax a little bit."
Shaw, an outdoors lover raised in the Rockies, recently got his first taste of deer hunting in Michigan, and has frequently fished its abundant streams. He actually carved out time at Princeton to pursue his love of fly-fishing.
https://t.co/DtsBE6D2U6 @FerrisHockey x-fer goalie Austin Shaw shows his fishing skills back at Princeton

— Tim Rappleye (@teeraps) November 19, 2019
His transition to the WCHA has not been without speedbumps. A previously undetected sports hernia put Shaw on the shelf as the season commenced. Days after full recovery, he found himself starting on the road against Western Michigan, the only NCHC team on Ferris' schedule. Coach Daniels didn't allow his Ivy League scholar time to overthink.
"To get thrown into the fire — with the crowd like a higher-stakes game — was better for me," Shaw said. "It forced me to turn my brain off and just play."
The veteran turned aside 25 shots, and was locked into a 2-2 tie with nine minutes to play before a pair of back-door goals spoiled the storybook chapter. Shaw's confidence was boosted nevertheless.
"I thought I played really well."
His next start was last Friday's win over Bemidji, a victorious milestone in this unexpected career detour, one that is proving beneficial for all parties. Shaw was grateful to his new mates after the win, shining a light on his selfless defensemen, puck-eating Rutkowski in particular. "Yeah, he was a madman."
With three starts in four games — a block of work he had never received at Princeton — Shaw joins his Ferris teammates for another personal first: a 12-day sojourn to Alaska, four games in the Last Frontier. Like his new best buds, he will be grinding online to get through his classes. Pursuing his MBA has required Shaw to take his first accounting class, a mid-level course that "has been a bit of a struggle." Rather than seek a tutor, Shaw turned to teammates Zach Yoder and Dominic Lutz, senior accounting majors. "They've been a huge help," said Shaw.
The irony of the fact that the boys from Ferris are propping up the Princeton academic is not lost on Shaw, and he exudes gratitude in return.
"I've really tried to be one of the guys," Shaw said. "I'm trying to take in every part of the Ferris experience; it's really special. I feel really fortunate to have gone to Princeton, but now to get this experience at Ferris State, pursue my MBA and also focus on hockey — that's a really great setup."
---
Tim Rappleye is the author of Jack Parker's Wiseguys: The National Champion BU Terriers, the Blizzard of '78, and the Road to the Miracle on Ice. He can be reached on Twitter @TeeRaps.