2019 Bowling Green vs Alaska Anchorage | Men's WCHA
WCHA RinkRap: Michigan Tech Earns A Sweep, Ferris State Finds A Way
WCHA RinkRap: Michigan Tech Earns A Sweep, Ferris State Finds A Way
With Minnesota State idle over the weekend, other teams made serious moves in the WCHA standings.
Nov 18, 2019
by Tim Rappleye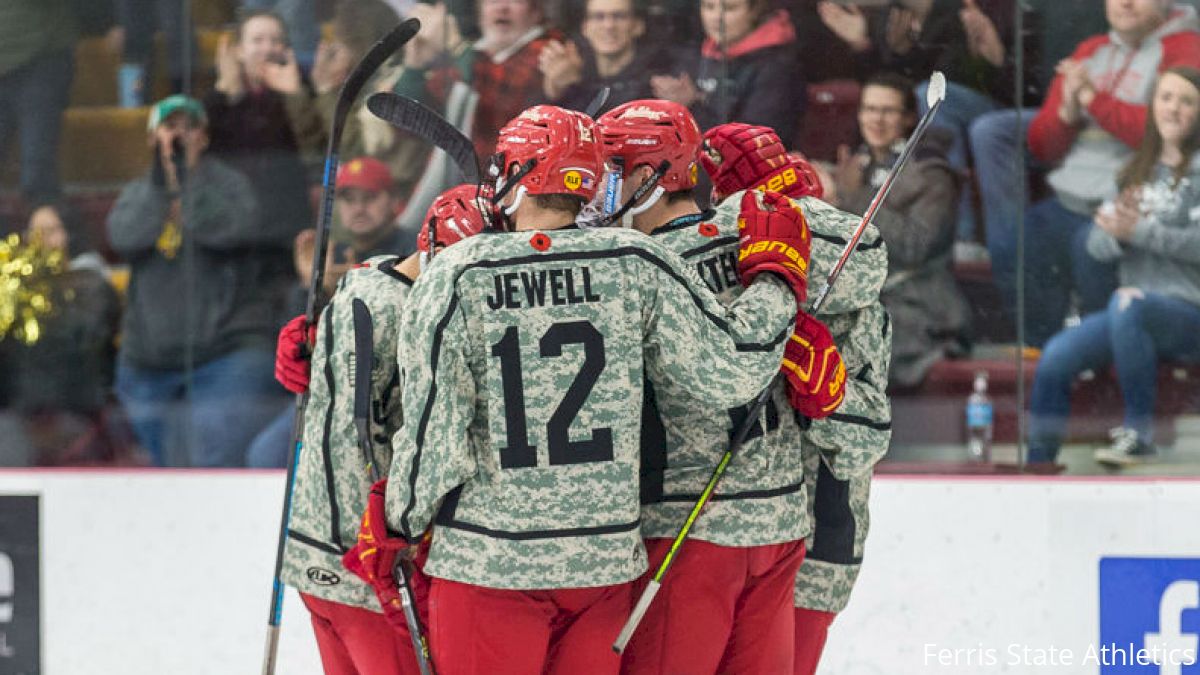 With Minnesota State idle this past weekend, there was a lot of movement in the WCHA standings. Ferris State got its first conference win, Michigan Tech pushed their road record to 5-2, and the Nanooks of the North find themselves with a share of first place.
Michigan Tech, emblematic of WCHA teams' reputation as road warriors, swept Lake Superior State in the Sault Ste Marie this weekend, leapfrogging two clubs into sixth place in the WCHA standings. This season has become a major challenge for third-year Huskies coach Joe Shawhan, who attempts to extricate his club (5-6 overall) from the proverbial ditch they drove into to start league play — being swept at home by Alaska. A man never at a loss for words, Shawhan may have struck a chord with his lunchtime speech, only hours before Friday's game.
"The expectations at Michigan Tech are not to be mediocre, in anything we do," recounted Shawhan. "Do your best and excel . . . the school has that motto. They don't supply average engineers and average business students; they supply the best. That's what we want to be."
Senior goaltender Matt Jurusik was exactly that: the best, picking up both wins in the Soo. He dominated Saturday night's third period, turning aside all 18 Laker shots to seal the 2-1 win.
"The best goaltending performance I've seen since Mareks Mitens beat Minnesota State 1-0 in Mankato," said Lake State radio man Bill Crawford, who spent the entire period composing praise for Jurusik.
The goaltending theft at Taffy Abel Arena gave the Huskies a care-free bus ride home across the Upper Peninsula, but the victims of Jurusik's larceny were left to wonder what is becoming of their season. Lake Superior, whose 10 losses are the most of any WCHA club, finished the weekend with a brilliant 20 minutes, generating a dozen grade-A chances among their 18 shots in Saturday's third period. It remains to be seen what kind of ripples that display of excellence will generate up in the Soo.
Bloody Nose Alley Part 1: Wildcats Power Play Paradox
Northern Michigan boasts the best power play in the WCHA, humming along at 28-percent efficiency and leading the nation with 16 tallies. When the 'Cats go a man up, it's a chance for Berry Center fans to delight at the skills of Vincent de Mey, Griffin Loughran, and Joe Nardi. With soft-handed senior Phil Beaulieu quarterbacking from the point, it's a show of rapid puck movement.
"The PP is doing its job," said coach Grant Potulny, who was far from ecstatic. He knows that plenty of work remains before the Wildcats' offense is truly firing. Case in point: Northern got all their goals from special teams in their split with Alaska — three PP tallies, one short-handed, and not a single goal at even strength.
"To generate more offense five-on-five we need to do a better job on the rush, and then get pucks to [the] interior of the rink in our offensive zone play," Potulny said.
In other words, more time in Bloody Nose Alley, the real estate atop the crease where things get nasty.
The age-old Q&A applies here:
Q: "Why do people rob banks?"
A: "Because that's where the money is."
Goal scoring follows a similar premise:
Q: "Why do forwards take a beating in front of the net?"
A: "Because that's where the goals are."
When Potulny talks about "the interior of the rink," he's talking about Bloody Nose Alley. You can't be a successful offensive team living on the perimeter.
Bloody Nose Alley Part 2: Ferris Finds a Way
Ferris State junior Coale Norris had his first two-goal game of the season in the Bulldogs' victory Friday over Bemidji, and both came within a stick length of the Beavers' crease.
"What I call a 'man's goal,'" said Daniels about Norris's second, the game-winner. "He locked in net-front, had his stick down, and banged it home."
"It's something we've been talking about lately," said Norris. "Getting to the dirty areas. That's what it came down to."
The big winger's net presence helped Ferris to their first WCHA win of the season, three crucial points at home before an Alaska road trip of Herculean proportions: 12 days, four games, 7,500 miles, 20 hours in the air, and plenty of zombie time in SeaTac airport waiting for connections.
Beware the Nanooks
Despite being frequently characterized as a weak sister of the WCHA, the Alaska Nanooks are a team no one wants to play right now.
At 9:30 ET Saturday night, Nanooks senior goalie Anton Martinsson was gyrating like he was at a rave dance party, surrounded by men in blue. He had just stymied Northern Michigan for a 3-2 victory, giving Alaska a share of first place, joining Northern and Minnesota State. The Nanooks haven't been in first place this late in the season since the WCHA realignment of 2013.
"It was a good team win tonight, from the forwards to Anton in net," said Nanooks coach Erik Largen. "We needed everyone to beat a really good Northern Michigan team."
Last year, Largen's skaters gave Northern all they could handle in their WCHA quarterfinal series in Marquette. The Nanooks' season, one that began so tumultuously with the state's financial crisis, now appears to be sprinkled with pixie dust: a pair of road wins over two nationally ranked opponents, and three wins out of four in the Upper Peninsula. More importantly, the Alaska Board of Regents stated last week that both Fairbanks and Anchorage will be playing Division I hockey next season.
The Nanooks now look forward to a four-game homestand with Ferris and Michigan Tech; a 12- point sweep is not pure fantasy. Alaska is on course to return to the WCHA playoffs, and possibly host their own series. Fairbanks in March is a destination every WCHA club hopes to avoid.
Falcons Fly in Anchorage
The scoresheets show only that Bowling Green swept the Seawolves in Anchorage this weekend, but if you dive into the @bgfalconhockey travelogue, you'll see a team gelling before your eyes. Here's a sampler from a remarkable sights-and-sounds show, produced by a squad who hijacked their team's Twitter account for the entire five-day trip.
November 14, 2019
---
Tim Rappleye is the author of Jack Parker's Wiseguys: The National Champion BU Terriers, the Blizzard of '78, and the Road to the Miracle on Ice. He can be reached on Twitter @TeeRaps.