2019 AIC vs Army | Atlantic Men's Hockey
Canisius Faces ECAC's Union & Atlantic Conference Play Heats Up
Canisius Faces ECAC's Union & Atlantic Conference Play Heats Up
Atlantic Hockey's Canisius faces off against ECAC's Union, but the rest of the conference is set for intra-league battles.
Nov 1, 2019
by Mike Ashmore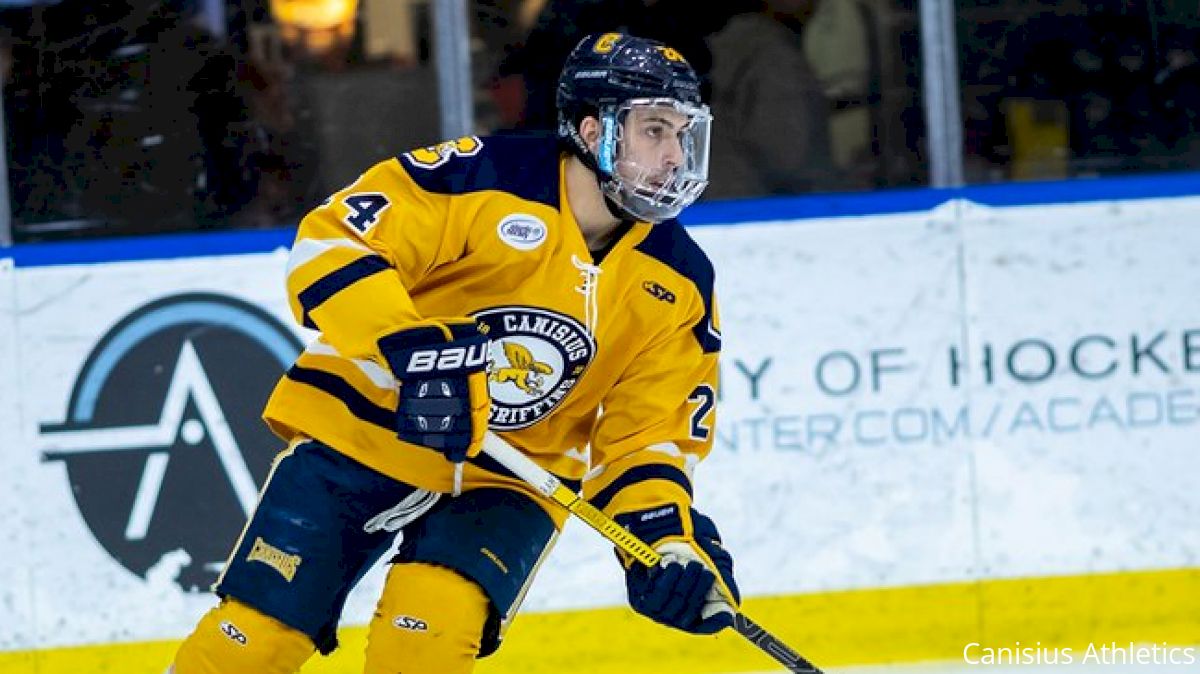 Last week, Atlantic Hockey teams were again in the spotlight thanks to matchups against nationally ranked programs, including games that were available for streaming only on FloHockey.
No. 15 Ohio State took both of their games against Mercyhurst, and No. 3 UMass got past AIC, but even though Robert Morris fell to No. 12 Penn State, 2-1, the Colonials have still emerged as one of the early favorites to emerge as the conference representative in the NCAA Tournament thanks to winning three of their first four AH games.
Just about everyone else gets a chance to catch up this weekend, however, as both Mercyhurst and Holy Cross will finally start their in-conference games starting Friday.
The Colonials are idle this week, but there's still plenty of in-conference action, not to mention Canisius, who will be the only team in Atlantic Hockey to have still not faced an in-conference opponent, hosting Union from the ECAC for a two-game slate, while Niagara heads all the way out west to Denver from weekend of games against the top team in the country.
On paper, it seems like a mismatch for the Purple Eagles, who are off to an 0-4 start this season. However, junior goaltender Brian Wilson has played relatively well considering a light offensive output from his team so far; he's posted a 3.03 goals against average and .897 save percentage in three appearances this season, and could be the difference in what would go down as one of the biggest regular upsets in conference history of they're able to pull off a win on either Friday or Saturday night.
Air Force @ Sacred Heart, Friday, 4:05 PM and Saturday, 11:05 AM
AIR FORCE (0-2 AH, 0-6 overall)
LEADING SCORER: Brady Tomlak (1 goal-3 assists-4 points)
LAST TIME OUT: The Falcons lost two back-to-back one-goal games to RIT last Thursday and Friday, 2-1 and 1-0. Matt Pulver was the only player to light the lamp all weekend for Air Force, who are still looking for their first win on the season.
SACRED HEART (2-1, 2-3-1)
LEADING SCORER: Jason Cotton (4-4-8)
LAST TIME OUT: The Pioneers swept Niagara this past weekend, posting a big, 4-0 shutout win on Friday and then following that up with a 3-1 victory the following day. Sophomore goaltender Josh Benson made 24 saves in the opener, with 13 of them coming in a frantic final period. Jason Cotton, who is tied for the conference lead with four goals, and second in the conference with eight points, potted two shorthanded tallies on Saturday.
Holy Cross @ RIT, Friday, 7:05 PM and Saturday, 5:05 PM
HOLY CROSS (0-0, 1-1-2)
LEADING SCORER: Kevin Darrar (2-4-6) and Neil Robinson (1-5-6)
LAST TIME OUT: The Crusaders played an ECAC opponent, on Friday, taking the St. Lawrence Saints the distance in a 2-2 tie. Matt Radomsky made 21 saves to earn the second tie of the season for Holy Cross.
RIT (2-0, 5-1)
LEADING SCORER: Adam Brubacher (1-4-5), Jake Hamacher (1-4-5), Shawn Cameron (4-1-5)
LAST TIME OUT: RIT swept the weekend on the road, defeating Air Force in two consecutive one-goal games on Thursday and Friday to get off to a clean in-conference slate, and improve to 5-1 overall that has them earning votes, but remaining just outside of the top 20 in the latest USCHO polls.
Logan Drackett made a career-high 43 saves in the opener, and came back to make another 36 stops in the shutout win; Jake Hamacher scored that contest's only goal in the second period.
Mercyhurst @ Bentley, Friday, 7:05 PM and Saturday, 7:05 PM
MERCYHURST (0-0, 2-4)
LEADING SCORER: Dalton Hunter (3-6-9)
LAST TIME OUT: The Lakers dropped both games they played against the nationally ranked Buckeyes, and look to rebound with a road trip to Bentley. Despite the recent struggles, Dalton Hunter is the conference's leading scorer with nine points in his first six games, and added a goal and two assists against Ohio State.
BENTLEY (1-2, 2-3)
LEADING SCORER: Jakov Novak (4-0-4)
LAST TIME OUT: Bentley turned in a dominant performance with a 5-0 win over Army on Friday, only to suffer a similar fate against St. Lawrence on Saturday, losing 3-0. Jakov Novak, tied for the Atlantic Hockey lead with four goals in his first five games, scored twice in the opener, while Aidan Pelino stopped all 25 shots he faced.
AIC @ Army, Friday, 7:05 PM | Army @ AIC, Saturday, 1:05 PM
AIC (1-0, 1-3)
LEADING SCORER: Patrik Demel (0-3-3)
LAST TIME OUT: The Yellow Jackets gave the Minutemen a serious scare, nearly knocking off the country's third-ranked team on Friday. The game remained tied, 1-1, through the first 57 minutes of play, before UMass finally broke through for three late goals.
ARMY (1-2, 3-2)
LEADING SCORER: John Zimmerman (1-3-4), Michael Wilson (3-1-4)
LAST TIME OUT: Army lost, 5-0, to Bentley in their only action of the weekend on Friday. They may also be without one of their leading scorers for one of the games against AIC; he was assessed a major and game misconduct for contact to the head in the shutout defeat.
Atlantic Hockey Weekly Award Winners
(PR) Atlantic Hockey's latest set of weekly awards, presented by PSE Event Housing, feature a pair of players from both Sacred Heart and RIT.
Player of the Week
Austin McIlmurray – Sacred Heart
Senior, Forward – Coral Springs, FL/Coquitlam Express
McIlmurray tallied three goals for the Pioneers at Niagara this past weekend as Sacred Heart swept the Purple Eagles. He had two goals for SHU on Friday night as the Pioneers beat Niagara, 4-0. Then, on Saturday, he had the third Sacred Heart goal in what became a 3-1 win. All three of his goals were scored on the Pioneers power-play.
Defensive Player of the Week
Mike Lee – Sacred Heart
Senior, Defense – Hamden, CT/Vermont
Lee recorded five assists in the two-game series at Niagara this weekend as he tallied two in Friday's 4-0 victory while recording three in SHU's 3-1 win to complete the weekend sweep of the Purple Eagles. Lee also recorded four blocks and finished +3 on the weekend.
Goalie of the Week
Logan Drackett – RIT
Junior, Goalie – Calgary, ALB/Calgary Canucks
Drackett went 2-0 last weekend at Air Force, recording a 0.50 goals against average and a .988 save percentage in two game at the Cadet Ice Arena. Thursday, Drackett made a season-high 43 saves in a 2-1 win over the Falcons, including 16 in the second period. Friday, Drackett recorded his second shutout in three games, making 36 saves in a 1-0 win for the Tigers. Air Force outshot RIT 80-22, but Drackett stopped 79 of those 80 shots in two wins.
Rookie of the Week
Elijah Gonsalves – RIT
Freshman, Forward – Scarborough, ONT/Wellington Dukes
Gonsalves helped RIT to a pair of wins at Air Force Academy last weekend. The freshman forward scored the game-winner at 5:29 of the third period in Thursday's 2-1 win over the Falcons. He finished the weekend +1.
---
Mike Ashmore has 17 years of experience covering professional and college sports. You can follow him on all social media channels at @mashmore98.