2019 Colgate vs Ferris State | Men's WCHA
The Statesmen Of DI Hockey: Colgate's Vaughan & Ferris State's Daniels
The Statesmen Of DI Hockey: Colgate's Vaughan & Ferris State's Daniels
Bob Daniels of Ferris State and Don Vaughan of Colgate go back in Division I hockey as two of the longest-tenured coaches in the league.
Oct 30, 2019
by Tim Rappleye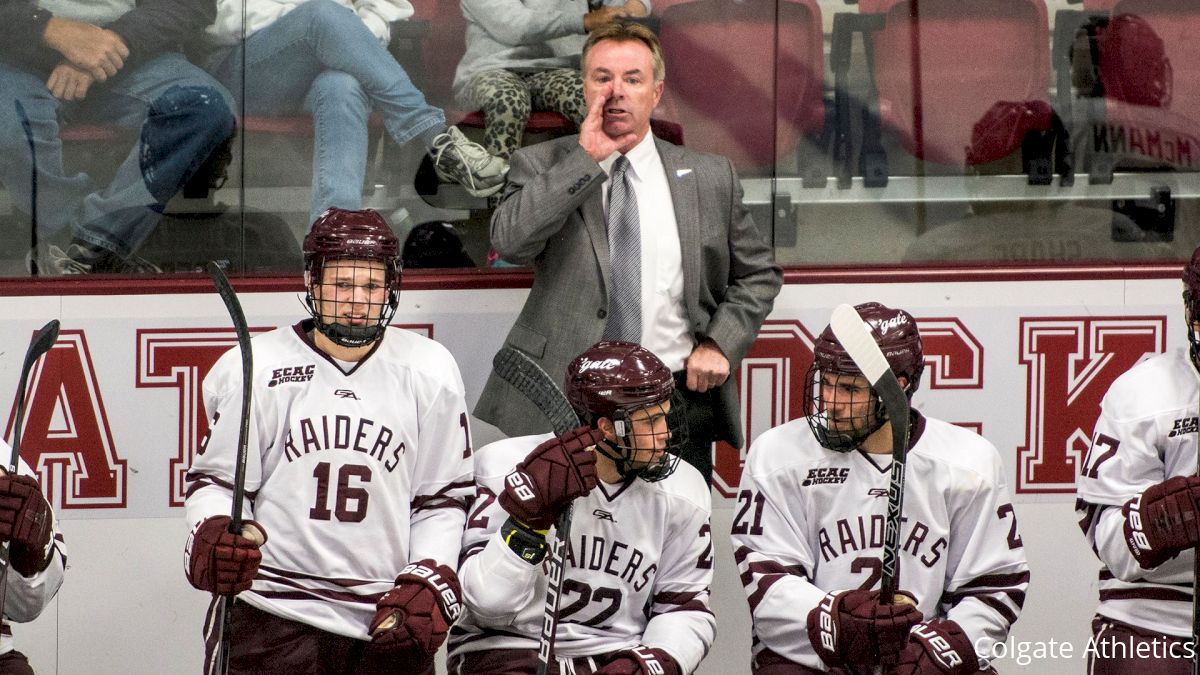 On a Thursday night in early October, a couple of 60-something hockey lifers coached against each other for the 16th time. Don Vaughan of Colgate traveled 600 miles to play Bob Daniels' Ferris State Bulldogs for a single game on a school night. It was a game that hardly moved the meter in terms of national rankings, but the contest was huge in terms of nostalgia and the human element.
This game came about through a phone call between old friends, two elder statesmen of college hockey.
Vaughan and Daniels both began coaching their respective programs in 1992-93, the longest tenures of any Division I coaches. Vaughan actually left the Raiders bench in 2003-04 to become Colgate's interim athletic director for a single season, before jumping back into the fray. This leaves the likable Daniels as college hockey's iron man. Daniels laughed at the idea of leaving the rink for a desk job.
"You become a bit of an adrenaline junkie — Donnie's probably wired that way," Daniels said. "If you're a coach, you miss the action. It would be difficult not to want to crawl behind the bench. It's in his blood."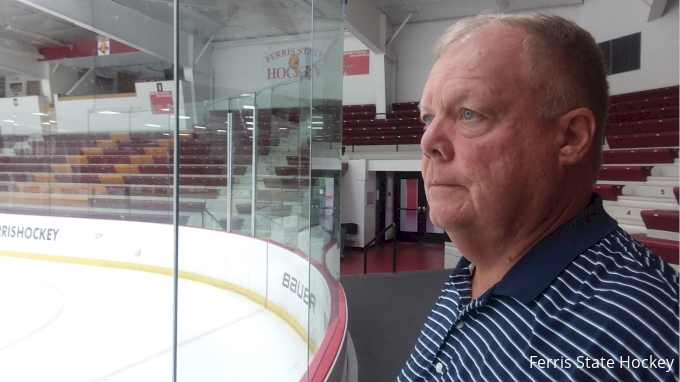 Bob Daniels of Ferris State. Donnie Vaughan can be seen on the Colgate bench in the main article image. The two friends have played each other a staggering 16 times.
Despite playing in conferences on other sides of the country, the two programs have had memorable clashes over the years, like a one-goal NCAA knockout by Ferris in 2014, or earlier that same season when Vaughan's Raiders captured the prestigious Mariucci Championship at the expense of Daniels' Bulldogs.
"There was a period of about five years, whatever holiday tournament we went to, they were there — it was great," Daniels said. "We've played each other in some really big games, in some big tournaments. We got to know each other. I've got a real appreciation for Donnie, what he gets out of that program. He does so much with real class."
They share an affinity coming from coaching at small rural schools.
"I think we're kindred spirits," Vaughan said. "We had a tendency to do more with less . . . Bob with his program, we did that with old Starr Rink. I just admire him from afar."
So when a scheduling snafu left Vaughan's Raiders needing a game, he knew just who to call. Daniels picked up right away.
"I said, 'Don, we'd love to play you. We need home games,'" Daniels recalled. "We didn't have a weekend that was open for both of us. He goes, 'We could do it on a Thursday,' and I said, 'Sure, why not?'"
"Bob was gracious enough to play us, even on a Thursday night, realizing we had to turn around and play on a Sunday," Vaughan said. "I think a lot of our scheduling comes about because of friendships and people; you pick up the phone and call."
Despite it being an early-season game between programs that have foundered recently, Ferris prevailed in a hard-fought contest that resembled their high-profile battles from five years ago.
"It was a great game for us," Daniels said. "I knew it would be, because they compete so hard. I was glad we could accommodate them."
After the final horn at Ewigleben Arena, the two graying men gathered briefly in front of the benches and shook hands. They have been fighting the good fight since 1992, the wise elders of DI hockey.
"It feels good," Daniels said about facing a true peer. "You know what he's been through in terms of how hard it is over that many years. Time goes by in the blink of any eye, and you cherish all the moments."
---
Author Tim Rappleye just released his latest book: Hobey Baker, Upon Further Review (Mission Point Press). He can be reached on Twitter @TeeRaps.