Create a free account to unlock this article!
Get Started
Already a subscriber? Log In
October and November is the time when college hockey teams are just getting to know one another; it's also the time when NCAA Tournament fortunes can be won or lost. Just ask Northern Michigan: 18 WCHA wins last year, 21 overall, yet a dismal non-conference record cost them their tourney bid.
Excruciating November out-of-conference losses to Cornell and Notre Dame torpedoed the Wildcats' tournament hopes last year thanks to the heartless Pairwise rankings.
"Scores have no bearing on anything," said College Hockey News editorial boss Adam Wodon, the unassailable expert on all things Pairwise. "A close loss or a blowout loss is the same either way."
So on Friday night, Grant Potulny's Wildcats found themselves down three goals in the second intermission at Boston University. Potulny knew the consequences of what this early-season loss might exact, but over the next 25 minutes of playing time, he learned that this year might be different.
His Cats willed themselves to a 4-4 tie Friday night, and then scraped out a gutty 4-3 victory Saturday, flying out of Boston with two performances that both boosted their Pairwise fortunes.
"A win-tie is better than a [solo] win because road ties are considered positive," Wodon said.
Their margin of victory in Boston was razor-thin, but it was more than just good fortune that changed the series in favor of Marquette men: Potulny pointed out a pair of critical factors, one old and one new. The new was the play of their newbie goaltenders, especially freshman John Hawthorne on Friday night.
"We were on our heels quite a bit. Our goaltender [Hawthorne] made some really important saves just to keep us alive," said Potulny, who then pointed out the second factor in turning their young season around — senior leader Phil Beaulieu.
"He has built a relationship with every person, bringing the team together," the coach said. "Those things matter when you get moments like we did Friday night. What he's done through camp allowed us as a team to be close enough to fight through instead of shutting it down."
It was alternate captain Beaulieu who spoke in that crossroads moment, down three goals in with only a period to play Friday night.
"It wasn't a lot of rah-rah," Potulny said. "It was just — 'Make a play, and we can get back in the game.'"
When the 'Cats converted on a power play just past the five-minute mark, the game turned. It ended up a 4-4 tie with Beaulieu helping set up the knotter with 2:17 remaining in regulation. Beaulieu had another helper Saturday, his 100th career point, while sophomore Vincent de May sniped a pair of goals in a 4-3 win. The contrast from a year ago was not lost on Potulny.
"Last year maybe we were a little bit wide-eyed…played the likes of Notre Dame and Cornell and St. Cloud," he said. "I think that may have helped prepare us for these opportunities this year to play those premier programs."
Puck Droppings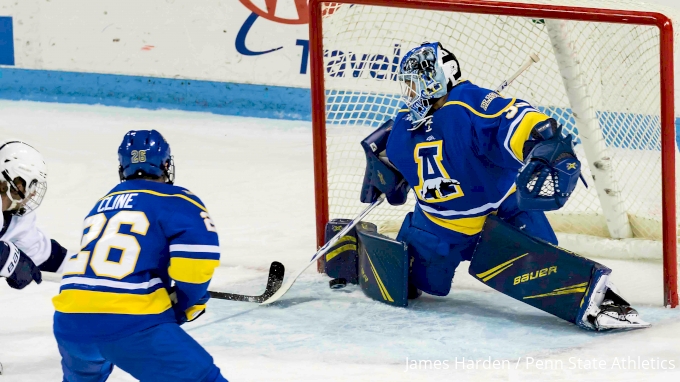 One of 35 saves for Alaska senior goalie Anton Martinsson in his shutout of Penn State Friday night.
Potulny's Wildcats were not the only WCHA club with positive Pairwise results. The biggest shocker came from State College, PA, where Alaska goalie Anton Martinsson hung a 4-0 shutout on the then-No. 9 Nittany Lions. Martinsson has spent most of this season stapled to the bench in favor of Gustavs Grigals, but the senior Martinsson made the most of his second start of the year Friday, turning back all 35 Penn State shots, amazing the scoreboard watchers around the country and boosting the confidence of a team on the come. "We are ready to play with anyone this year," Martinsson said after Monday's practice. "I am happy with my performance…we are now looking to our next challenge." That challenge is the Governor's Cup series with in-state rival Anchorage. This is the Swede's fourth Governor's Cup, and he refuses to fall victim to cockiness. "Games against UAA are always tight, and this will be another great test. We have to continue to stay humble and work hard."
Like Northern Michigan, second-ranked Minnesota State also had to scramble to collect a win and a tie against a "brand name" opponent. Out in Mankato, North Dakota looked more like the 2016 national Champs than the club that failed to make the 2019 NCAA Tournament. The Mavs had to come back from two different two-goal deficits to salvage a tie Friday night against a Fighting Hawks club who nearly ran away with the contest. The tying goal came off the stick of gifted defenseman Connor Mackey, who defied physics with this snipe. Despite a roster brimming with experience, the undefeated Mavericks are getting major offensive contributions from freshmen. Newcomers Lucas Sowder, Nathan Smith, and Ryan Sandelin account for nearly a third of the Minnesota State offense this season.
? Connor Mackey with an absolute BEAUTY wrister to tie things up for the Mavericks in the third! 4-4 game. pic.twitter.com/YNNDgZRGjh

— Minnesota State Hockey (@MavHockey) October 19, 2019
Last year Bowling Green swept their non-conference home-and-home series with Western Michigan, collecting Pairwise points that made all the difference in their NCAA bid. But after losing to the Broncos in the Ice Breaker, their home-and-home this past weekend had major implications for BGSU once again. The series represented an old-fashioned gut-check for Falcons senior goalie Eric Dop, who was languishing with a save percentage well below .900, a low-water "Mendoza Line" that often defines a goalie's value. Dop rebounded with a magnificent performance vs the Broncos, clearly biggest factor in two tight victories for BGSU. Dop allowed a total of two goals on 60 shots, resulting in a gaudy .967 save percentage. He turned a Falcon hockey question mark (goaltending) into a bold exclamation point. BGSU's scoring came from elite studs Freddie Letourneau, Max Johnson, Alec Rauhauser, and Cameron Wright. If their goaltending holds up, the Falcons appear to be the WCHA force so many predicted at season's start.
A tip of the cap to Ferris State, who missed postseason play for the first time this century in 2019. They collected their second non-conference victory of the young season Saturday with a 3-1 win over Miami. Bulldog junior Lucas Finner had a pair of goals over the weekend, as Bob Daniels' promise of a revised culture is already bearing fruit in Big Rapids.
The WCHA went 6-5-2 in non-conference play this weekend, leaving them at exactly .500 on the year: 15-15-4. Since re-alignment, the WCHA has never had a season .500 or better in non-conference games.
---
Author Tim Rappleye just released his latest book: Hobey Baker, Upon Further Review (Mission Point Press). He can be reached on Twitter @TeeRaps.