Bowling Green Beats Miami-Ohio In Emotional 'Bergeron Bowl'
Bowling Green Beats Miami-Ohio In Emotional 'Bergeron Bowl'
The early-season matchup between Bowling Green and Miami-Ohio was anything but ordinary.
Oct 8, 2019
by Tim Rappleye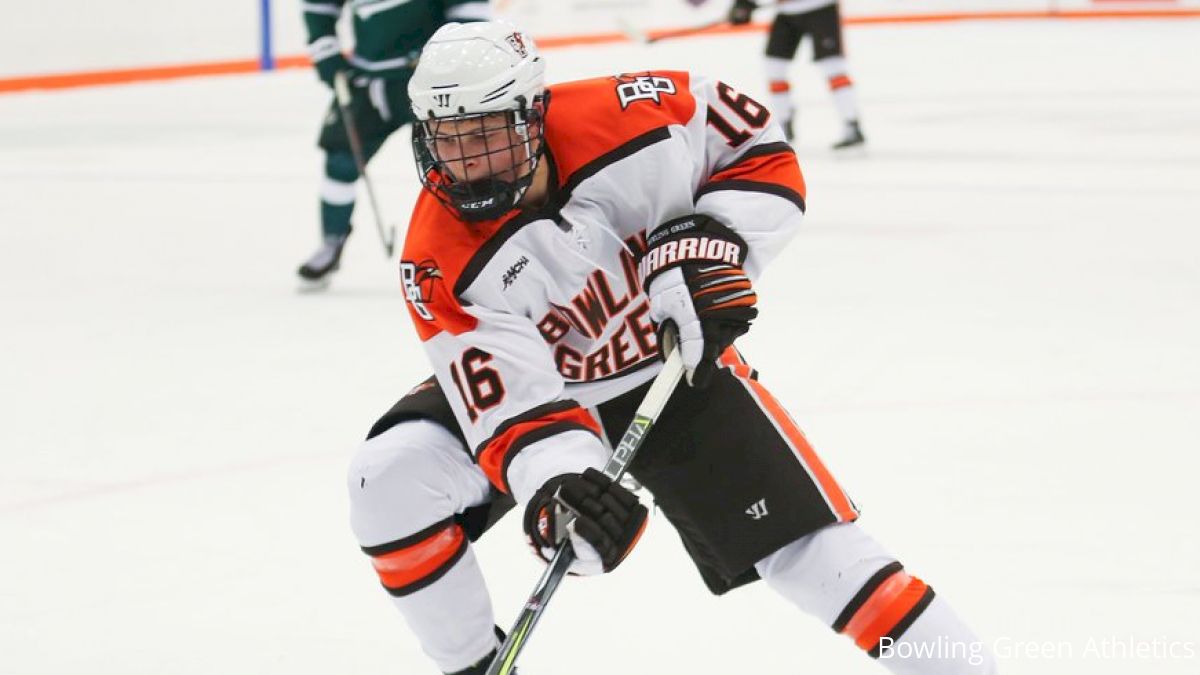 Miami (OH) hockey fans witnessed a sports anomaly Sunday: their coach going through the post-game handshake line giving full-bodied hugs to every player in the enemy uniform.
This scene was the culmination of the "Bergeron Bowl," an event that transformed what would normally have been a glorified hockey exhibition into an emotional theater of the highest order.
Forme @BGFalconHockey coach Chris Bergeron going through emotional conga-line of hugs with 20 former players Sunday night #FloHockey pic.twitter.com/RjOmtLDcSE

— Tim Rappleye (@teeraps) October 7, 2019
The "Bergeron Bowl," the season opener between host Miami out of the NCHC and visiting Bowling Green out of the WCHA, had been a much-anticipated showdown between the two head coaches since it appeared on the schedule in April. The game represented the opening eras of two head coaches at their alma mater: Chris Bergeron at Miami and Ty Eigner at Bowling Green.
A lengthy list of facts intensified the drama.
Bergeron had spent nine years at Bowling Green, first helping save the once-proud program from club status, then returning it to the NCAA Tournament for the first time in 29 years; his devoted assistant and supreme recruiter during his tenure was Eigner, who succeeded him as Bowling Green bench boss, his first head coaching opportunity.
Eigner describes Bergeron as a "brother" and "best friend." Their children grew up together and their wives are dear friends. Bergeron's final act at Bowling Green was to sell his home to Eigner in July and then drive alongside the moving van for the three-hour drive south to Oxford.
As fate would have it, the first game they contested against each other would be opening day, the so-called "Bergeron Bowl." Their back-story became the lead story, something they tried in vain to suppress going into Sunday's clash.
"I don't want it to be a distraction," Bergeron said the morning of the game, although that was nearly impossible. Bergeron made a point of limiting his exchanges with his former BGSU staffers. "I just kind of kept my distance. Whether that's right or wrong, I don't know."
"This is not Bergeron vs Eigner, or the 'Bergeron Bowl' or whatever you want to call it," Eigner said following the Falcons morning skate. "It's our first opportunity to play a good team and see where we're at. We're going to coach against each other hopefully for a long time, and to get it out of the way early is probably best."
The game played out in typical early-season fashion: 11 goals and sporadic defense. Eigner's favored Falcons dominated for long stretches, claiming three different three-goal leads before finishing off Bergeron's Redhawks 7-4. BGSU junior Cameron Wright stole the headlines from the two coaches with a sensational four-goal night, but the specter of his old coach, just a stride away from the Falcon bench, was impossible to ignore.
"Obviously you get up for Berg, you get up for 'Shoots' [Miami assistant Barry Schutte]," Wright said with a 100-watt post-game grin. "We'd be lying if we said it wasn't great to beat them in their barn."
Eigner's emotions were a combination of joy and relief after his maiden voyage as a head coach.
"It feels great — I'm glad it's over," he said with a quick chuckle, having endured six months of staring at this date on the calendar. "A coach's dream: a good win, but lots of teaching clips on the video."
Bergeron was a bit sterner from the Miami podium.
"Lots of opportunity for improvement," he said. Bergeron hoped that he caught a glimpse of the Redhawks' future in the performance of the visiting team. "I thought we saw what we're going to be, in the opponent here tonight."
Of course, it's an opponent he knows as family — kids he recruited and taught for their entire college careers. Bergeron must now summon the energy required to reform the hockey culture of his alma mater, five seasons past their last NCAA appearance. He was soundly beaten by his "other" family, and seconds after the final buzzer he honorably shook hands with his apprentice of nine years.
.@BGFalconHockey Ty Eigner defeats his old boss Chris Bergeron. Post-game puck-love. @WCHA_MHockey #FloHockey pic.twitter.com/HSWAJ1kR7J

— Tim Rappleye (@teeraps) October 7, 2019
The post-game video reveals that Eigner also got a hug in with the opposition, as he and Barry Schutte shared an embrace for the ages.
"He said, 'Great job, you're going to have a great year,'" said Eigner, recalling Schutte's remarks from that fleeting moment. The two men served shoulder-to-shoulder under Bergeron for nearly a decade. Moments before the opening puck drop, the two pals texted a virtual reminder of their shared history.
"I sent him a fist-bump emoji," Eigner said. "Before every [BGSU] game we would always go out and fist bump. I said, 'One for old times.' He said, 'Oh that's awesome.'"
Eigner and Schutte have a special term for their time together in northern Ohio.
"We were 'work-wives' for nine years," Eigner said. "Because as assistant coaches you spend so much time together on the road. He's a good human, a special guy."
To a man, Bergeron, Schutte and Eigner, were all glad when it finally ended.
"I think we all felt — wives, kids, coaches — 'Let's get this thing over with so we can settle in to what we do with our teams,'" Eigner said.
And now they move on.
For Eigner and his No. 17-ranked Falcons, they head to the Ice-Breaker Classic on Friday, trying to claim additional out-of-conference scalps to bolster their case for another NCAA bid. Bergeron will struggle to return the Redhawks to respectability. Miami will get another crack at BGSU on December 30 when Bergeron's return will once again take attention away from the game. But it will be easier for all parties involved; the calls and texts between competing coaches will flow more freely.
"I think we both felt a sense of relief that is was over with," Bergeron said. "The next time won't be the first time. You get in this crazy business, you go through a lot of things. [Eigner] is someone I've been through a lot with."
Eigner added some levity to the emotional weekend. He described some buyer's remorse after moving into Bergeron's former home.
"We got some wasps going on," he said. "I did have them sprayed — maybe I'll send him the bill."
---
Author Tim Rappleye just released his latest book: Hobey Baker, Upon Further Review (Mission Point Press). He can be reached on Twitter @TeeRaps.