2019 Mount Royal vs Minnesota State | Men's WCHA Exhibition
Minnesota State's Hastings Entrusted With National Champ Sandelin's Son
Minnesota State's Hastings Entrusted With National Champ Sandelin's Son
Minnesota State head coach Mike Hastings landed a unique situation in recruit Ryan Sandelin.
Sep 27, 2019
by Tim Rappleye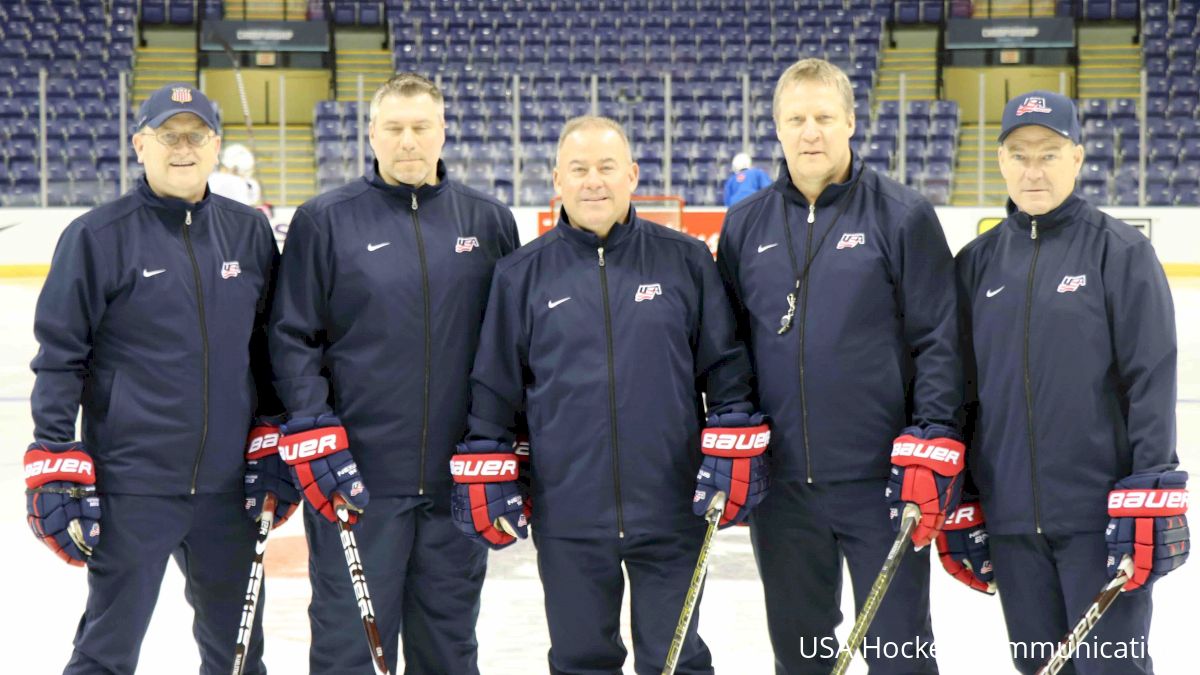 When Minnesota State coach Mike Hastings unexpectedly leapfrogged from assistant to the head coach of Team USA for the 2019 World Juniors last year, the first guy he turned to for coaching support was his old pal Scott Sandelin, head coach of NCAA champion Minnesota Duluth.
"When he gave me a call last year, it was a pretty easy one for me to go and be part of his staff," said Sandelin, who had gotten the same support from Hastings at his first World Junior head coaching job back in 2005. "That was my first experience with him coaching," added Sandelin, whose Team USA club finished fourth with Hastings at his side. "We became friends and stayed friends."
This past January, the good ol' boys from Minnesota helped guide Team USA to IIHF silver after a riveting gold-medal game. It was during the World Juniors where many learned that Sandelin's son Ryan, a top goal scorer for Pentiction of the BCHL, would be attending Minnesota State to play for Hastings, and not join his dad in Duluth.
"A lot of guys asked, 'Is he going to play for me?'" Sandelin said. "But he made the decision, that he wanted me to be his dad, not his coach. Certainly as a parent I'm happy to have him play for their staff and Mike."
Hastings claims to know the inside story of how the Mavericks landed Ryan Sandelin.
"The one that probably had more to do with that happening was the decision-maker in the family, Wendy, [Scott's] wife," Hastings said with a chuckle.
"She went on the visit, I didn't," said papa Sandelin. "So she's a smart woman."
Ryan (L) and Scott Sandelin should be facing each other after Thanksgiving dinner in Duluth. Ryan hopes to bust into @MavHockey's loaded lineup and create pain for Proud Papa @WCHA_MHockey #FloHockey pic.twitter.com/DYfj340Y8G

— Tim Rappleye (@teeraps) September 27, 2019
There is an element of trust when turning over a loved one for up to four years during a critical time in their development. Ryan Sandelin showed up in Mankato in the midst of intense rehabilitation for a shoulder injury he has been nursing since Christmas last year.
"He's had some surgery this past spring and summer," Hastings said. "And he's done a great job managing that."
"As a parent, you want your son and daughter to go somewhere where you know they're in good hands," Sandelin said. "You trust they're not only going to take care of them from the hockey side of it, but the life part of it, too."
"I appreciate the trust," said Hastings, who has found himself in a similar position when he was coaching then-Minnesota coach Don Lucia's son while he was in juniors in Omaha. "I had that opportunity with Tony Lucia when I was in the USHL. Don and his wife supported Tony coming and playing. It's great to have coaches' kids. When you're living with a coach, you get to see a lot."
Although Minnesota Duluth and Minnesota State are in different conferences, the two squads seem to play every year. Ironically, in their meeting last December 28, neither coach was behind their respective bench. Hastings and Sandelin were both up in British Columbia at the World Juniors. The two coaches were conducting final prep with Team USA when the Bulldogs and Mavericks headed to overtime in the Desert Hockey Classic in Glendale, Arizona.
"We were following it, but trying not to let either one know we were following it," Sandelin said. "[Assistant coach] Steve Miller was keeping up with the scores: 'Oh it's 3-2, oh it's 3-3.' Then it got to overtime and I remember Mike was going, 'Gosh darn it, Swaney!'" — that's an editorial interpretation . . . — "Nick Swaney [Duluth] overtime winner!
"It was kind of a light-hearted moment, but we did have a little side bet."
Nine months earlier, there was nothing light-hearted about the painful loss Sandelin's Bulldogs hung on Hasting's Mavericks in the 2018 NCAA West Regional. It was another overtime dagger buried into Minnesota State, and a major step toward a national title for UMD.
The two squads will face off again in a two-game tilt this Thanksgiving in Duluth. With scoring at such a premium in today's defense-first college game, a bona fide sniper like Sandelin might make be a difference-maker.
Finding playing time for Hastings, however, will be another matter. Competition on the Mavs is so fierce that Sandelin will have to beat out a returning player for his minutes. But Hastings has designs on the 6-foot winger with the deadly shot.
"We're looking for big things from him," the coach said.
It's a matter of trust.
---
Author Tim Rappleye just released his latest book: Hobey Baker, Upon Further Review (Mission Point Press). He can be reached on Twitter @TeeRaps.