There was pressure on UMass head coach Greg Carvel to produce. It was the Hobey Baker Banquet, a month after the Hobey Baker Award, and everyone in the room wanted to hear something they didn't already know about college hockey's generational star.
Carvel delivered the goods. Not only did he provide a plateful of fresh nuggets, but he shared a personal story that separated Cale from the other college hockey comets who have flamed through this particular galaxy.
Carvel warmed up the St. Paul audience with some fun "I told you so moments," like when Jeremy Roenick tweeted out an echo of Carvy's declaration that Makar is the next Connor McDavid, or that the hockey world has now come to realize that Makar is indeed the next coming of Carvel's former charge Erik Karlsson. Those were mere appetizers.
The first meaty course was a recollection of when freshman Makar chastised his coach, a mini-lesson Carvel titled, "Don't ever do that again!" This one deserves a verbatim repetition.
"One of the great qualities of Cale is that he never wanted to be singled out from his teammates," Carvel said from the podium. "He's all about team."
"During his freshman year we're showing video. I had a clip and we're coming into the offensive zone, and the player with the puck has two options: he's got a fourth liner going to the net and he's got Cale coming late. He decided to pass to the fourth liner. I said something to the effect, 'Give Cale the puck; good things are going to happen.' I shouldn't have done that because it went against what Cale is all about.
"The next day, respectfully, in his way, Cale said to me, 'Don't ever do that again.' He was not comfortable with that, that's what Cale is. It was a mistake by me."
The next story was the banquet's pièce de résistance, portraying the essence of Cale Makar. Carvel has a 6-year-old hockey-loving son named Drew, a Mullins Center rink rat who naturally adores Makar after seeing him tear up college hockey for two years. Dad set it up with some anecdotes about a child's love for his hero. One day Drew got off the ice after one if his Mite sessions, sprinted to a mirror, and ripped off his helmet. "Look Dad, my cheeks are red, just like Cale!"
This spring, father and son made a habit of watching recordings of Cale's Stanley Cup playoff games every other morning. "We'd wait 'til Cale got the puck, and Drew would cheer and scream; it was a lot of fun," the elder Carvel said.
The week prior to Cale leaving UMass for good, Carvel found his superstar in the hockey offices, and hit up Cale for a favor. "I don't know if we're going to see you again, would you be willing to sign this for my son Drew?" Carvel pointed to a photo of Cale that he had blown up to poster-size. He left Cale alone for few minutes and tended to some administrative chores. When he came back a few minutes later, he found no words on paper.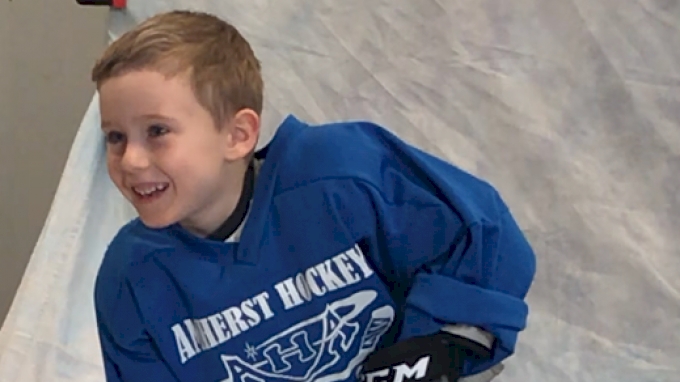 "I really appreciate [you asking me to sign for Drew], but I didn't sign it," said Makar. "Can I have some time to think about it?"
Despite knowing Makar for over three years, Carvel was blown away once again. "Of all the things he did, that was one of the most impressive," said Carvel. "He could have easily put a trite, 'Good luck, Drew' and signed his name, but that's not what he did. He wanted some time because he wanted it to be quality, he wanted it to have lasting impact."
Cale finally expressed himself to his own standards, penning words to a hockey mite who will never forget him.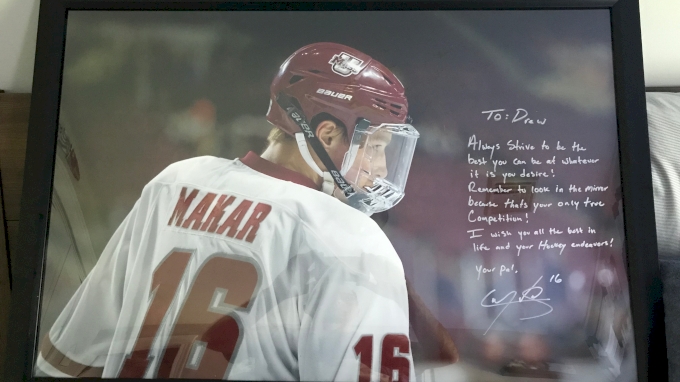 "To Drew," Makar wrote. "Always strive to be the best you can be at whatever it is you desire! Remember to look in the mirror because that's your only true competition! I wish you all the best in life and your Hockey endeavors!
"Your pal, Cale Makar."