Logan Hutsko Excited For The Future, Despite A Career Plagued By Injuries
Logan Hutsko Excited For The Future, Despite A Career Plagued By Injuries
Logan Hutsko suffered a severe injury in the Hockey East championship game, but has since recovered and is excited about his Boston College team's future.
May 6, 2019
by Mark Spezia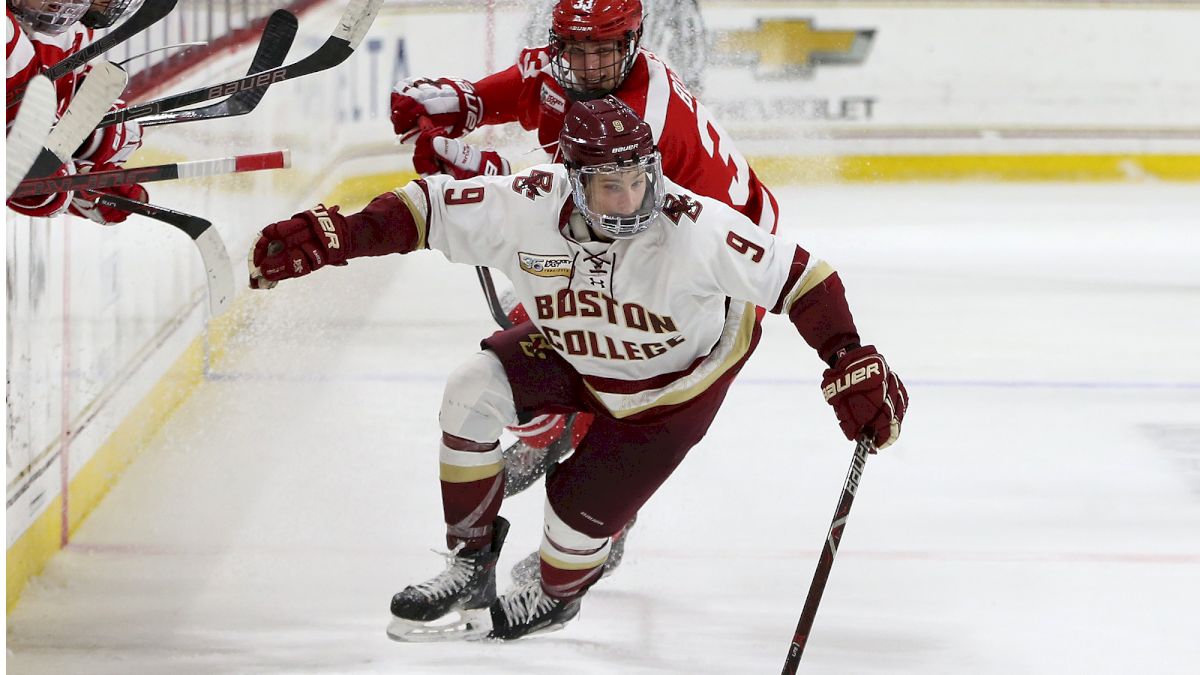 Great concern gripped Logan Hutsko's family members in attendance, his Boston College teammates and coaching staff, as well as Eagles' fans early in the final period of Hockey East's championship game on March 23.
Players and coaches from opposing Northeastern also looked on with worry as Hutsko, who has suffered his share of major injuries in recent years, lay motionless on the TD Garden ice after becoming entangled with a teammate and a Huskies defenseman, taking a hard fall and smacking his head against the ice.
BC trainers rushed to the sophomore's side in the corner where he had come to rest against the boards following the collision. They soon signaled for paramedics, who carefully spent the next 15 minutes immobilizing Hutsko, securing him to a backboard and wheeling him from the ice on a stretcher.
In the meantime, a pair of Eagles' players helped coach Jerry York reach Hutsko, BC's second-leading scorer during the past two seasons.
"Rarely do I go onto the ice, but this situation warranted it," York, a head coach for 47 seasons, said. "Seeing Logan crash into the boards was a very scary moment, but I was so relieved with the outcome."
Fortunately, the outcome could not have been much better for Hutsko, who had assisted on both BC goals in the 3-2 loss.
He was moving his fingers and toes upon arriving at Massachusetts General Hospital with his father, Todd, a four-year starting defensive back for Troy State University's football team and a member of its 1984 Division II national championship team.
All tests came back normal, triggering a huge sigh of relief for the 20-year-old, especially given Hutsko's injury history.
He rebounded from a neck injury that nearly paralyzed him in 2015, as well as a significant, season-ending knee injury a year later and a concussion which kept him out of three games earlier this season.
"Thank you to everyone for their thoughts and prayers," Hutsko tweeted two days after the incident. "I'm doing great, appreciate all the support!"
Having emerged from his latest injury scare unscathed, however, Hutsko has grown a little tired of the feel-good story narrative which has surrounded him in recent years.
That's because the 2018 Florida Panthers draft choice is feeling good and eager to experience what his final two seasons with the Eagles brings.
Hutsko would rather discuss BC's late-season surge and carrying that momentum into next year than coming back, time and again, from serious injury.
"I've been feeling pretty good, and I can say I'm 100 percent recovered from the injury I suffered against Providence," Hutsko, who finished second on the team this season with 26 points (6-20), said. "I don't feel any lingering soreness or anything. I've just been hanging with the guys, doing some non-hockey stuff. The friendships you make and bonding are one of the great things about college hockey. We are all excited about next year because we finished so strong."
Despite concluding the regular season just 11-20-3, the Eagles stunned a pair of eventual Frozen Four teams to reach the Hockey East final.
First, BC upset Providence in a best-of-three Hockey East quarterfinal series, winning a pair of one-goal games after dropping the opener in overtime.
Hutsko caught up with a loose puck at center ice 23 seconds into overtime of Game 2, thwarted the efforts of second-team Hockey East defenseman Jacob Bryson to stop him before sending a forehand shot past Friars' goalie Hayden Hawkey to clinch a 4-3 win.
Needless to say, Hutsko picked the perfect time to end a 19-game streak without a goal. He also assisted on the Eagles' second and third goals.
More Hutsko heroics followed in Game 3 as he scored the eventual game-winning goal roughly 12 minutes into the third period. With scored knotted at 1-1, Hutsko skated along the boards before unleashing a wrist shot over Hawkey's right pad.
Hutsko then assisted on what turned out to be the game-winning goal in the semifinals as BC delivered a shocking 3-0 shutout of regular-season champion UMass, which later reached the national championship game.
"As a team, we really didn't totally figure how to be successful until the near the end of the season, but were really dangerous once we came together," Hutsko, who was named Hockey East Co-Player of the Week following the Providence series, said. "I don't think anybody would have wanted to play us if we had beaten Northeastern and made the NCAA Tournament."
BC's finish removed some of the sting of a disappointing season that began with the Eagles ranked 12th in the country, but ended with the program's fewest wins (14) since York's first season in 1994-95.
A total of five seniors must be replaced along with two underclassmen who signed professional deals, including three-year starting goaltender Joe Woll.
Still, Hutsko feels the Eagles have nowhere to go but up.
After all, the top line of Hutsko, Second Team All-American David Cotton, and Julius Mattila will return. They were also the team's top three scorers this season, finishing with a combined 85 points (38-47).
Cotton, Hockey East's top goal-scorer who tied for second in the nation with 23 goals, was recently named the Eagles' new team captain.
Also, four of BC's top six blueliners will be back in Connor Moore, Jesper Mattila, Ben Finkelstein, and Michael Karow.
Incoming freshmen include forwards Matthew Boldy and Alex Newhook, who are ninth and 13th among North American skaters in the latest NHL Central Scouting rankings. Warren Marshall is the No. 9 defenseman on the list and ranked 61st overall.
The Eagles have also landed No. 1 North American goaltender Spencer Knight.
"With the talent we have coming back and all the talent we have coming in next year, the future of Boston College hockey is good," Hutsko said. "Some of the new guys should help us from day one and none of us were surprised by the season David Cotton had. With his skills and work ethic, we knew he would break out this season and will probably be even better next year."
The 5-foot-10, 173-pound Hutsko was hoping to put up better numbers this season after finishing with a team-leading 31 points (12-19) as a freshman. He was named Hockey East Rookie of the Year and was the No. 8 freshman scorer in the nation while posting a plus-10 mark.
Hutsko did not start as fast this season, but finished well with 10 points (2-8) in BC's final 10 games. He also had eight multi-point games and his value to the Eagles was underscored by the fact that they were 11-5-2 when he recorded at least one point and just 3-17-3 when he did not.
"Individually, I don't feel I had a very great year and there are times when I just did not feel like myself," Hutsko said. "I'm not sure why, but, like the team, I found myself playing better down the stretch. Not the season I wanted, but it was fun at the end."
What Hutsko has accomplished through two seasons in Beantown is remarkable considering that his college hockey career nearly ended before it even began. Devastating injuries limited him to 22 games combined in his two seasons prior to joining the Eagles.
Hutsko could hardly have felt better about his hockey future after committing to Boston College in October 2015 as he was beginning his first season with the United States National Development Team.
Barely a month later, Hutsko was practicing faceoffs during a pregame skate when, somehow, his head collided with a teammate's chest after a draw. He immediately felt a crack, but an X-ray taken the next day did not reveal anything.
Hutsko took part in three more practices and the team's next game as answers were sought. Finally, a CT scan revealed a fracture of his C6 vertebra. That means he had been playing and practicing with a broken neck, coming dangerously close to paralysis.
Hutsko finally returned to the ice in March, healed physically, but not yet mentally. Would another collision leave him with permanent injury? Fear settled in.
It was not until the final game of the season that Hutsko felt he was completely back as he registered a hat trick against Youngstown.
Unfortunately, Hutsko's return to the ice was relatively brief.
In just the third game of the following season, he suffered a torn medial collateral ligament (MCL) and busted kneecap in his left knee. Hutsko began another long rehabilitation process following surgery.
He returned to the ice the following spring and began preparing for his nearly derailed college career.
Having lost its top-five scorers from the previous season, BC needed its newcomers to provide offense, and Hutsko seized the opportunity.
He started his freshman year on the fourth line, but began moving up after netting four points in the season's first four games. Hutsko was part of the Eagles' top line by season's end. In early February, he became the first BC player to score five goals in two games since Nathan Gerbe in 2008.
BC had been on Hutsko's radar since he watched the Eagles capture the 2012 national championship in his native Tampa, Florida.
"I remember Boston College being such a fun team to watch, and when I visited years later, it seemed like home with a family atmosphere," Hutsko said. "I could see how Coach York brings a team together and that's something I really wanted to be a part of."
Following his freshman season, Hutsko was taken 89th overall (18th American) in the draft and attended the Panthers' development camp. He'll also be part of this year's camp.
"The development camp will be just part of me trying to get better in the offseason," Hutsko said. "I'll be working a lot on being a more consistent player. That's something I struggled with last season, and I want my teammates to know they can count on me."
York certainly feels he can count on Hutsko.
"Logan played at a much higher level the last month of the season," he said. "We expect a more mature Logan as he enters his third season in our program, a more confident and stronger version."