Surprising no one, former Bowling Green head coach Chris Bergeron filled the Rico Blasi coaching vacancy at his alma mater, Miami of Ohio. In his nine years since Bergeron left Blasi's staff at Miami to take the head job at Bowling Green, the two teams have taken strikingly different paths, known as the "Bergeron Effect."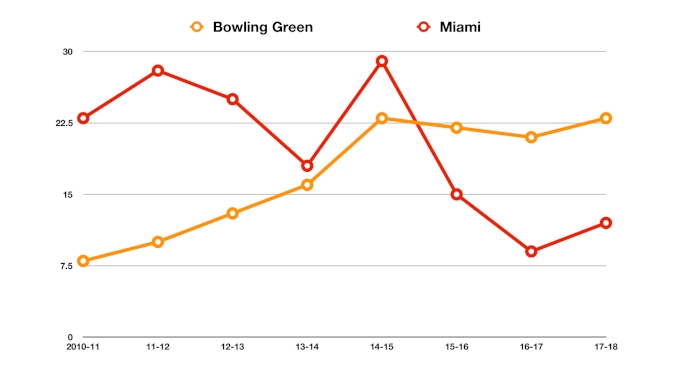 Note: Not included in the chart is the 2018-19 season where Bowling Green notched 25 wins while Miami had 11.
There was plenty of palace intrigue within Cady Arena in Oxford leading up to Blasi's firing. Conventional wisdom was that original Miami coach and current assistant A.D. Steve Cady was growing increasingly frustrated with Blasi's lack of recruiting. Blasi's assistants were beheaded in 2018, the head man guillotined a year later.
Bergeron was arguably the sport's premier recruiter for a decade under Blasi at Miami, loading up Rico's Redhawks with the necessary firepower to reach consecutive Frozen Fours in 2009 and 2010. The following year, Bergeron and his assistant Barry Schutte moved north and began the rebuilding process at Bowling Green. They never failed to win a post-season series, and racked up 20-win campaigns each of the last five years. The culmination of their efforts was this season's trip to the NCAA's, the Falcons' first in 29 years. Bergeron leaves Bowling Green with an elite class of rising juniors, led by scorers Max Johnson (19-25-44) and Brandon Kruse (10-31-41).
The Miami job had been rumored to be Bergeron's for nearly two weeks when Bowling Green exited the NCAA's. His comments in 2015, about returning home to Miami, echoed the theme of a classic country western song. "Miami University holds a special place because I'm a graduate. I worked there 10 years and my son was born in Oxford. Anybody who knows me if I said 'no' to that, I'd be lying." His departure from Bowling Green was a fait accompli, and provided the emotional backdrop to his parting words after his last game with the brown and orange.
"This may be difficult for me to get out," said Bergeron after losing in overtime to Duluth in the NCAA Midwest Regional. "I want to thank you fans. I wanted this (an NCAA berth) for nine years, and they probably wanted it for 29."
So Team Bergeron points the moving van south after having checked off the biggest box on its ambitious agenda—getting the Falcons back to the national tournamenty. He restored pride in the program and had its most illustrious hockey alums boasting about their alma mater once again: George McPhee, Garry Galley and Mike 'Doc' Emrick.
There is no shortage of irony in the circumstances of the hiring and firing of Bergeron and Blasi. Blasi and his staff were let go from Miami because they hadn't done enough on the recruiting front. But the fact is, Bergeron is inheriting a full cupboard of prospects at Miami: four RedHawks commits have been selected to the prestigious USA Hockey National Team U-17 squad for 2019-20, tied with Notre Dame for the most in the nation.
There appears to be some Karma at work, as well, at least in terms of scheduling: Bowling Green and Miami will be face each other to open the 2019-20 season. The series might as well be called the "Bergeron Bowl."
And one critical disclaimer to the "Bergeron Effect." In 2013-14, Miami entered college hockey's post powerful league—the NCHC. That's as big a reason for the Miami win-total dropoff as the absence of Bergeron. Success will be much more difficult to come by for Bergeron and company now that they are in the NCHC. Turning the RedHawks into a 20-win contender every year will be a much tougher climb when facing off against national contenders Duluth, St. Cloud, Denver and North Dakota every weekend. That's why Cady began Miami's accelerated recruiting process with one simple question to the 48-year-old Bergeron: "Do you still have it in you?"
The task of rebuilding in the most competitive league in America is daunting, and perhaps not the fairy-tale homecoming that Bergeron and Schutte hope for. There is an old adage that could factor into the final analysis: Be careful what you wish for.