The normally sleepy Pioneer Valley of western Massachusetts is coming to life. UMass athletics has a national contender for the first time in a generation, and Minutemen hockey is becoming the talk of the town in Amherst.
UMass marketing executive Alyssa Leonard, a local hoops star who was reared in the shadow of the Mullins Center, hears the chatter while making the rounds at the Hangar Pub and Grill.
"Every time you turn around, someone's talking about UMass hockey," Leonard said. "Everyone I run into someone from high school, or whatever the case may be, talks about it."
Leonard is thriving in her first year back in the region. A seasoned sports marketing pro, she has helped pump fresh energy into the now-bustling Mullins Center. Adding to the glow is the fact that her brother John is a sophomore scoring star for the Minutemen, creating a rare one-two sibling punch. They are both contributing to one of the wildest college sports stories of the year, one in which the moribund Minutemen jumped from eighth place to a regular-season championship in a single season.
Watch the Hockey East playoffs LIVE on FloHockey!
"It's kind of amazing," said Alyssa, John's elder by six years. "I come back home and get to be a part of it, live it every day."
While John is producing points and prepping for the pros under coach Greg Carvel, big sis is hitting up old haunts, building relationships to keep UMass hockey front and center for the long haul. Each of their 16 home games this season contained a special event, from giveaways to post-game skates with the Minutemen seniors. Mullins Center on hockey nights has gone from being a mausoleum in years past to a must-see event in 2018-19. Thanks to Alyssa and her staff — and the team's uncanny success on the ice — they have found a way to fill the 8,500-seat behemoth.
"The first week of December we're ranked No. 1," said Leonard, referring to their showdown with No. 5 Quinnipiac. "We turned students away for the very first time; we were at full student capacity. We had rally towels . . . the place looked electric."
"She does a great job with the rest of the staff," John said in admiration. "They're always doing different promotions for big games. White-outs, rally towels, things that create the atmosphere we love."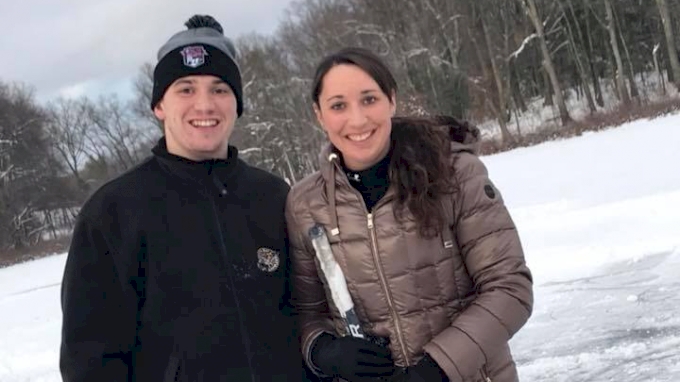 UMass hockey is thankful for this dynamic duo.
As the Minutemen's reigning top scorer, John is a local hero in this historic five-college junction. The roots of his athletic success are spread all around the region. Three miles away from the Mullins Center, John's two older sisters were part of a critical crossroads moment in his career. Alyssa and Brianna Leonard, both small college hoops players, were home for the summer, working out at dawn at the Hampshire Athletic Club before heading off to their day jobs. Their 13-year-old little brother decided to tag along in the summer of 2012 and got a first-hand education about athletic dedication.
"I'd get up with them and work out at 6:00," John said. "I didn't really know what I was doing, going into my freshman year [of high school]. It was the first time I really started working out, lifting weights."
"That was really cool for the three of us," Alyssa said. "Preparing for our college athletic experience, training together."
John was a hockey outlier in the Leonard family; his dad brought them all to the region when he took on the job as a UMass assistant basketball coach in 2001. A year later, 4-year-old John joined the UMass "learn-to-skate" program — and the seeds of change were sown. Today the whole family has abandoned hoops and embraced hockey, especially youngest brother Ryan, an elite 2005 birth year prospect who lovingly follows in John's footsteps.
But when it comes to the impact on the rejuvenated UMass hockey program, you cannot discount the contributions of former local hoops star Alyssa Leonard.
"John gets most of the limelight for his superb play on the ice," said coach Carvel, "but his sister Alyssa has been instrumental in her work behind the scenes. Her creativity and work ethic definitely meet the 'NewMass' standard. We are extremely fortunate to have two Leonards helping our team succeed."
This pair of home-grown siblings keep pushing the envelope of hockey success at the Mullins Center, starting with a November series when No. 1 Providence came to town to play then-No. 9 UMass.
"We poured everything we could into that week," Alyssa said. "Every grassroots marketing effort to make sure the place was filled. It was a chilling moment for our student-athletes, stepping out and the crowd just erupting. It was the first time these students that they had a top-10 team in front of them."
A month later, UMass was No. 1 and hosted Quinnipiac in a top-five matchup sellout.
"They keep raising the bar higher," Alyssa said.
UMass hockey is now in unchartered territory: first-time champions of Hockey East, No. 2 in the country, primed to leave their mark on the national stage. This season has been surreal to Alyssa, back in Amherst for the first time since going away for college in 2009.
"I'm so grateful to be back home," Alyssa said. "Nice to live it every day."
"To have a year that we're having so far, it's definitely been extremely memorable," John said. "We have a lot more things we want to accomplish before the end of the year."
---
Author Tim Rappleye just released his latest book: Hobey Baker, Upon Further Review (Mission Point Press, 2018). He can be reached on Twitter @TeeRaps.