Last April, Northeastern forward Adam Gaudette became Hockey East's 10th Hobey Baker Memorial Award winner and fourth in the past 10 seasons.
At least one Hockey East player has been a top 10 finalist for the award every year since 1985.
The initial list of 81 Hobey Baker nominees, including 14 from Hockey East, is open to fan voting through March 10 at which point the list of 81 names will be narrowed down to 10.
The 10-player fan vote will take place March 20-31. Three finalists will be announced April 4, and the winner will be revealed April 12 during the Frozen Four.
The award is presented annually to the top player, one who exhibits strength and character both on and off the ice, in NCAA Division I hockey.
Will Hockey East produce another Hobey Baker winner this year?
Here are three Hockey East Hobey Baker nominees who could very well make that happen. All are strong candidates to at least make the final 10.
1. Cale Makar
UMass,Sophomore
2018-19 Statistics: 27 GP, 9 goals, 22 assists, 31 points
The mega-skilled defenseman is the top collegiate player and ranked third overall in TSN's latest list of the top 50 NHL-affiliated prospects.
Makar was also ranked No. 2 on Hockey News' list of the Top 75 Players to Watch In NCAA Hockey this season behind Michigan's Quinn Hughes.
The Calgary native has already earned one Hockey East Player of the Month award and three weekly honors this season.
The 6-foot-0, 192-pound Makar is tied for third nationally among defensemen with 31 points (nine goals, 22 assists) in 27 games this season. He is tied for fourth in nation with a plus-22.
Makar also has nine power-play assists and eight multi-point games, including two-goals, two-assists efforts in wins over Vermont last month and Rensselaer in October.
A testament to his play-making ability, three of Makar's nine goals have come unassisted. He has 14 goals and 38 assists in 61 career games.
He appears a virtual lock for All-American and First Team Hockey East honors after making the third team a year ago.
Makar's college career appears to be winding down as he will likely sign with the Colorado Avalanche following the season. Colorado selected him No. 4 overall in the 2017 NHL Entry Draft and Makar considered signing a pro contract after his freshman season before opting to return to UMass and further his development.
Makar would be UMass' first Hobey Baker winner and just the program's second finalist, joining Thomas Poeck (2004).
2. Jeremy Davies
Northeastern, Junior
2018-19 Statistics: 26 GP, 5 goals, 17 assists, 22 points
Hockey East's lone returning First Team All-American, the junior defenseman has picked up where he left off last season.
Davies, a workhorse who averages nearly 30 minutes of ice time per game, is not afraid to pull the trigger, taking 3.54 shots on goal per game. That's second in the nation among blueliners and 23rd overall.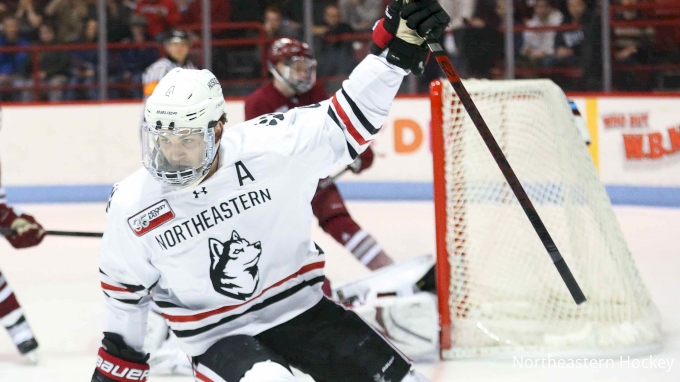 Davies celebrating a goal.
A healthy plus-3, Davies is a valuable member of the Huskies' power-play and penalty-kill units. He has 12 power-play points (2-10) and has helped Northeastern to an .841 penalty-kill percentage, 16th in the country.
The 5-foot-11, 188-pound Davies, who utilizes his speed, athleticism and scrappiness to defend, also has three-game winning assists, six multi-point games and has blocked 37 shots.
A gifted puck-mover, Davies is 24th on Hockey News' ranking of 75 players to watch in NCAA hockey this season.
The Sainte-Anne-de-Bellevue, Quebec, native is coming off a memorable 2017-18 season in which he finished with 35 points (6-29) in 36 games. Only two defensemen in the country totaled more assists and just four had higher point totals. A whopping 21 of his points (3-18) came on the power-play, also third among blueliners.
Davies finished the season at plus-18.
In addition to ACHA First Team East All-American honors, Davies was named to the Hockey East First Team and a New England All-Star by the New England Hockey Writers Association.
Davies, the Huskies' assistant captain this season, was the first Northeastern defenseman named First Team All-American and the first to record at least 30 points in a season since Jim Fahey in 2001-02.
Despite being a First Team United States Hockey League All-Star, Davies did not appear on the NHL Central Scouting list prior to the 2016 entry draft. However, that did not stop the New Jersey Devils from selecting him the seventh round.
In 100 career games, Davies has 85 points (19-66), including nine power-play goals. He has taken 254 shots on goal. He should become the fifth Northeastern defenseman to reach 100 career points.
3. Jacob Bryson
Providence, Junior
2018-19 Statistics: 30 GP, 4 goals, 16 assists, 20 points
A Second Team All-American last season, the junior defenseman leads a stingy Providence unit that is giving up just two goals a game, tied for sixth-best in the nation.
Bryson's totals this season include a goal and eight assists on the power-play. He is also an important part of a penalty-kill unit which boasts the country's ninth-best percentage (.860).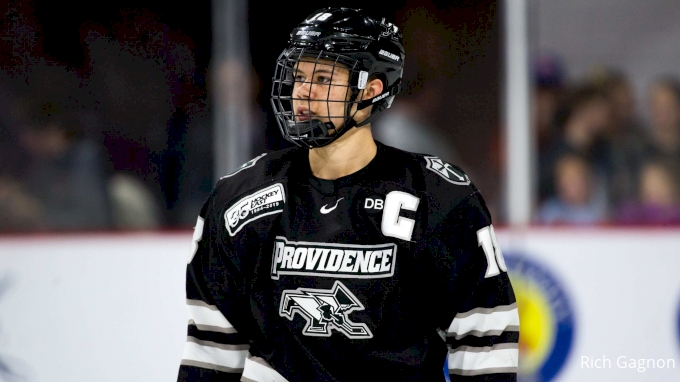 Bryson has been rock solid for Providence.
The London, Ontario, native is also a fine plus-15 with three game-winning assists and six multi-point games, including a three-assist effort in a 4-4 tie at Denver in November. Bryson has taken 58 shots on goal.
A 5-foot-9, 185-pound frame has not prevented Bryson from becoming one of the nation's top blueliners. A fluid skater and strong on his feet, Bryson is not moved around easily. He has a knack for gaining control of the puck in difficult, crowded situations and almost always making the right decision with it.
Elevated to co-captain this season, Bryson has been strong leader and calming presence for the Friars as well.
Bryson is coming off a sophomore season in which he finished with 25 points (4-21) and collected numerous honors. In addition to All-American, he was named to the Hockey East first team and earned the league's Len Ceglarski Sportsmanship Award. He was named a New England All-Star by the New England Hockey Writers Association.
As far as team accolades, Bryson earned the Michael Boback Award for most assists and the Ron Wilson Award as best defensive player.
Bryson, a fourth-round selection by the Buffalo Sabres in the 2017 NHL Entry Draft, has not missed a game since coming to Providence. In 107 career games, he has 65 points (11-54), including 17 multi-point outings.
Bryson would be Providence's first-ever Hobey Baker winner and the Friars' first finalist since Rob Gaudreau in 1992.
---
Mark Spezia is a freelance writer based in Lapeer, Michigan, whose work has been featured in the Detroit Free Press, Hour Detroit Magazine, ESPNW.com, and Flint, Michigan-based My City Magazine.