No. 15 Arizona State, Homegrown Johnny Walker Taking NCAA In Stride
No. 15 Arizona State, Homegrown Johnny Walker Taking NCAA In Stride
The No. 15 Arizona State Sun Devils shouldn't have too many New Year's resolutions — they're already making incredible strides.
Jan 4, 2019
by Jacob Messing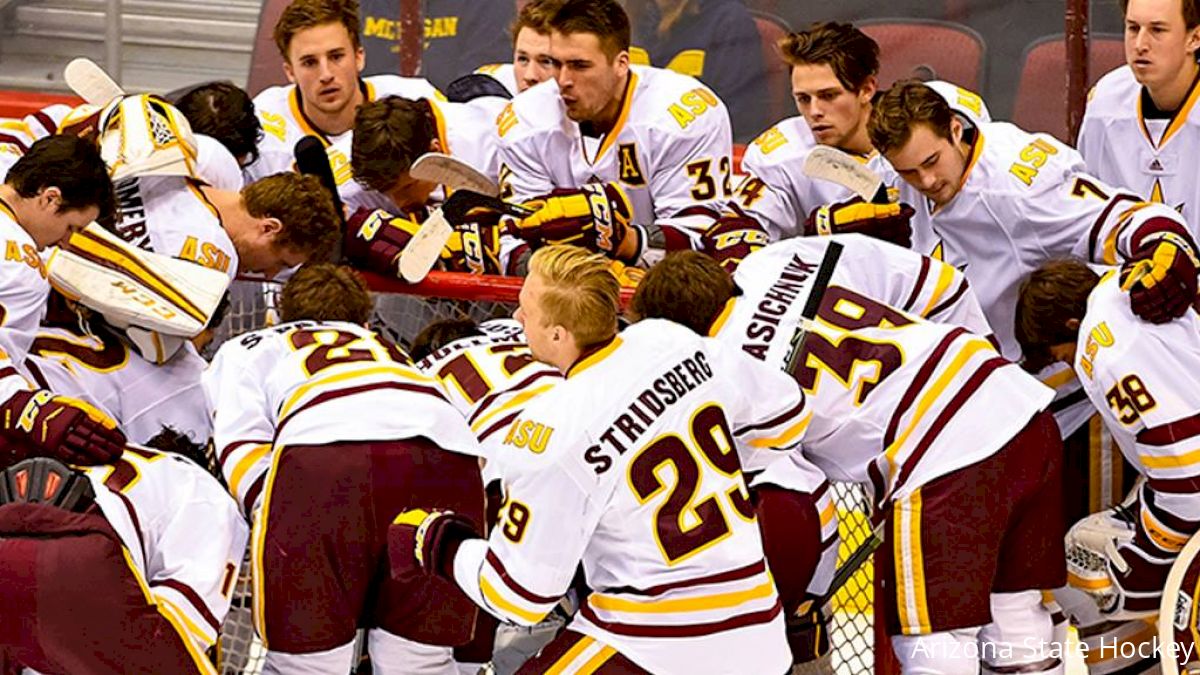 "New Year, new me" isn't necessary for Arizona State, as the Sun Devils and NCAA leading goal scorer Johnny Walker head into 2019 leaning on experience in their second season of Division I hockey.
The Devils jumped into DI NCAA hockey last season, where they struggled out of the gate and sat at just 3-8-3 through November. The jump to the top tier showed to be a difficult one as wins were few and far between.
Their only consecutive victories came during the Inaugural Ice Vegas Invitational, where they downed a couple of WCHA opponents in Northern Michigan and Michigan Tech to claim the tournament title.
It's been a historic 2018, and here's to continuing that in 2019!

To all of #SunDevilNation, have a Happy New Year and we'll see you in 2019! ?? pic.twitter.com/nBy874PSpR

— Sun Devil Hockey (@SunDevilHockey) January 1, 2019
It was a bright spot in a forgettable transition period as the team finished the campaign 8-21-5. But the in-season tournament wasn't the only bright spot; freshman Johnny Walker recorded 17 goals and 24 points in 32 games, trailing only sophomores Brinson Pasichnuk and Brett Gruber.
The trio of underclassmen showed the promise behind the Devils' trident-clad jerseys. Eight of Walker's points (7 G, 1 A) came in seven of the team's eight wins, as he was the key component to the machine.
This year, the Phoenix-native has taken the next step in his sophomore year. Walker leads the NCAA with 18 goals in 21 games, while his team-leading 25 points are tied for fifth nationally. He's first in powerplay goals with eight, and tied for third in game-winning goals with four.
But Walker has been more than a goal-scorer during his college career. With 71 penalty minutes collected over his season and a half with the Devils, he's also been a thorn in the opposition's side.
"At the end of the day, you play the game to have fun and that's why you started. Some people get caught up in playing to move to the next level," Walker told Jacob Janower of Sporting News. "My goal was to play college hockey when I was younger. I finally made it, and it's time to have some fun with it. Every day I get to play is a little gravy on top, a little extra."
Walker's passion for the game has seen him embrace every outing to the fullest and help carry the Devils to a 14-7-1 record and No. 15 national rank. The team's 8-2 home record has been backed by Walker's 12 goals and 14 points scored at ASU's Oceanside Ice Arena.
It goes along with his style as he offers the fans excitement and dedication to the rising team and program in the desert.
Walker will look to stay hot as the Devils host Boston College this weekend. The Eagles hold a 6-7-2 record, but have gone 3-1-1 in their past five.
---
Have a question or a comment for Jacob Messing? You can find him on Twitter @Jacob_Messing.