As youth hockey players, Cooper and Zach Zech treasured their time with the puck bucket.
Their father Tim, also a Compuware coach, managed the pro shop at Arctic Pond Ice Arena in Plymouth, which afforded them plenty of ice time.
They eagerly filled a bucket full of pucks, placed it near center ice and honed their skills.
"We were basically born into hockey, putting on skates about as soon as we could walk because of Dad's influence and love of the game," Cooper Zech said of his father, who also played junior hockey. "We made good use of the free ice time with our bucket full of pucks, working on our games."
The work paid dividends as the brothers ascended through the youth ranks to college hockey, collecting accolades and drawing the attention of college coaches.
Zach is among the top scorers for Wisconsin-Stevens Point, the nation's top-ranked Division III team, with five goals and five assists in 11 games.
Cooper, a Ferris State freshman, was named the WCHA's Preseason Rookie of the Year and is proving to be as good as advertised, if not better.
Through 18 games, the slick-skating defenseman leads the Bulldogs with 15 points (three goals, 12 assists). Wisconsin's K'Andre Miller is the only other Division I freshman leading his team in scoring.
Cooper Zech has been on a tear of late with 11 points (2-9) in his last nine games and was named WCHA Rookie of Week on Dec. 5 for netting two goals and two assists in a two-game series against Alaska.
Thanks to the hot streak, Zech is the WCHA's top-scoring freshman and top-scoring defenseman.
"I thought the success I had scoring in junior hockey would translate to the college level because of the freedom Coach [Bob] Daniels has given me in this system," said Zech, also a valued member of Bulldogs' power-play unit. "My defensive partner, Nate Kellan, has helped generate great chances for me to pick up points. It's been exciting so far."
That offensive freedom also extends to Kellan, who developed almost instant chemistry with Zech. He is the Bulldogs' second-leading scorer with 14 points (2-12), making Ferris the only Division I team with blueliners as their top two scorers.
Zech's immediate success is no surprise to Daniels.
"Cooper is a tough player and very gifted offensively with really good vision on the ice," he said. "He is extraordinarily talented and has seen a lot of ice time as a result. If anything, we might be guilty of overplaying Cooper, but it's a feather in his cap that he has performed well while getting so much playing time as a freshman."
That playing time combined with talent and the way Zech has adjusted to college hockey has put him in elite company. Only three Division I freshmen have more assists and just five have more points.
"The biggest adjustment for me is that the WCHA is a more physical style of hockey than in the junior leagues I've played in," said Zech, one of the league's smaller defenseman at 5-9, 170 pounds. "There is less time to make a play."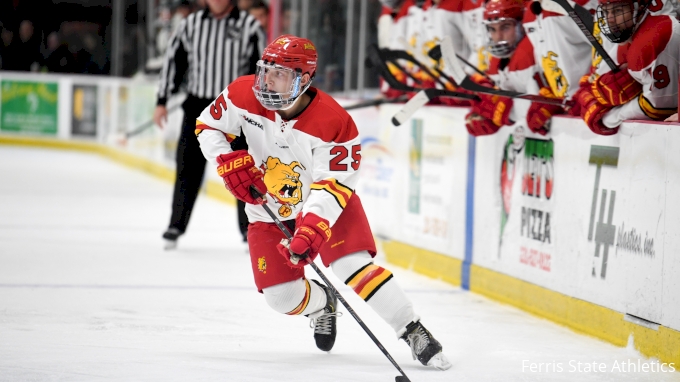 Zech didn't enter the league under the radar, and he's shouldered the burden just fine.
Zech is coming off a highly-productive season in which he led the Wenatchee Wild to the British Columbia Hockey League championship. Zech was named the league's Defenseman of the Year, finishing with 69 points (11-58) in 58 games. He finished with another four goals and 19 assists in 20 postseason games.
That prompted some concern from Daniels regarding the state of Zech's defensive game which was quickly alleviated. He has been steady force on the blueline with a plus-1 rating.
"Cooper surprised me with his really good defensive play, much better I thought he might be, given his numbers last season," Daniels said. "It's still a learning situation for him playing defense at this level, but he continues to improve."
The veteran coach, now in his 27th season with the Bulldogs, also appreciates Zech's hockey IQ and how coachable he is.
"A lot of offensive-defenseman have a reputation for turning the puck over, but Cooper, when has done that, he has learned very quickly what caused that and corrected it," Daniels said. "That ability to self-analyze with his hockey smarts is big. As coaches, we really don't have to tell Cooper anything twice."
Zech played for Victory Honda's Bantam Major AAA and U18 teams, the Compuware's U-18 team and even spent his freshman year of high school as South Lyon Unified's goaltender before being drafted by the North American Hockey League's Odessa Jackalopes in West Texas prior the 2015-16 season.
Zech was elated because his brother Zach Zech had been traded to Odessa during the previous season. The brothers who swatted pucks around Arctic Pond Ice Arena would now be donning the same uniform, but not living with the same host family.
"They offered that and I was like 'not a chance,'" said Cooper Zech, chuckling. "Really, it was just about us both wanting on own unique experiences there. I was actually surprised to be taken in the NAHL Draft by any team, but to be taken by Zach's team was really exciting. It was a great season and a half together."
Cooper Zech was named to the NAHL's All-Rookie team that season after finishing with eight goals and 17 assists in 51 games.
By then, he had become one of Daniels' top recruiting targets.
"During Cooper's two years in the NAHL, you could really see how smart a player he is with overall great hockey sense," the coach said. "We really appreciated his skills and moxie on the ice and knew Cooper would be a nice fit for our program."
Zech verbally committed to Ferris State at the beginning of the 2016-17 season, which he spent with Odessa and the United States Hockey League's Muskegon Lumberjacks.
"Ferris was the second team that offered me and it was a deal I could not pass up," Zech said. "I went there during the summer to work out and work with young kids at camps. It was a great experience and I knew I had made a good choice."
Zech was hopeful of being taken in this year's NHL Entry Draft. At least one mock draft had the Buffalo Sabres selecting him in the seventh round, but he went undrafted.
However, Zech had already been invited to the Washington Capitals NHL Development Camp prior to the draft and spent a memorable week there with other invitees from several different levels of hockey doing things like a 3-on-3 tournament and even signing autographs for the fans who attended.
Zech scored his first college goal during a power play in a 5-2 win over Mercyhurst on Oct. 19.
"Nate fed me a pretty good pass and then I faked a shot and beat the goalie with a high shot to the short side," Zech recalled, "I was kind of relieved to get that first goal out of the way."
Zech intends to be even better as his collegiate career progresses.
"I definitely want to add muscle to be able to move guys out of the way more and plan to continue to improve my defensive skills," he said. "I just want to help the team wins as many as games as possible during my time here and then hopefully continue at the pro level as long as I can."
Daniels compares Zech to one of the Bulldogs' all-time greats: All-American and 2018 Olympian Chad Billins.
"Cooper reminds me of Chad the most because of what Chad achieved at his size [5-10, 190 lbs]," Daniels said. "He also has the same all-around hockey talent Chad does."
Ferris State returns to the ice with a two-game set at Minnesota, Dec. 28-29.
---
Mark Spezia is a freelance writer based in Lapeer, Michigan, whose work has been featured in the Detroit Free Press, Hour Detroit Magazine, ESPNW.com, and Flint, Michigan-based My City Magazine. He is a former sports writer for the Flint Journal and Daily Mining Gazette in Houghton, Michigan. He also served as sports editor of the Lapeer (Michigan) County Press.