Chase Priskie, Quinn Hughes, & More: 5 NCAA-To-NHL Defensemen
Chase Priskie, Quinn Hughes, & More: 5 NCAA-To-NHL Defensemen
The NCAA is loaded with top defensemen making their way to the NHL. What's the recipe? You'll find out in this deep dive.
Dec 19, 2018
by Jacob Messing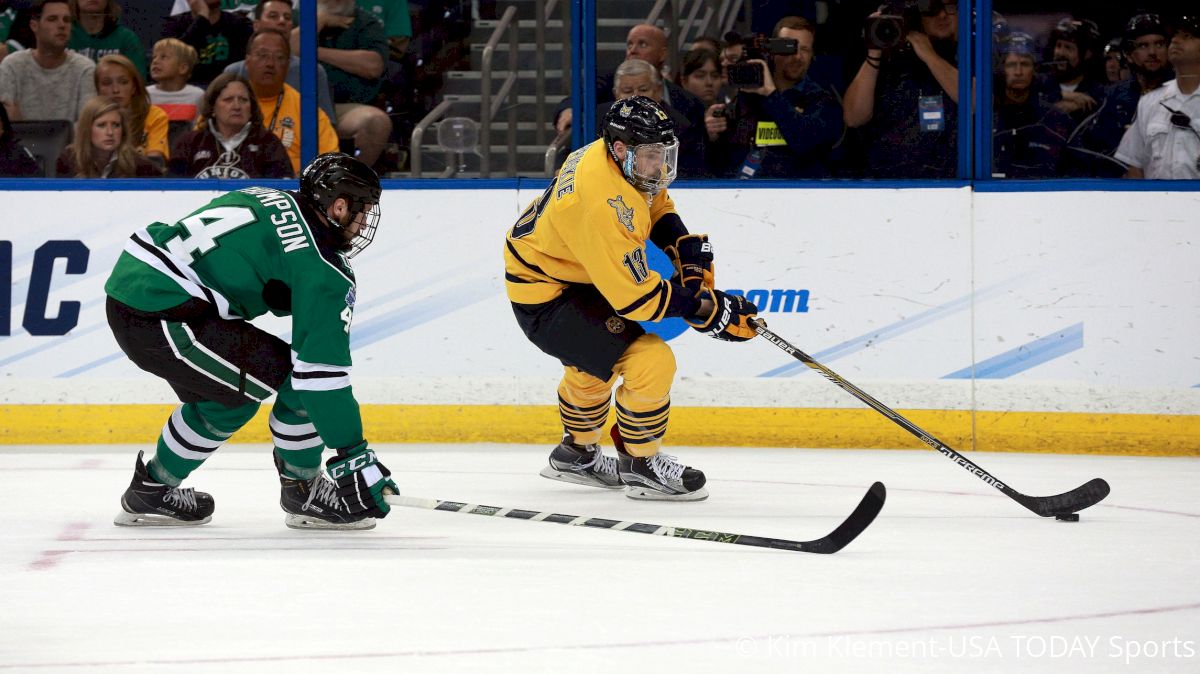 The secret is out on the path that leads from the NCAA to the NHL, as every year it becomes wider and more well-beaten from players traveling it on their way to prosperous professional careers.
This year, the path belongs to defensemen. As the NHL transitions to increased speed, skill, and scoring, teams have created a trend of smaller, offensively inclined defensemen. Across the NCAA, a number of defensemen are leading their teams in scoring and turning heads as NHL prospects.
As a result, the market of undrafted college free agents thins and with the NHL's changing style, it's clear why the top scoring college defensemen are already spoken for.
1. Chase Priskie | SR | Quinnipiac University
3rd Round, 77th overall in 2016 | Washington Capitals
2018-19 Season: 17 GP, 12 G, 9 A, 21 pts.
Leading all defensemen with 12 goals and 21 points, Priskie's campaign to date should see him a spot in the race for the Hobey Baker Award come season's end. Priskie has been the definition of a team captain for the Bobcats after earning the honor as a junior.
"I know [Priskie] gets a lot of accolades for his offense, which he should," coach Rand Pecknold told College Hockey News' Nathan Pullen. "But he's really worked at rounding out his game and becoming a 200-foot player."
Priskie's five game-winning goals leads the NCAA and he's been a major part of Quinnipiac's 14-3 record. His entry-level contract is on the horizon for the defending Stanley Cup champion Washington Capitals.
2. Adam Fox | JR | Harvard University
3rd Round, 66th overall in 2016 | Calgary Flames
2018-19 Season: 11 GP, 5 G, 15 A, 20 pts.
After two strong seasons with the Crimson, Fox has taken his game a step further and leads all college players with 1.82 points-per-game, registering a point on half of Harvard's 40 goals this season.
Fox was a part of one of the biggest NHL trades over the summer. To some, he was a throw-in sent to the Carolina Hurricanes along with Dougie Hamilton and Michael Ferland in exchange for Elias Lindholm and Noah Hanifin. To others, he could prove to be the key piece for the Hurricanes as he continues to display his young talent for a rising team.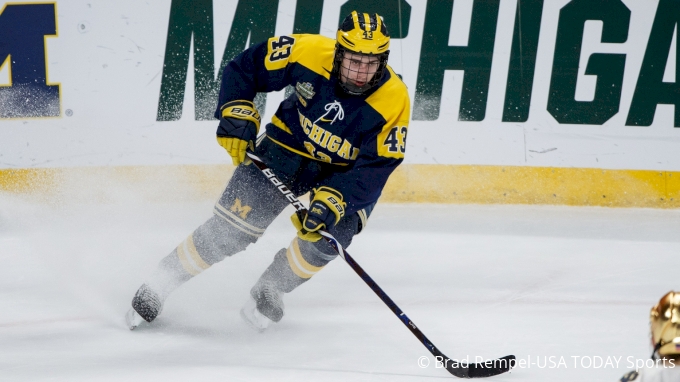 Hughes has been an absolute star for the Wolverines.
3. Quinn Hughes | SO | University of Michigan
1st Round, 7th overall in 2018 | Vancouver Canucks
2018-19 Season: 17 GP, 3 G, 17 A, 20 pts.
Hughes played a large part in the resurgence of Michigan hockey last season with his high game IQ, smooth skating and defensive presence. After being selected seventh overall by the Canucks, Hughes stated his intention to return to college and grow his game.
He's done just that. Hughes does everything from the backend, but part of his maturation process will be to notice and execute the simple plays instead of feeling that he has to shoulder an entire team.
As he continues to add muscle and confidence, Hughes will have a long NHL career ahead of him. Expect him to join the thrilling rebuilding Canucks at the end of the season and have an immediate impact.
4. Cale Makar | SO | University of Massachusetts Amherst
1st Round, 4th overall in 2017 | Colorado Avalanche
2018-19 Season: 16 GP, 6 G, 13 A, 19 pts.
Everything went wrong for the Colorado Avalanche in 2016-17, including dropping the maximum of three spots in the draft lottery as their staggering odds of drafting first wound up as the fourth pick.
But with that pick they took Makar, whom many believed to be the best defensemen in the draft, even after watching Miro Heiskanen go third overall. Makar has stayed true to the hype.
Unreal college hockey game tonight. UMass with the 3-1 win over Quinnipiac. 2 thoughts: 1) Anyone who doesn't think the Minutemen are for real is delusional. 2) If Cale Makar doesn't win the Hobey Baker, the best player in college hockey won't have won the award.

— Jeff Cox (@JeffCoxSports) December 9, 2018
He's been touted as the full package defenseman and there's no coincidence he was a member of the first Minutemen team to ever earn a No. 1 ranking.
5. Scott Perunovich | SO | Minnesota Duluth
2nd Round, 45th overall in 2018 | St. Louis Blues
2018-19 Season: 16 GP, 2 G, 14 A, 16 pts.
After a team-leading, 36-point freshman campaign last season for NCAA champion Minnesota Duluth in which he was named NCAA Rookie of the Year, Perunovich has remained potent for the young defensive core.
His surprising season saw him finally get drafted after two consecutive years of being passed over as he watched a total of 417 players get selected. But hard work pays off as they say, and Perunovich's unyielding growth has made him the proverbial tortoise in a hare race.
His offensive instincts have covered up his defensive deficiencies, and he has steadily improved in his own zone and is priming himself for a future in St. Louis.
Honorable Mentions
Two New Jersey Devils prospects—Jeremy Davies and Reilly Walsh—wrap up the top seven in NCAA defensive scoring. Davies was drafted 192nd overall in 2016 and is in his junior year with Northeastern University. Walsh was selected 81st overall in 2017 and is a sophomore at Harvard University.
Don't miss out on your chance to watch these NCAA stalwarts play. Check out FloHockey's live-stream lineup, right here, to see when each player is in action.
---
Have a question or a comment for Jacob Messing? You can find him on Twitter @Jacob_Messing.