The skating Nanooks of Alaska were curious when they looked over at Michigan Tech during their warmups in WCHA action the Friday after Thanksgiving. The same name was stitched on the back of each Husky jersey: "Thatcher" — the name of Tech goalie Devin Kero's late first cousin, Thatcher Markham.
Kero was born and raised in Hancock, across the canal from Houghton and Michigan Tech University. This is the region known as Copper Country, comprised of rugged stock. Multiple generations of tight-knit neighbors are descendants of the laborers who first mined the rich copper veins of the Keweenaw Peninsula, here in the northern tip of the western U.P. Nearly everyone has retained the core values that have guided them for over a century: family, faith, and a dedicated work ethic.
All those values were tested over Father's Day weekend this past June, when flooding of biblical proportions wiped out roads and decimated infrastructure in the region. It seemed that every able citizen became a first responder, scrambling to salvage homes and public property as neighborhood landmarks became nightmarish hazards due to sinkholes and flash flooding. The catastrophic storm took a single life — the 12-year-old Thatcher — despite the desperate efforts of his father Rodney. He dug through the collapsed wall of his son's bedroom to administer CPR, and helped coordinate Thatcher's airlift to the Children's Hospital in Ann Arbor. A day of frantic treatment was not enough to save the life of young Thatcher, who passed away the next day.
Five months later, Michigan Tech hockey honored Thatcher and all the first responders with a special night known as "Copper Country Strong." Their uniforms all displayed the new CCS logos in front and "Thatcher" on the back; it appeared that the entire county crammed into MacInnes Arena for a night brimming with emotion well before puck drop. Thatcher's first cousin, senior goalie Devin Kero, narrated an intensely emotional video that brought tears to every viewer. We learned that Thatcher was a youth hockey goalie, following in his cousin's footsteps as Kero's biggest fan. When Kero got a crucial start in Tech's 2018 Winter Carnival finale, young Thatcher refused to sleep on the road trip back from his own tournament game, until he learned of his hero's triumph and MVP award.
The community rallied together after the flooding.
So when it came time to determine Tech's starting goalie for Friday night, coach Shawhan did not interfere with destiny, and inked in his brave backup for the most challenging assignment of his career.
"Once I found out I was starting for sure, there was a lot of emotions that were going into it," Kero said. "Any game you get nervous for, but this one, it was different. You see the video production we had done for it, and all the emotion that goes behind it, you just hope that you channel that emotion in the right way."
And with the spirit of his young cousin coursing through him, Kero stood tall, battling through a gripping game in which the Nanooks honored the event by competing fiercely throughout. But Kero's mates were not going to let the Hancock native fight this battle alone.
"My teammates' support was tremendous," Kero said. "Right from the drop of the puck, everybody was laying everything on the line. It made my night easier, both physically and mentally, helping me through this whole situation."
And Kero delivered a tidy 20-save victory, never cracking under the strain of a 2-1 game.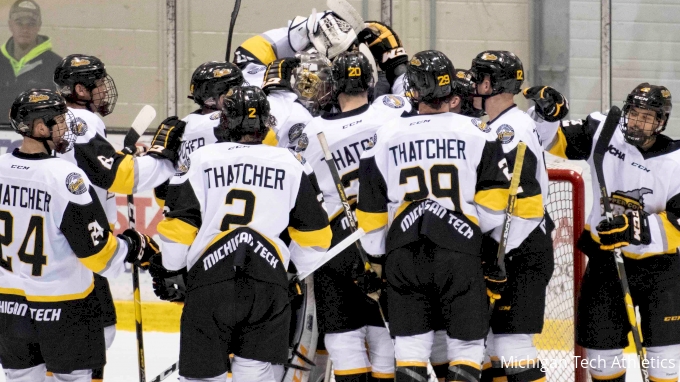 Kero's teammates surround the netminder after the game.
Tech Coach Shawhan knew this was much more than three points in the WCHA standings.
"It was an emotional night for the whole team, and you can multiply that by 10 for Devin," said Shawhan. "He held his composure extremely well. I couldn't be happier for him."
Despite Kero's role as a backup, he's had some extreme high points in his Division I career, including last year's MVP performance at Winter Carnival. But none approached the magnitude of this night.
"Other accolades that I've got over the years are important, (but) this one was by far the most meaningful," Kero said. "The amount of emotion that went into it, for me, my family and the community was tremendous. There's a lot more meaning to it than just a simple hockey game."
Kero then admitted something that everyone in all of Copper Country felt in their aching core.
"I knew Thatcher was watching," he said. "The community needed a strong performance. I was able to channel those emotions in the right way and produce a solid performance."
---
Tim Rappleye is the author of "Jack Parker's Wiseguys" and the forthcoming book: "Hobey Baker, Upon Further Review," set for release in November. He can be reached @TeeRaps.