NHL Division Predictions: A Pittsburgh Comeback, Nashville, & Joe Thornton
NHL Division Predictions: A Pittsburgh Comeback, Nashville, & Joe Thornton
The NHL is back. Check out FloHockey's predictions for the NHL division winners, featuring Sidney Crosby, Joe Thornton, and more.
Oct 2, 2018
by Jacob Messing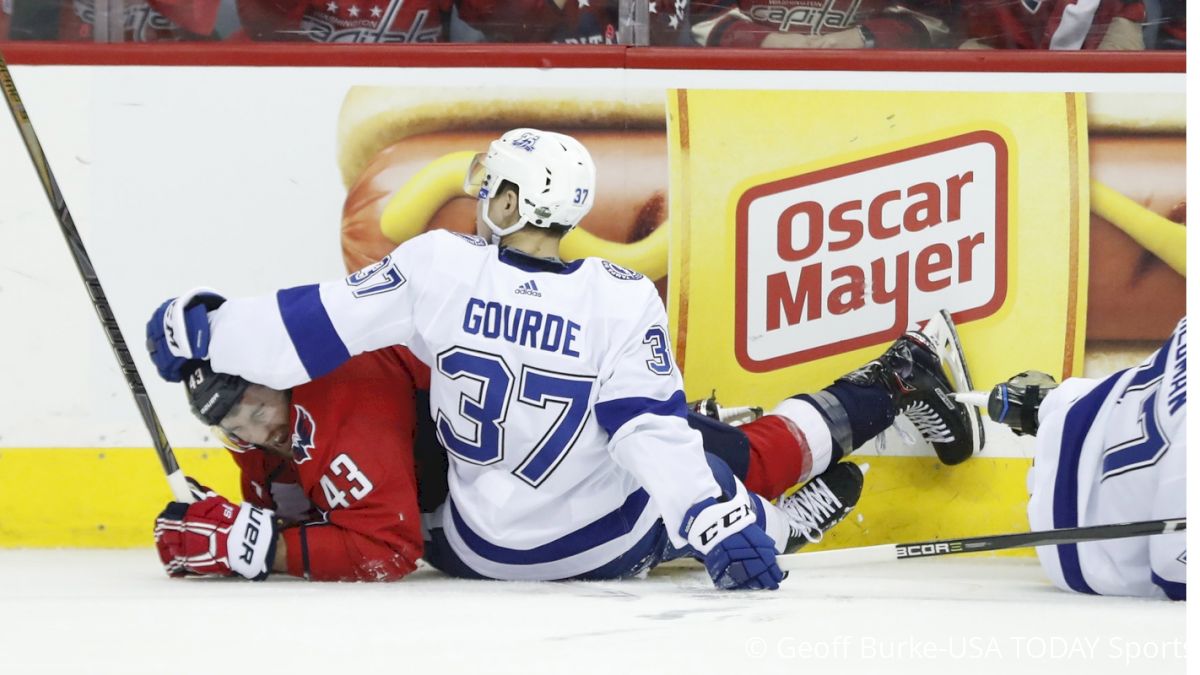 The beginning of October means hockey is officially back. With parity increasing annually in the NHL, predictions run rampant, which is exactly what FloHockey has for you below.
Any game is supposed to be any team's on any given night, and that's becoming clearer as stars blossom each year and raise teams from the basement to the playoffs. Just ask Nathan MacKinnon and the Colorado Avalanche or Taylor Hall and the New Jersey Devils.
Accounting for chemistry, development, and everything else, FloHockey provides you with the four teams eyeing a division title entering the 2018-19 season.
Atlantic Division: Tampa Bay Lightning
Reasoning: An extremely deep forward group led by Nikita Kucherov and Steven Stamkos features other young, rising players as former general manager Steve Yzerman built an annual contender. A full season out of Ryan McDonagh and J.T. Miller, who were acquired at the trade deadline last March, will go a long way in support of the talent around them. Add in otherworldly netminder Andrei Vasilevskiy and the Lightning are deep enough to claim the Stanley Cup in 2019.
Competition: Boston Bruins. The Bruins will feature several sophomores and expecting them all to bypass the dreaded second-year slump is unrealistic. They still boast a dangerous top line, stingy blue line, and often overlooked Tuukka Rask in net.
Watch out for the Toronto Maple Leafs as well. The Leafs added John Tavares to a potent forward group, but the lack of an unsigned William Nylander, coupled with a questionable blue line and thin bottom six, leaves them capping out at third in the division.
X-Factor: Yanni Gourde. Gourde was another diamond in the rough for Yzerman. The undrafted and undersized Gourde scored 25 goals and 64 points in his rookie season. He needs to show he's not another Tyler Johnson, who has struggled to duplicate his breakout from 2014-15.
"It's very important that the compete level is high." #TBLvsNSH | Yanni Gourde: pic.twitter.com/Uc625qYJ4C

— Tampa Bay Lightning (@TBLightning) September 21, 2018
Rest of Division Order: Florida Panthers, Buffalo Sabres, Detroit Red Wings, Montreal Canadiens, and Ottawa Senators
Metropolitan Division: Pittsburgh Penguins
Reasoning: Sidney Crosby, Evgeni Malkin, Phil Kessel, Kris Letang. Oh, you want more? There's a reason the Penguins captured the Stanley Cup in 2016 and 2017, as the superstars continue to carry the weight and produce among the league's best. They're hungry after an early playoff exit and have arguably the best center depth in the league as Derick Brassard starts his first full season in Pittsburgh and promising youth looks to step up for bigger roles.
Competition: Washington Capitals. The reigning Stanley Cup champions, Washington returns with an eerily similar team, most notably in the top six, on the backend, and in the crease. Alex Ovechkin and company are hungry for a repeat and finally have the admiration of just what it takes to get the job done.
There's also the Philadelphia Flyers. Pittsburgh's Pennsylvania foe balances productive veterans with young emerging talent, most notably on the blue line. The crease will be Philadelphia's biggest test.
X-Factor: Matt Murray. After a rough season for the now-24-year-old, Murray needs to make a statement, as the team had a wake-up call to how important Marc-Andre Fleury was, even as Murray began to steal the crease. Murray's ability to play consistently and stay ahead of opponents will be the deciding factor in Pittsburgh's attempt at the division title.
Rest of Division Order: Columbus Blue Jackets, Carolina Hurricanes, New Jersey Devils, New York Rangers, and New York Islanders
Central Division: Nashville Predators
Reasoning: A deep forward group benefits from the league's strongest blue line made up of a top four that can score consistently and defend admirably. They got a taste as the Stanley Cup runner-up in 2017 and are determined to return to their impressive postseason run by finishing the job. There's also the reigning Vezina Trophy winner, Pekka Rinne, who is continuing to prove age is just a number.
On to the regular season like...#Preds | @RyanJohansen19 pic.twitter.com/xuuEI9QkNS

— Nashville Predators (@PredsNHL) September 30, 2018
Competition: Winnipeg Jets. Winnipeg sent the Predators home early last playoffs as they pressured the defense into premature plays and showed they could outplay Nashville at its own game. A handful of true stars make up a lethal top six that can score on command.
And also the St. Louis Blues. The Blues have been on the verge of contention for a number of years, retooling and changing along the way while barely skipping a beat. Jake Allen's consistency remains a question mark, but the forwards and defense can help for lapses.
X-Factor: Ryan Johansen. With an $8 million price tag, Johansen leaves a lot to wonder about. He's immensely skilled, but conditioning and determination have been talking points. The 26-year-old plays with dangerous scorers and could he find a bit more consistency and less reluctance to shoot, another offensive level awaits.
Rest of Division Order: Dallas Stars, Colorado Avalanche, Minnesota Wild, and Chicago Blackhawks
Pacific Division: San Jose Sharks
Reasoning: Joe Pavelski, Joe Thornton, Evander Kane, Logan Couture, Brent Burns, Martin Jones. Oh yeah, and some new guy named Erik Karlsson. One of the strongest top-six groups in the NHL becomes even stronger knowing they'll constantly be taking passes from Burns, Karlsson, or the underappreciated Marc-Eduard Vlasic at all times.
Competition: Vegas Golden Knights. Expect a slight step back on the Strip, but don't expect Vegas to drop off completely. A potent top line, Fleury, and the addition of Paul Stastny and Max Pacioretty will help offset regression.
The Los Angeles Kings pop up here as well. The addition of Ilya Kovalchuk could prove huge. Kovalchuk may not have the same speed as his younger days, but he was one of the best shooters during his prime and now will be fed by one of the best playmakers in the game in Anze Kopitar. Don't forget about a healthy Jeff Carter.
X-Factor: Joe Thornton. At 39 years old, Thornton's 6-foot-4, 220-pound frame is slowing down. He's entering 2018-19 after a second offseason recovering from knee surgery, that won't help the veteran's mobility. But Thornton remains a future Hall of Famer whose playmaking was among the league's best during his entire career. Should he be able to keep up with the play, his passing will do the rest. Karlsson's wherewithal won't hurt, either.
Rest of Division Order: Calgary Flames, Anaheim Ducks, Edmonton Oilers, Arizona Coyotes, and Vancouver Canucks
---
Have a question or a comment for Jacob Messing? You can find him on Twitter @Jacob_Messing.