Create a free account to unlock this article!
Get Started
Already a subscriber? Log In
The Minnesota Wild were one of eight teams to compete in the Traverse City NHL Prospect Tournament this week in Michigan, immediately prior to NHL training camps. When Minnesota announced their roster in late August, three WCHA veterans found themselves with a world of opportunity: Mitch McLain of Bowling Green, Zeb Knutson of Minnesota State, and Gerry Fitzgerald of Bemidji State. These rivals have been banging heads in WCHA battles since 2014, but once they found themselves in the same dressing room, all the bad blood evaporated.
"After four years of playing against those guys, it's nice to sit down and just have a conversation about all the different battles we've had throughout the years," said Knutson, the high-scoring winger who helped his Mavericks lead the nation in offense last season. "There's no hard feelings; it's all laughs. It's great to know the other side of these guys off the ice, and be able to play with them on the ice, too."
"It's crazy how we all meet up at the at the end of things," said Fitzgerald, a slippery 5-foot-8 centerman who received the most ice time of the three in Traverse City. "We all became really good friends. I'm roommates with Knutson right now, and I was roommates with McLain back when I was with Iowa [AHL] at the end of the year. We've bonded quite a bit, lots of memories playing against each other."
Bowling Green product McLain was the grittiest player of the bunch during their WCHA days, and he wasn't sure how he would be received in the Wild locker room.
"The first thing I expected was, 'Oh man, that McLain kid's hard to play against,' and whatnot. All of a sudden you're on the same team and everybody's friends."
They were brothers in arms at Traverse City, three young men trying to extend their hockey careers. Action in this tourney often devolved into mano-a-mano battles, with 40 skaters trying to prove their worth, often with "will over skill." McLain stayed in character throughout the tourney, tangling with opposing centermen deep in his defensive zone. He may have been a high scoring captain at Bowling Green, a man who accumulated over 100 points in his career, but he has parked the notion that he will be a major point-producer at the next level.
"If I'm going to earn a spot and play professional hockey, I'm going to be a guy that's tough and gritty, uses his body and work ethic to get under the opponents' skin, eat some good minutes on the penalty kill and give our guys a rest," McLain said. "As long as we're moving in the right direction, I'm okay with that."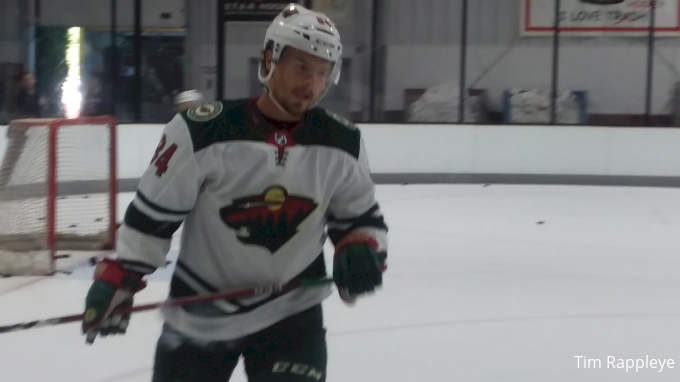 Former Bemidji State Beaver Gerry Fitzgerald enjoyed a stellar NHL Prospect Camp in Traverse City, potting a pair of goals as part of his five points in four games

Bemidji State product Fitzgerald, on the other hand, remains a power play specialist who was a mainstay on the Wild's first line. In his first two games, he lined up alongside 6-6 Jordan Greenway from highly touted Boston University, a man-child destined to play in the NHL for the Wild this season. Fitzgerald realizes he doesn't have the same pedigree as Greenway, but he and the big fellow made beautiful music together in Traverse City, taking turns lighting the lamp.
"Bemidji is a small school, it's not really heard of, but its [stature] is growing for sure," said Fitzgerald, who then broke down the magic between he and his dynamic winger. "I try to shoot the puck when I can; when I have Greenway in front, that's definitely going to help me. He's so good down low, so strong, I just make sure I get open when he has the puck. I think I'm a power-play guy for sure, I'm playing plenty of minutes, trying to make stuff happen, and use my skill."
When Greenway was given a much-deserved rest in game three versus Dallas, the little Bemidji Beaver was still inking up the scoresheet, potting a goal late in the second, and setting up the tying goal — with his goalie pulled — to force overtime, a game the Wild won in a shoot-out. Fitzgerald proved to all the scouts that he is clearly his own man, a top-six offensive forward headed for Minnesota's AHL affiliate in Iowa.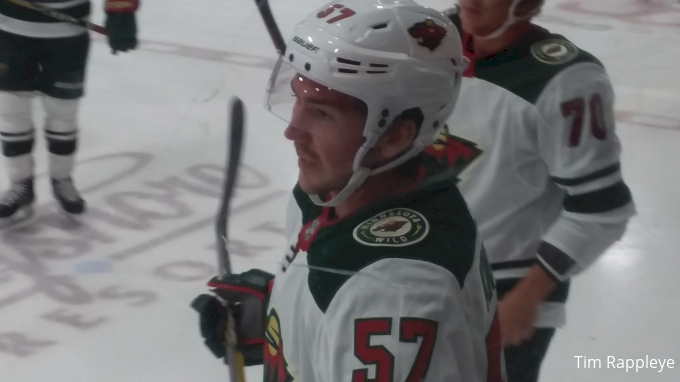 Zeb Knutson was the top scorer on the nation's top offensive team as a senior for Minnesota State, but in Traverse City he struggled to find his scoring touch
Unlike Fitzgerald, however, McLain and Knutson have not signed professional contracts. They were both invited by the Wild as free agents. Knutson may have led the high-flying Mavericks in scoring his senior year, but he produced just a single assist in their three-game round robin. He is trying to find his way in a new role that includes checking as much as sniping. He credits his weekly battles in the WCHA as good preparation for his new identity.
"It's a grind game, and after four years of that you get used to it, it definitely prepares you," Knutson said.
For one fleeting week in Traverse City, these three former WCHA rivals have come together at a career crossroads, sharing their lives in a locker, on a bench and on a bus. Barring injury, Fitzgerald appears to have his life in order. He will move on to Des Moines as a high-scoring power-play specialist, playing in the world's second-best pro league.
McLain and Knutson, on the other hand, are twisting in the proverbial wind. They will have an exit-interview with Wild management after the tournament which may determine their fate. They are both desperate for an invite to the Wild's official training camp. Knutson is a bit of a "tweener," neither a heavy checker nor a prolific scorer. He may be better suited for pro hockey in Europe, but the fact that the Wild need low-price organizational depth might keep him in North America.
McLain has established himself as a sandpaper guy, a player who thrives in hockey's dark areas. But he's a shade under six feet and isn't a top skater, both of which hurt his cause. Academics has provided him a safety net, but he'd clearly prefer shinpads to a suit. His last act in Traverse City was to score the winning goal in the Wild's third-place game versus Chicago.
"I have a teaching degree, but I want to play hockey as long as I can," he said — and he may well find out soon.
---
Tim Rappleye is the author of "Jack Parker's Wiseguys" and the forthcoming book: "Hobey Baker, Upon Further Review," set for release in November. He can be reached @TeeRaps.