Vegas Golden Knights Manager George McPhee Talks Hobey Baker, Bowling Green
Vegas Golden Knights Manager George McPhee Talks Hobey Baker, Bowling Green
FloHockey sat down to talk with George McPhee, the general manager of the Vegas Golden Knights and a Bowling Green alumnus.
Aug 24, 2018
by Tim Rappleye
In addition to being the NHL's General Manager of the Year, Las Vegas Golden Knights executive George McPhee is a proud alum of Bowling Green State University. During his playing days at Bowling Green, he scored at a startling clip, helped the Falcons to championships in the old CCHA, and won the Hobey Baker Award his senior year. A generation later, he and fellow alums helped keep Bowling Green from dropping their program altogether. Now with the Falcons back on solid ground as a winning program in the WCHA, you might see McPhee back on campus, scouting his 2018 draft pick, Brandon Kruse.
FloHockey's Tim Rappleye caught up with George to talk hockey with George, both yesterday and today.
---
FloHockey: George, you were fortunate enough to play for not one, but two Hall of Fame coaches: the late Ron Mason and Jerry York. Can you talk about your years at Bowling Green and that phenomenal freshman year you had?
McPhee: It was a real treat to play for Ron Mason first of all. At that time he was the winningest coach in college hockey, or close to it, and then got the opportunity to play for Jerry York when Ron went to Michigan State. You learn some lessons from two completely different coaching styles, and you realize that there are different ways to win in hockey.
That first year under Mason at Bowling Green was not unlike the Vegas Golden Knights, the year everything went perfect until the last week of the season. But it was just a magical year where there were a lot of firsts, and Bowling Green for the first time in its history was the No. 1-ranked team in the country in January. It was a real treat to slide into a lineup like that with so much leadership and talent, and to play hockey and win.
Do you remember your linemates from your freshman year? Because I saw your scoring numbers. If people did that today they'd be fainting, with 40 goals and 85 points. Were you playing on a loaded line? How did that all work out?
I played with Mark Wells and Johnny Markell, two players with tremendous speed and scoring ability, and as most good lines do, when you play together a couple of games you develop some chemistry, you don't know why it works but when you have chemistry you don't fool around with it, and turned out to be one heck of a line.
You did four years down there, dominating the CCHA, you must have felt those were magical times, looking back on it.
To play Division I hockey period, was a real treat. To step into a program like that, one of the best in the country at the time, was a dream come true. I wanted to play college hockey. I got to play college hockey at a good school, and wanted to graduate and enjoy that four-year experience.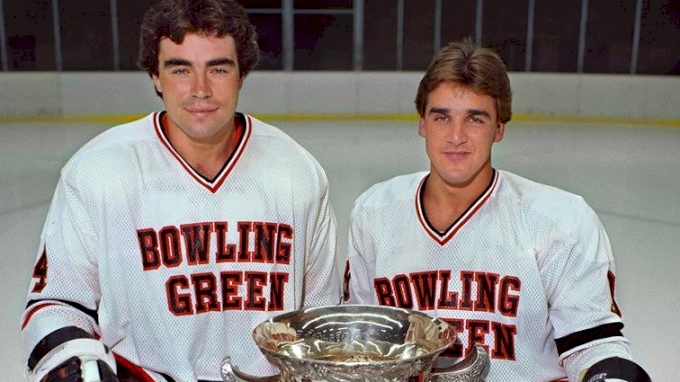 George McPhee (right) and Brian MacLellan (left). These two BGSU alums were GMs of the two 2018 Cup Finalists, respectively.

| | |
| --- | --- |
| Name: | George McPhee |
| School: | Bowling Green State University |
| Year: | Freshman |
| Season: | 1978-1979 |
| Games Played: | 43 |
| Goals: | 40 |
| Assists: | 48 |
| Points: | 88 |
You guys won an incredible national championship a few years after you graduated, two Hobey Baker Winners, yourself included, and then suddenly, about a decade ago, the program fell on hard times, and there was even talk of dropping varsity hockey at Bowling Green. How did that make you feel, and what was your response?
It was pretty hard to believe, that people at the top of the university lost interest in hockey. I don't think they had a real appreciation for how rich the program was, and the wonderful things it did for that community, the school, and the community.
The arena on campus is for the community as well; when we were going there that place was sold out all the time. The president of the university has to be really involved, and want the program to be strong. They sort of lost interest for a while. Fortunately, president Mazey got involved, and wanted to restore the program, and threw the University's support behind the program again. Then the alumnae started contributing again, and then they made a terrific decision in [coach] Chris Bergeron, and it's a really good program again. It's where we believe it should be, it's a wonderful place to play, we're lucky.
Some of the biggest names in Bowling Green hockey history: Gary Galley, Rob Blake, yourself, you guys all rolled up your sleeves and got involved in terms of support, did you not?
Yup. It was time to put some real money up. There weren't enough people contributing. Those of us that have made some money in hockey and are fortunate decided we had to step up and contribute a lot more. So we did. Big checks were written, and other people kicked in, helped get the program where it has to be. We're delighted that the program is in real good standing.
Bowling Green crashed the party at the Great Lakes Invitational last year. It's usually an all-Michigan affair, and suddenly it's the Falcons holding that trophy going around that brand new Detroit facility. Were you aware of that, and what did it mean to you?
I wasn't able to attend, but I was certainly very happy for the school, and again, real happy for Chris Bergeron. The school made a great decision to hire him, and a national championship isn't out of the question with that coach. He gets the maximum out of that team, they seem to be getting better players every year now, and they have realistic chances to win. So, winning the Great Lakes Invitational and other tournaments is fantastic. I'm sure everyone has their sights set on winning a national championship.
Fast forward to Las Vegas, your fifth-round draft choice, a 5-foot-9 kid out of Bowling Green, Brandon Kruse, is that a coincidence that he got drafted, or were you familiar with him from your Bowling Green contacts? Tell us how that all came about.
It's a coincidence. I leave our drafting up to our scouts. I'm happy that they drafted him because he's a terrific player, and I'm glad that they weren't influenced by me; there's no bias involved, they took the best player available, who happened to play at Bowling Green. I'm excited that it provides another reason to get to Bowling Green this year and watch them play.
Do you notice any familiarity in his game? He can really scoot down the wing, is a bit of a playmaker, does he remind you of yourself at all? Or is that a different era.
A completely different player. He's a much better skater; he's a real talented kid, he's more like the Johnny Gaudreau's of the world.
Well, that's the modern game, and you've picked up a valuable chess piece. Now, this is the centennial of the death of America's greatest hockey player, Hobey Baker. By winning the second Hobey Baker Award in history, your name will always be associated with this guy. You know something about Hobey Baker, what's it mean to you to be associated with America's legendary hockey player?
Humbled, honored. It was a fascinating experience to be nominated for the Hobey Baker Award. And to win the award, you're really proud to bring that back to your school. Then when you learn more about Hobey Baker, you realize that he was an elite athlete and a great American, an American hero, and you have a higher standard to live up to now. You have to be as much like him as you can be, be a better human being in every way, and try and set examples for younger people. When you are mentioned in the same breath as that man because of that trophy, that award, things change, and you have a higher standard to live up to.
I think we're going to leave it on that note, that's terrific stuff. As a guy who writes a lot about the WCHA, it's going to be great to have you around the rinks. Good luck on trying to repeat what you did on the professional rinks this year, and look forward to seeing you around the rinks.
---
Tim Rappleye is the author of "Jack Parker's Wiseguys" and the forthcoming book: "Hobey Baker, Upon Further Review," set for release in November. He can be reached @TeeRaps.