WCHA Prospect Check-In: Steven Ruggiero, The Reclamation Project
WCHA Prospect Check-In: Steven Ruggiero, The Reclamation Project
FloHockey continues its series spotlighting six WCHA players who participated in NHL Development Camps this summer.
Aug 1, 2018
by Tim Rappleye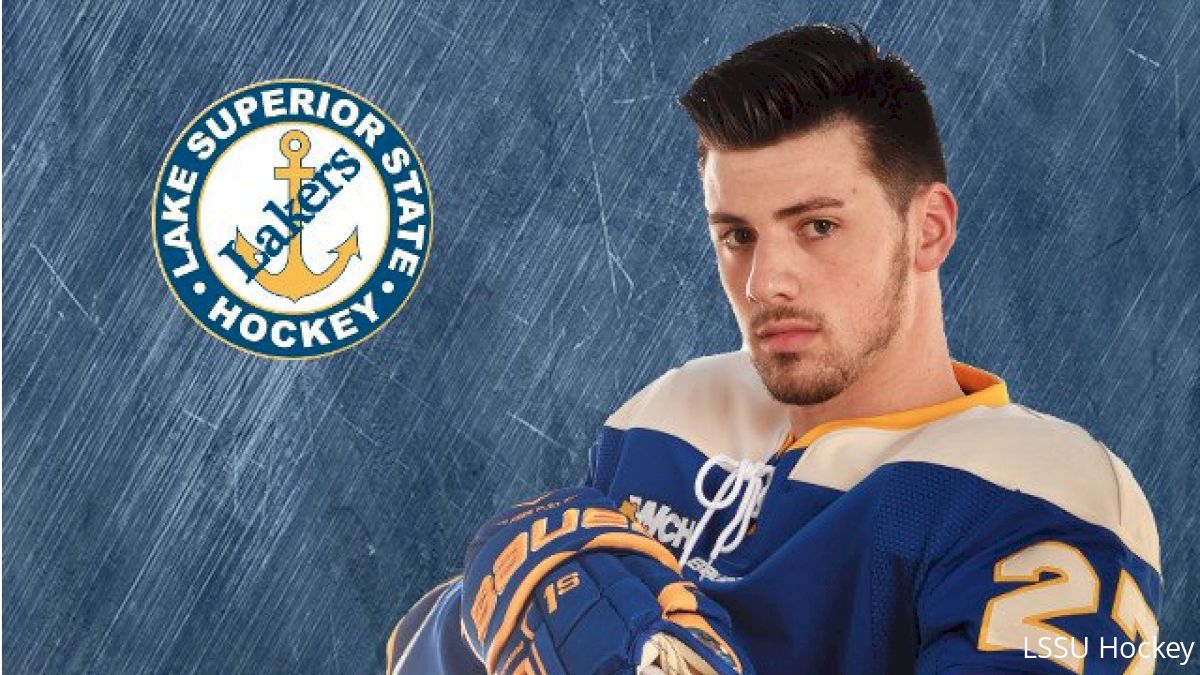 FloHockey continues its series spotlighting six WCHA players who participated in NHL Development Camps this summer:
---
Lake Superior State junior defenseman Steven Ruggiero (Kings Park, NY) has already lived several hockey lives.
His first incarnation as a Division I player was as an oversized 18-year-old man-child, lining up for the reigning NCAA champion Providence Friars in the fall of 2015. The hockey world was his proverbial oyster: He was a product of USA Hockey's elite National Team Development Program, where he was the muscular defense partner of fellow Long Islander Charlie McAvoy, with whom he had won a U-18 World Championship gold medal.
His being drafted and attending the Anaheim Ducks development camp was business as usual for someone with his pedigree. But early in his sophomore season at Providence, a year in which he and his NHL rightsholders expected him to soar, the wheels came out from under Ruggiero, and he found his career in a ditch.
"It started off as pain in both my groins," said the 6-foot-3 blue-liner. "I played the first six games, and around Halloween, it got a lot worse. I was hoping it was a groin strain."
Rather than simply continue rehabbing four days a week before suiting up for grueling Hockey East doubleheaders, Ruggiero checked out of Providence and returned to Long Island for some independent medical examinations. A series of MRIs from his local doctors revealed significant tearing in both hips.
November 2016 was a dark month for Ruggiero. He had to come to grips with the fact that he had fallen off the hockey fast track. His prodigious body, the most reliable asset in his arsenal, had failed him, and he felt he was disappointing the Anaheim Ducks, the club that had drafted him two seasons prior. He and his family advisor parted ways. With options dwindling, Ruggiero made a radical decision over the college hockey Christmas break—he jettisoned out of Providence and returned to his original USHL junior team, driving out to Youngtown, Ohio, to play for the Phantoms.
His days of IIHF gold medals, national championship banner hoists, and NHL development camps now seemed like a faded dream. His new reality was 10-hour bus rides through the Midwest and pumping cortisone shots into both hips; he was just another hockey hopeful trying to latch onto an NCAA squad. It was the ultimate hockey gut-check, and Ruggiero embraced it all.
"I'm grateful for the adversity, you can't have regrets," said Ruggiero, reflecting on his long climb back. "Going back to junior, playing an expanded role, playoff hockey, going against the top guys, it prepared me for Lake State."
He said his cortisone shots made him "feel like Superman." But after six weeks they wore off, and he had to grind through ever-increasing pain to reach the finish line in the spring of 2017, squeezing in 34 games for Youngstown, including a round of playoffs.
"We played a lot more games," said Ruggiero, comparing it to college. "By the end of it, I was ready for the hip procedure."
Ruggiero returned to New York to have both hips worked on, beginning a lengthy ordeal to become a fully functioning athlete once again. For the first time in three years, he skipped the Ducks development camp to push through his rehab.
"Things got so repetitive, the stretching and the constant treatment, it took a solid seven months," he said. "It was frustrating."
But Ruggiero soldiered on and willed himself back into playing shape. His light at the end of the tunnel was Lake Superior State, an NCAA outpost in Michigan's Upper Peninsula, overlooking the Marie International Bridge connecting the U.S. and Canada.
Despite being a stranger in a strange land, Ruggiero embraced his new life in the WCHA.
"I didn't know what to expect as an East Coast kid," he said. "It's a hard, honest hockey game every weekend. Whether it's Minnesota State Mankato or Alaska Anchorage, it doesn't make a difference. One thing about this conference—every game is competitive and guys battle every night."
#27 Steven Ruggiero

Lake Superior St. Lakers

Class: Junior
Position: Defense
Height: 6-3
Weight: 200
Hometown: Kings Park, New York
Last Team: U.S. National U18 (USHL)
NHL: Anaheim (2015 6th Round, #178 Overall)
Lake Superior State is the new home of Steven Ruggiero, 2.0. It was as a Laker that he returned to the Anaheim Ducks camp for the third time this summer, not a USA Hockey blue-chip prospect, not as a Providence Friar, but as one of the WCHA's shutdown defensemen, steeled by the school of hard knocks.
He is intensely grateful to the NHL organization that stuck by him when his world came crashing down around him.
"I owe a lot to Anaheim," said the earnest Ruggiero. "Some teams may have [said] 'Hey, he's our draft pick, but things haven't gone as we liked,' but they've just been so helpful throughout the whole process, whether that's been giving me advice, making a call for me, whatever it was, they've always been there. There's been a lot of security there, it's nice to go back to camp and have a relationship with the people you are around."
Some of Ruggiero's most important relationships on the Ducks staff are the physio trainers, who have carefully crafted a program to keep their prospect on the ice for the long haul.
"It really is the little things, especially when you get surgery like I did," Every day you have to roll out, heat up, and Anaheim's staff said to make sure your warmup is done thoroughly and not rushed, the icing, the heat, the stretching. Everything I've gathered is to push yourself and always work hard, but do it in moderation so you don't take a step back."
Thanks to the collaborative efforts of Ruggiero and his Anaheim physios, he returns to Sault Ste. Marie a 6-foot-2 220 pound D-monster able to skate pain-free for the first time in recent memory.
"I feel great now, so much looser than when I had the constant pain at Providence and when I was at Youngstown," Ruggiero said. "I feel so much more mobile. I can use my lower body much more comfortably now."
It's 350 miles due north from the NTDP in Plymouth, Michigan, to the campus of Lake Superior State. America's elite prospects rarely venture beyond a handful of "Brand Name" NCAA schools. But there is one graduate of America's medal factory who has re-invented himself and is now proud to wear the blue and gold of LSSU.
"I owe a lot to my teammates and the staff at Lake State," Ruggiero said. "Giving me another opportunity to play college hockey is special, and they made me feel at home right away."
---
WCHA Prospect Check-Ins:
Brandon Kruse, Bowling Green — Vegas Golden Knights
Philip Beaulieu, Northern Michigan — Boston Bruins
Cooper Zech, Ferris State — Washington Capitals
UPCOMING
Jake Jaremko, Minnesota State — Nashville Predators
Jake Jackson, Michigan Tech — San Jose Sharks