'We Really Could Do This': The Return Of Michigan Wolverines Hockey
'We Really Could Do This': The Return Of Michigan Wolverines Hockey
The Michigan Wolverines were supposed be in the midst of a rebuilding year, but instead they're on the verge of the NCAA Tournament.
Mar 1, 2018
by Hunter Sharpless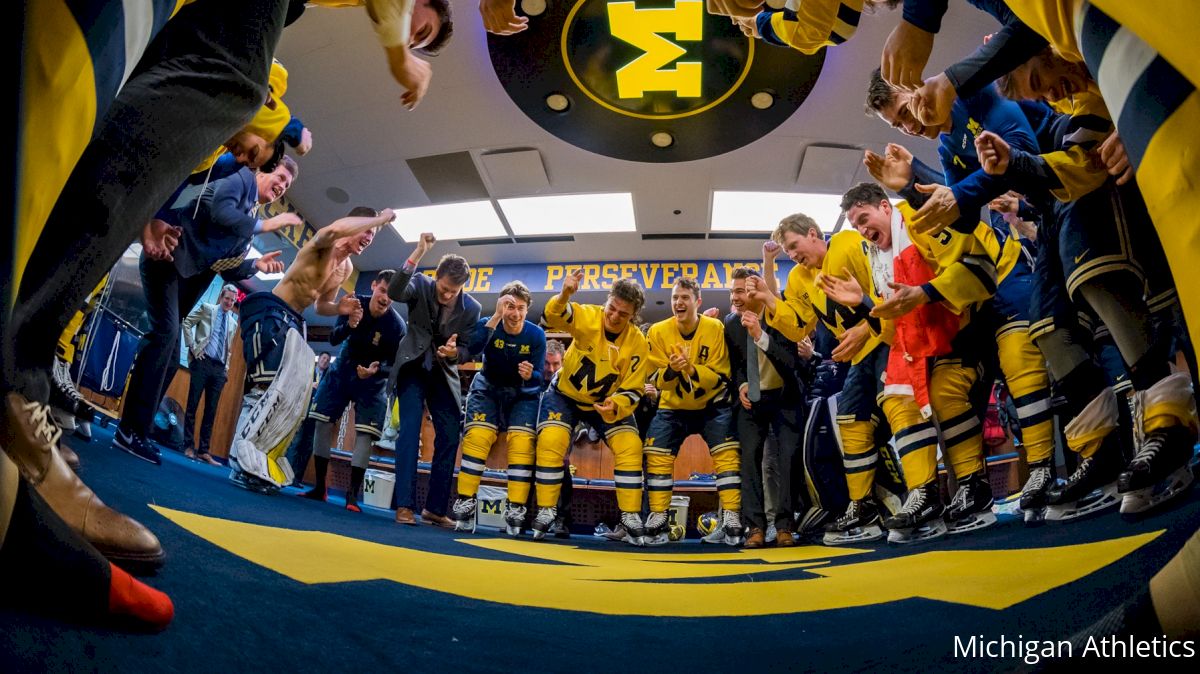 By Jacob Messing
---
In what was supposed to be a buffer year for player growth and new coach Mel Pearson to get reacquainted to a once-enviable college hockey team, the Michigan Wolverines appear to be on the verge of a bid to the NCAA Tournament.
Last season, the Wolverines went 13-19-3 — a quick downfall from 2015-16, when they went 25-8-5, won the 2016 Big Ten Tournament, and earned their first bid to the NCAA Championship since 2012; they lost in the quarterfinals.
But the Wolverines this year haven't wasted time in turning their program around; they haven't stalled, haven't taken their foot off the gas.
Instead, they've gotten to work.
When Fantastic Recruiting Backfires: Talent Turns Pro
Last year's setback was largely brought on by the unanticipated loss of key players. After a strong freshman season in 2014-15, Dylan Larkin left to join the Detroit Red Wings. Following the 2015-16 campaign, Michigan lost non-seniors Kyle Connor, J.T. Compher, Tyler Motte, and Zach Werenski.
Those players were the Wolverines' four leading scorers and finished a point-per-game or better. Moreover, Connor, Compher, and Motte finished first, second, and fourth in NCAA Division I scoring, respectively. The trio left to join their various NHL organizations ahead of the 2016-17 season.
"He's got that touch around the net that you can't teach," said then-Michigan coach Red Berenson of Connor in 2016 to George Sipple of the Detroit Free Press. "This isn't about coaching. It's just about giving the kid a chance to play with good players and putting him in a good spot so he has a chance to score. He's been as good as it gets."
Had Connor played out his tenure with the Wolverines, he'd be a junior this season. Larkin and Werenski, meanwhile, would be wrapping up their season year. In all probability, the three would be right at the top of the scoring list.
No one is blaming any of these players for pursuing the next level – especially given the success each has had since leaving Michigan. Their departures simply show the potential Michigan held in its recruitments, and where the team could be sitting had they stayed.
#ThankYouSeniors pic.twitter.com/BypX5aEjNC

— Michigan Hockey (@umichhockey) February 25, 2018
Three Decades Of Stability Ends Suddenly
After 33 seasons at the helm of the Wolverines, Berenson stepped down in April of 2017. He led Michigan to an 848-426-92 record during his tenure as the model coach of multiple eras.
Berenson's former assistant Pearson replaced him shortly after his resignation. After 23 seasons at Michigan under Berenson, Pearson was brought in by his alma mater Michigan Tech in 2011 and led the Huskies to a 118-92-29 record through six seasons. Three years into a five-year signed in 2014, Pearson left the program to fill in for Berenson.
"I am very honored and proud for this opportunity to be the next head coach at Michigan," Pearson said in his first press conference. "I am looking forward to continuing to build upon the rich and successful tradition of Michigan hockey."
The combination of a new coach, new systems, and the recent 13-19-3 season put scant expectations on Pearson and the team in his first season. But that would change as the season progressed.
#ByTheNumbers: Thanks to the best fans in college hockey for making @YostIceArena the best home ice advantage!

Can't wait to see you all this weekend when we host Wisconsin in the first round of the B1G Tournament. #GoBlue pic.twitter.com/fMeHiMD53s

— Michigan Hockey (@umichhockey) February 27, 2018
The Wolverine Resurgence
Michigan's start to the 2017-18 season showed immediate promise, as the Wolverines ended October with a 4-2-0 record. Over the next three calendar months, the team continued to show promise and flashes, but went 9-10-2 as it continuously found itself on the wrong side of the scoreboard due to inconsistent play and recurring mistakes.
When you give the schedule a glance, you can pinpoint the turnaround in Michigan's season: it came in mid-January after being swept by No. 2 Notre Dame.
"The Notre Dame series, even though we didn't win, we played extremely well at home on the Friday night," Pearson told Joe Meloni of College Hockey News. "We went down there and had another good game on Sunday, and we knew that if we just did a couple things a little better, we'd be in position to win.
"That Notre Dame weekend really sort of showed us that if we just make a few improvements, we really could do this."
Michigan went 10-3-1 in their final 14 regular season games, which ended with a five-game winning streak and even included some revenge with a sweep of No. 1 Notre Dame.
The players began to buy in to the new system, and they dedicated themselves to playing the right way, which has in turn launched Michigan to a No. 12 national rank and the ninth spot in Pairwise Rankings. Their bid to the 2018 NCAA Tournament is within reach, but an important, newly formatted Big Ten Tournament comes first.
Three-seeded Michigan will host six-seeded Wisconsin for a best-of-three series this weekend to open the Big Ten Tournament.
The Bright Future Is Nearer Than Once Anticipated
Michigan's season isn't over by any means, and they'll ride their hot streak until the flames burn out.
But there's promise in Ann Arbor right now. And it may be coming sooner than fans and skeptics alike once thought. Junior Cooper Marody broke out to lead the team in scoring this season, 2017 first-round NHL draft pick Josh Norris will be a bigger force next season, and defenseman Quinn Hughes is projected to be a top-10 NHL pick in every mock draft there is.
---
Have a question or a comment for Jacob? You can find him on Twitter @JMessing23.