Minnesota Duluth at Wisconsin | 2017 NCAA Women's Hockey
No. 6 Minnesota, Grace Zumwinkle Still Searching For Home Formula
No. 6 Minnesota, Grace Zumwinkle Still Searching For Home Formula
The No. 6 Minnesota Golden Gophers women's ice hockey team hosts Minnesota-Duluth this weekend.
Dec 8, 2017
by Hunter Sharpless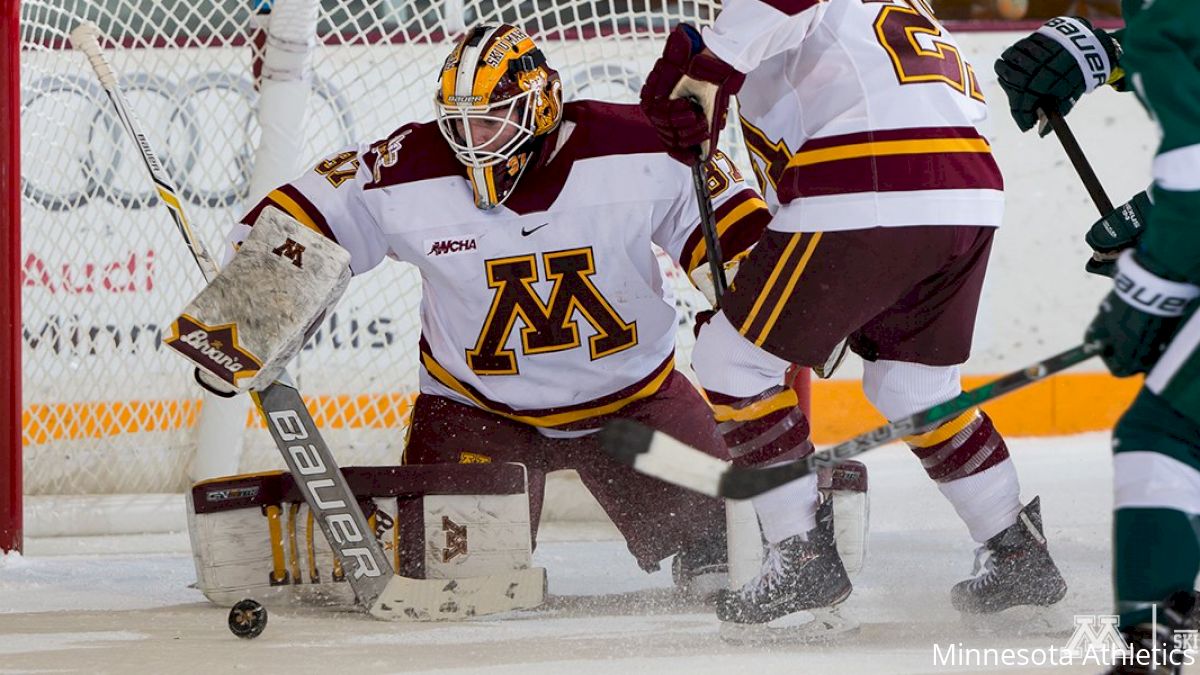 By Jacob Messing
The No. 6 Minnesota Golden Gophers are perfect on the road this season, but have lacked the "advantage" part of home-ice advantage.
The Gopher women, 14-5-1, have been sluggish at Ridder Arena with a 4-5-1 home mark. They'll get another chance to turn it around this weekend and gain some confidence when they host rival Minnesota-Duluth in their last series of the semester.
Duluth is one game under .500 with a 9-10-0 record and just 2-7-0 on the road, which could bode well in the Gophers' pursuit of home success.
It also helps that the then-No. 7 Gophers swept the Bulldogs in late October, when Duluth was ranked No. 8.
The rematch series starts tonight at 8 PM EST, and game two begins the following day at 5 PM. You can catch both games live on FloHockey.
Game day = Best day. pic.twitter.com/Xv6vhwqQr7

— Minnesota W Hockey (@GopherWHockey) December 8, 2017
The Gophers entered last weekend riding an eight-game win streak as Bemidji State came to town, when Minnesota extended their run to nine games before the Beavers snapped it with a 4-2 victory to split the series.
With a familiar foe in Duluth — a series in which Minnesota holds a 54-27-7 all-time advantage — a drive to end the semester on a high note, and superior depth, Minnesota should have enough to carry them over the Bulldogs.
Coach Brad Frost is hoping his team responds to their snapped streak and highlighted some of the keys to that success for Jack White of the Twin Cities Pioneer Press.
"What you notice is that everyone feels like they're contributing," Frost told White. "Sometimes when you have some fairly elite players, other players will defer to those guys, instead of realizing how important it is for them to contribute."
Frost's team is led by freshman Grace Zumwinkle, who recorded two goals and an assist last weekend to bring her season totals to nine goals and 20 points in as many games.
Behind Zumwinkle, the aforementioned depth is apparent, as six other Gophers have at least 15 points. It's not an easy group to defend.
The visiting Bulldogs had a winning streak of their own prior to last weekend — with four straight victories — before No. 1 Wisconsin walked through them like they have against all but one opponent this season.
The Bulldogs arrive in Minnesota to cap a five-game road trip and end the semester schedule, hoping to vanquish their road woes.
While the Bulldogs are certainly aware of the Gophers' depth, coach Maura Crowell and leading-scorer Naomi Rogge believe in their own.
"We have good depth at all positions and I think when we are playing well — we can come at you in waves," Crowell told Eyewitness Sports of ABC News.
The freshman Rogge is the only Bulldogs player with more than 15 points, but still believes in her team's ability to match the Gophers' balanced attack.
"I would say that our biggest strength is our defensive corps and how old they are and their experience . . . they really give us confidence up front," Rogge said in the segment.
Don't miss the series this weekend, as FloHockey will stream both games right here as the Bulldogs' defense and Gophers offense go head-to-head.
---
Have a question or a comment for Jacob Messing? You can find him on Twitter @JMessing23.