Minnesota Duluth at Wisconsin | 2017 NCAA Women's Hockey
No. 1 Wisconsin Tests Dominance In Home Return Against Minnesota-Duluth
No. 1 Wisconsin Tests Dominance In Home Return Against Minnesota-Duluth
The No. 1 Wisconsin Badgers host the Minnesota-Duluth Bulldogs this weekend twice in Madison in a WCHA clash.
Dec 1, 2017
by Hunter Sharpless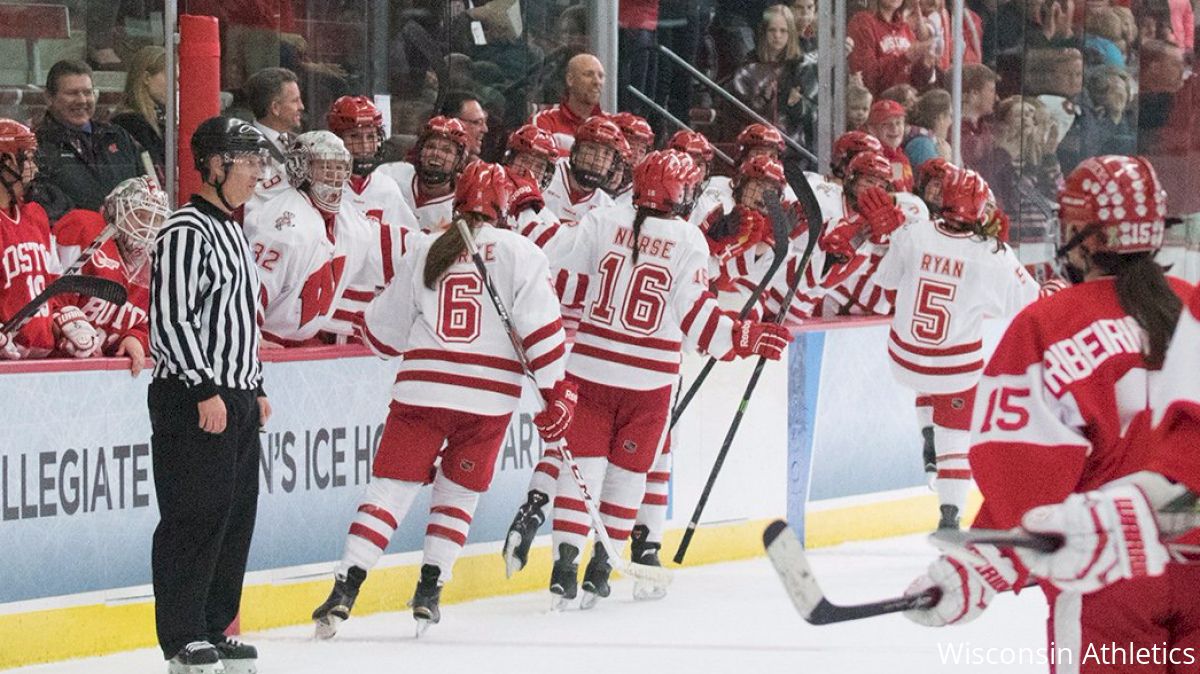 By Jacob Messing
A day after their first loss of the season, the consensus No. 1 Wisconsin Badgers rebounded with a 4-2 victory over Boston University to improve to a scorching 17-1-0 mark on the year.
Now, in Minneapolis, they'll put that record to the test against the Minnesota-Duluth Bulldogs.
With just seven upperclassmen on the roster, Wisconsin coach Mark Johnson has regularly expressed his surprise — and admiration — for what the young team has accomplished.
The Badgers fell to Northeastern 3-2 on Friday, but responded with a 4-2 victory over Boston University the following day.
The instant rebound is a testament to their drive and belief in each other, Johnson noted in his weekly press conference.
"Some of the things that we did Saturday against Boston University are encouraging, are helpful," Johnson said in his weekly press conference. "And certainly playing the two opponents that we played this past weekend that will make us a better team as we prepare for Duluth."
The #Badgers are back to work today, prepping for their @WCHA_WHockey series against UMD! #OnWisconsin pic.twitter.com/3qSfTacHzz

— Wisconsin Hockey (@BadgerWHockey) November 28, 2017
The series will be streamed right here on FloHockey, Friday at 6 PM EST and Saturday at 1 PM.
Sophomore Abby Roque paces the Badgers with 16 assists and 22 points through 18 games. She contributed two assists in their bounce-back win Saturday, including the team's opening goal and insurance goal to make it 4-2 with just over three minutes remaining.
The Bulldogs are 9-8-0 on the season, but have won six of their last seven and four straight, including a 4-1 victory over No. 2-ranked Colgate and a sweep of Minnesota State.
Minnesota-Duluth brings a 2-5-0 road record into Madison this weekend, where they haven't won a game since 2010.
Meanwhile, the Badgers return home for the first time in nearly a month; they hold a perfect 8-0-0 slate at LaBahn Arena and haven't lost a game there since December 8, 2016.
The Bulldogs don't boast the same depth as Wisconsin — frankly, no team does — as they have just three double-digit scorers compared to the Badgers' eight.
But they do have goaltender Jessica Convery and a newfound identity. Convery was named the Western Collegiate Hockey Association (WCHA) Defensive Player of the Week after two wins, a .961 save percentage, and 1.00 goals against average.
"We're playing our best hockey right now," Bulldogs coach Maura Crowell told Matt Wellens of the Duluth News Tribune on Wednesday, citing the team's speed, creativity, and execution.
Crowell said the players have found their fit in the lineup, a lineup that includes 10 freshmen and two transfers. Most notably, Emma Yanko is finding herself in the top-six role that was originally destined for Brooklynn Schugel who underwent season-ending knee surgery over the summer.
Yanko has four goals in her past six games after posting just one assist in the first 85 games of her Bulldogs career.
"I'm playing with two really good players in [Katerina Mrazova] and Ryleigh [Houston]," Yanko told Wellens. "They are very, very skilled. [Katerina Mrazova] will put the puck wherever you need it."
Tune in this weekend on FloHockey to catch Yanko and UMD aim for an upset over their WCHA foes, the No. 1 Wisconsin Badgers.
---
Have a question or a comment for Jacob Messing? You can find him on Twitter @JMessing23.