No. 1 Badgers March Past No. 4 Buckeyes For 14th-Straight Victory
No. 1 Badgers March Past No. 4 Buckeyes For 14th-Straight Victory
The No. 1 Wisconsin women's hockey team notched a 3-1 victory and sweep of Ohio State this Sunday.
Nov 6, 2017
by Jennifer Zahn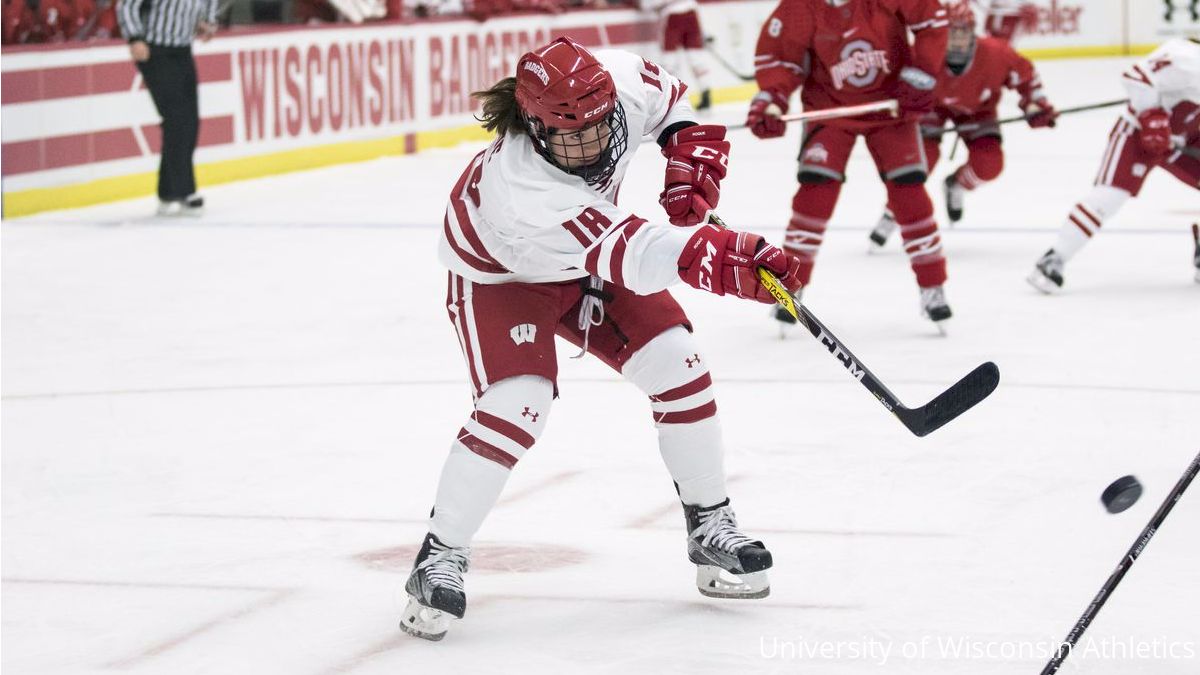 Release provided by the University of Wisconsin—Madison:
MADISON, Wis. — Senior Claudia Kepler, junior Mikaela Gardner and sophomore Alexis Mauermann each notched goals to power the No. 1 Wisconsin women's hockey team to a 3-1 victory and a series sweep of No. 4 Ohio State Sunday afternoon at LaBahn Arena.
Following a scoreless first period, Gardner put away her fourth goal of the season in front of a sellout crowd on a rebound from senior Baylee Wellhausen. The defenseman now leads Wisconsin (14-0-0 overall, 8-0-0-0 WCHA) blue-liners in points with 12 from four goals and eight assists.
Later in the second frame, Mauermann snuck a gamewinner past OSU goaltender Kassidy Suave to give the Badgers a two-goal cushion heading into the final intermission against the Buckeyes (7-2-1, 5-2-1-1 WCHA). With the goal, Mauermann stretches her point streak to three games and it gave the Janesville native her third goal of the weekend.
Kepler lit the lamp against her former team midway through the third period, picking up her team-high ninth goal of the season to round out the scoring for Wisconsin.
Ohio State cut the Badgers' lead to 3-1 in the final minutes of the third period, marking the Buckeyes' first goal of the weekend.
Play of the game:
Looking to get on the board in the third period, OSU's Tatum Skaggs slotted the puck across the crease to Maddy Field who fired a close-range shot but UW netminder Kristen Campbell came up big with huge stop to deny the Buckeyes.
Notes of the game:
-With the win, the Badgers improve their home unbeaten streak to 20 games. Wisconsin has not lost a game at LaBahn Arena since Dec. 3, 2016.
-The Badgers recorded 50 shots on goal in today's contest against the Buckeyes. Over the weekend, Wisconsin outshot Ohio State 92-36.
-Sophomore Kristen Campbell made 21 saves to improve to 14-0-0 on the season.
Straight from the rink:
Head coach Mark Johnson
On his expectations from Ohio State:
"When the puck dropped, we needed to be ready those first three or four or five shifts and I thought we were. I thought the first period was pretty good and I thought the second period when played really well and created some opportunities and capitalized on a couple things and then it's just being disciplined and continuing to do those little things in the third period. Overall the weekend was very good."
On the atmosphere:
"We told them the crowds were going to be huge, if not sold out, so from a players' standpoint you look forward to these type of weekends. You're going to get good competition, you're going to get tested and you have your crowd behind you. Last night getting to our start and scoring early and getting the crowd involved is good and today they helped us kill some penalties when we needed to kill some penalties. The energy the crowd brings, certainly the players feed off of."
Senior forward Claudia Kepler
On scoring against Ohio State:
"Our line was getting so many chances, it was just good to have us pop one in late in the game, especially after they scored. We still had a two-goal lead after that so it was comforting knowing that we still had a little extra oomph at the end."
On Wisconsin's start:
"You just take it game by game. It's really a fun experience and we're just trying to enjoy it. We don't want to look too far ahead. We weren't expected to do this and I think we use that as motivation every day."
Sophomore goaltender Kristen Campbell
On Wisconsin's start:
"It's huge getting the wins against the ranked teams. Obviously it's going to be a battle going in there and it's going to go to the final buzzer like the OT game at Minnesota. I'm just proud of the team and how we really came out strong in the last four games. I think that's huge moving forward."
Up Next:
The Badgers continue their stretch against ranked opponents as they head to the east coast for a two-game series with No. 8 Cornell. Puck drop for both Friday and Saturday is set for 2 p.m. CT.