No. 6 Minnesota Looks To Knock Off Abby Roque, No. 1 Wisconsin At Home
No. 6 Minnesota Looks To Knock Off Abby Roque, No. 1 Wisconsin At Home
Minnesota women's hockey hasn't been great at home, but they have a chance to rectify that against the Wisconsin Badgers this weekend.
Oct 26, 2017
by Hunter Sharpless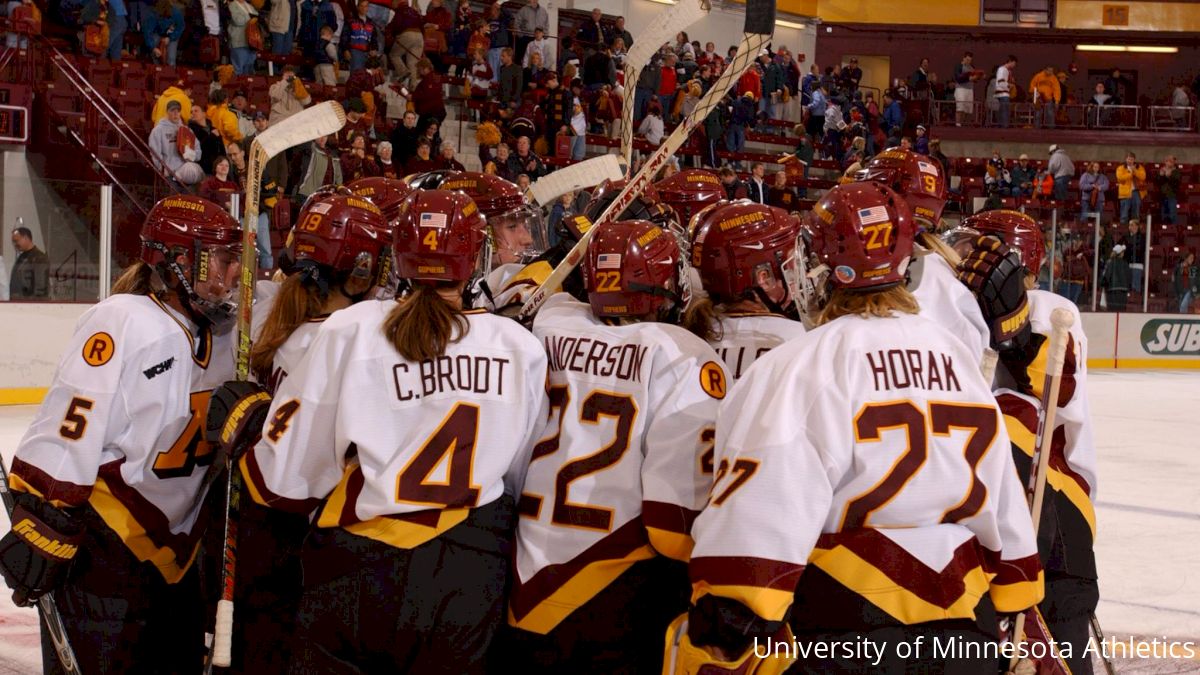 By Jacob Messing
The No. 6 Minnesota Golden Gophers host the top-ranked Wisconsin Badgers this weekend for a two-game series in a Western Collegiate Hockey Association (WCHA) clash, where the hosts look to break through on home ice.
You can catch both games live on FloHockey this weekend, thanks to our new partnership with the Big Ten.
The Golden Gophers have gone undefeated on the road with a 4-0-0 record, but are just 1-2-1 at Ridder Arena, a mark that has dragged them to 5-2-1 overall.
The solution for Minnesota is simple — win at home — but the reality is more complicated, as the Gophers hope to rectify their home-ice woes against the hottest team in hockey in rival Wisconsin. The Badgers boast a perfect 10-0-0 record, two of the season's top scorers, and a group of young forwards gaining confidence with each game.
FloHockey will be live streaming the games this weekend; the puck drops first on Saturday, October 28, at 4:07 PM, CT and then again on Sunday at 3:07 PM.
"Well into a month into our season, the encouraging part is our younger players seem to have adapted well," Wisconsin coach Mark Johnson said during his weekly presser. "They've improved over the course of that period of time and . . . I think we'll continue to see improvement in these young players. This weekend will be a good example of that."
Two of those young players are sophomores Abby Roque and Presley Norby.
Roque enters the weekend tied for first in the scoring race with 14 points (4 G, 10 A). In 40 games last season, she scored eight goals and 28 points as the third line center. Johnson said her comfort in her second season has helped transition to the first line with ease this year.
Norby is well on her way to eclipse her freshman totals of six goals and 21 points, which she managed in 40 games. She has already recorded three goals and 11 points through 10 games, and dazzled with an early candidate for goal of the year.
What a goal for @PresleyNorby that gave the #Badgers a 2-0 lead! pic.twitter.com/okUNt0mWIa

— Wisconsin Hockey (@BadgerWHockey) September 23, 2017
Then there's Claudia Kepler, who sits second in the league with eight goals. The senior plays alongside Norby, and the two have established some early chemistry as each has 11 points on the season, behind only Roque for the team lead.
Wisconsin and their high-powered offense play seven games in a row against ranked opponents, beginning with a similarly young Minnesota.
Whereas the Badgers play through their attack, the Golden Gophers flow through their strong defense. Senior Sydney Baldwin is tied for the team lead with 10 points through eight games. Defensemen Patti Marshall and Olivia Knowles sit third and fourth in team scoring, respectively, as three of the team's top four scorers all stand on the blue line.
Marshall was just named the WCHA defensive player of the week after posting three assists, four blocks, and a plus-five rating.
Congrats to #GWH sophomore @pattimarshall16 on earning #WCHA Player of the Week honors! pic.twitter.com/NP7ztt2EXs

— Minnesota W Hockey (@GopherWHockey) October 24, 2017
"[I'm] really proud of our team. Tough place to play, tough place to win, and to come away with six points to put in the bank is really huge for our team," Gophers coach Brad Frost told Minnesota's Star Tribune after sweeping No. 8 Minnesota Duluth in Amsoil Arena.
The Gophers are coming off four consecutive wins after sweeping Bemidji State the weekend prior. They've scored a total of 13 goals in their past four games and are entering the weekend with confidence, excitement, and the hope to hand their rivals their first loss of the year.
Senior Caitlin Reilly is coming off another solid weekend, looking to build on her team-leading six goals and 10 points against a familiar Wisconsin team.
Don't forget to stream the games right here on FloHockey, which is also airing five other hockey games across the NCAA this weekend.
---
Have a question or a comment for Jacob Messing? You can find him on Twitter @JMessing23.