The NHL offseason is winding down after a busy summer of high-profile free agency moves, league expansion, and entry draft selections.
As each team's roster begins to take shape, we're looking ahead to the start of the 2017-18 season to identify the under-the-radar players who not only have the potential to help their teams on the ice but also make an impact in your fantasy league.
Highlighted below is a lurking player on each Eastern Conference team who is overshadowed by the name-power of his teammates. Each outlined player has the ability to quickly turn into a must-have guy at any point this year.
Boston Bruins

Charlie McAvoy | D

The 19-year-old McAvoy had a seamless transition as he joined the Bruins for six playoff games following his sophomore season at Boston University. He also won a gold medal with the U20 Team USA at the World Juniors and was arguably the team's top defenseman.
In six playoff games, the defenseman registered three assists and averaged over 26 minutes of ice time per game. He's unlikely to sustain that ice time, but Boston is transitioning the blue line to instill youth for the future.
Brad Marchand, David Pastrnak, and Patrice Bergeron will be the first handful of Bruins off the board, leaving McAvoy as a strong deep-draft candidate.
Buffalo Sabres

Sam Reinhart | C
Reinhart, 21, has been one of the Sabres' most consistent players the past two seasons and is on the verge of a breakout year. The second overall pick in 2014 is among a strong trio of youngsters Buffalo has accumulated and will be a large part of the team's future.
Reinhart will see more ice time and stronger linemates than past seasons and will benefit from it almost as much as his mates will from him in 2017-18.
Jack Eichel, Ryan O'Reilly, and Rasmus Ristolainen will be picked up before Reinhart and he can be had late before he blossoms into a 60-point player.
Carolina Hurricanes

Sebastian Aho | RW

Aho was among the best rookies this season but was overshadowed by the tremendous rookie class around the league. The soon-to-be 20-year-old isn't as strong as a cross-category player as others on this list, but he has a solid chance for 25-30 goals and 60-65 points this year.
The speedy Finn plays a phenomenally skilled game and will be a huge piece for an up-and-coming Hurricanes team that narrowly missed the playoffs last season.
While Aho finished second on the team in goals and points, Jeff Skinner, Justin Faulk, and Jaccob Slavin could still be selected before Aho, so keep an eye on him.
Columbus Blue Jackets

Cam Atkinson | RW

Atkinson, 28, had a career year last season, tallying new highs of 35 goals, 27 assists, 62 points, and a plus-13 rating. He played a large part in the Blue Jackets posting their best season in franchise history. He also notched career highs in shots, time on ice, and power play points.
He raised his game and has the opportunity to duplicate his success next year. Penalty minutes are just about the only category Atkinson doesn't cover, but he has consistently posted 22 penalty minutes in each of the past three years.
Artemi Panarin, Sergei Bobrovsky, and Zach Werenski are Columbus' top fantasy candidates, but Atkinson won't sit around for long.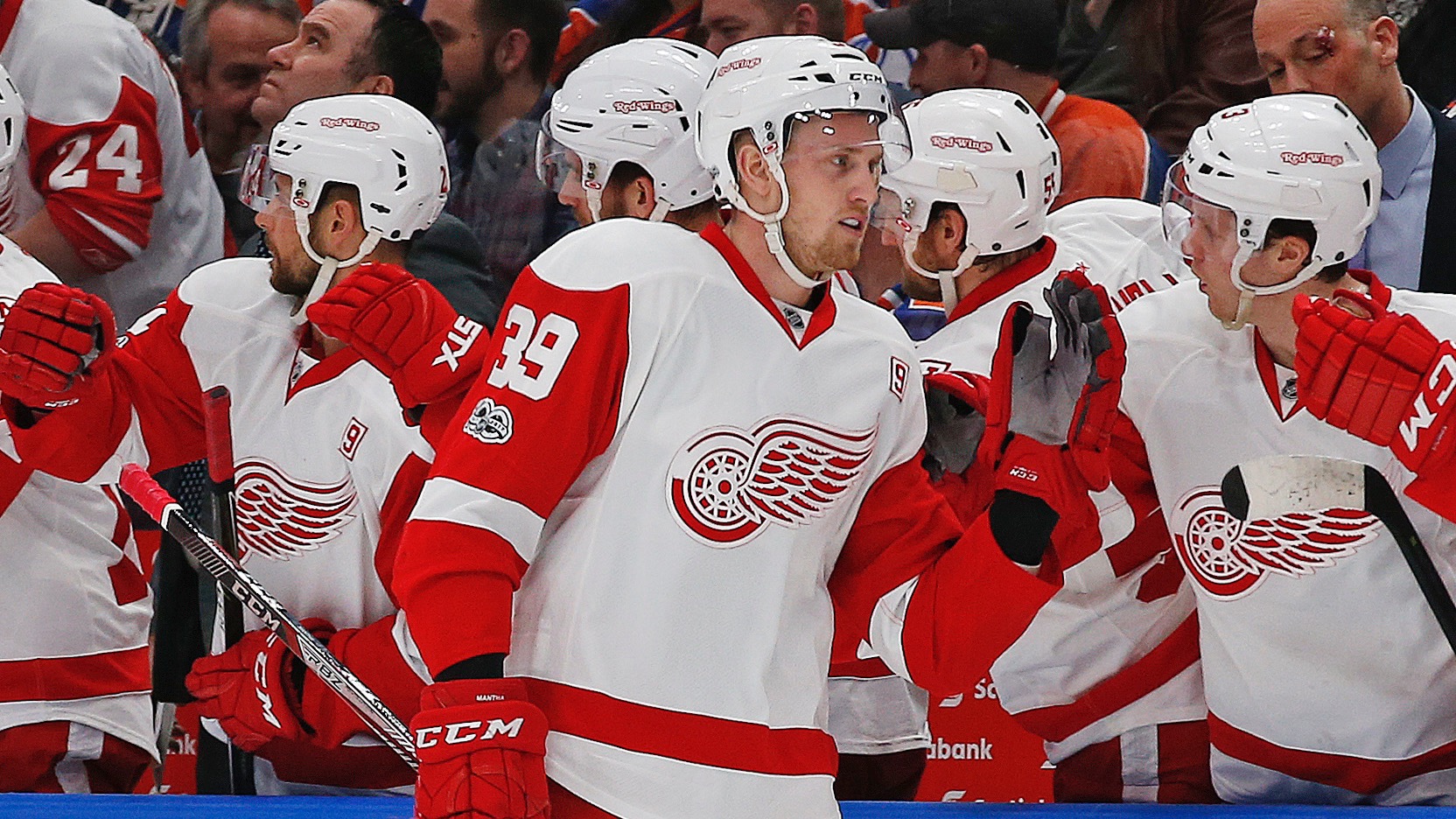 Detroit Red Wings

Anthony Mantha | RW

Mantha broke onto the scene last year and would have recorded his first 20-goal season had he not broken his hand in a fight. His solid possession numbers will translate into points as he grows his game.
The 22-year-old's development has been frustrating for fans and the organization, but Mantha cemented himself as a true NHL player last season and will earn more time as coach Jeff Blashill puts him in a position to succeed.
Henrik Zetterberg, Jimmy Howard, and bounce-back candidate Dylan Larkin are among the Red Wings' best fantasy options, but Mantha has the ability to overtake each of them by the end of the season.
Florida Panthers

Aaron Ekblad | D

Ekblad was the No. 1 pick in 2014 and quickly lived up to the hype as a premier defenseman way ahead of his time. At 18 years old, he recorded 12 goals and 39 points in his rookie season and became the Panthers top defenseman.
Management boldly expected him to become a top-end defenseman in his third season and rebuilt the entire blue line, which proved to be a bad choice. However, Ekblad is destined for resurgence and is still just 21.
Aleksander Barkov, Vincent Trocheck, and Jonathan Huberdeau overshadow Ekblad among Panthers players, but the young blue-liner is destined to return to his promising play from his first couple of seasons.
Montreal Canadiens

Artturi Lehkonen | LW

Lehkonen was a slight surprise for the Montreal Canadiens last season as he earned a roster spot out of training camp. The 22-year-old Finn continued to surprise as he scored 18 goals and 28 points as a depth player.
Lehkonen's skill shows he is ready to take a step forward next season and is protected by relatively low expectations as Montreal's retooled blue line and addition of Jonathan Drouin take center stage for the Stanley Cup-aspiring team.
Carey Price, Shea Weber, and Max Pacioretty will be the first Canadiens players to be drafted and others will likely go before Lehkonen, as well. However, his upside makes him a strong sleeper pick.
New Jersey Devils

Marcus Johansson | LW

Johansson, 26, had a career year last season with the Washington Capitals and was a steal of a deal for the New Jersey Devils thanks to Washington's salary-cap issues. Johansson had been a consistent scorer for Washington until he discovered another level last season both offensively and defensively.
The Devils are among the most improved teams this offseason, and a bounce back-season from Cory Schneider could see the Metropolitan Division team get back into playoff contention.
Taylor Hall, Kyle Palmieri, and first-overall pick Nico Hischier may be valued over Johansson, but it would be foolish to expect him to wait around after his career year.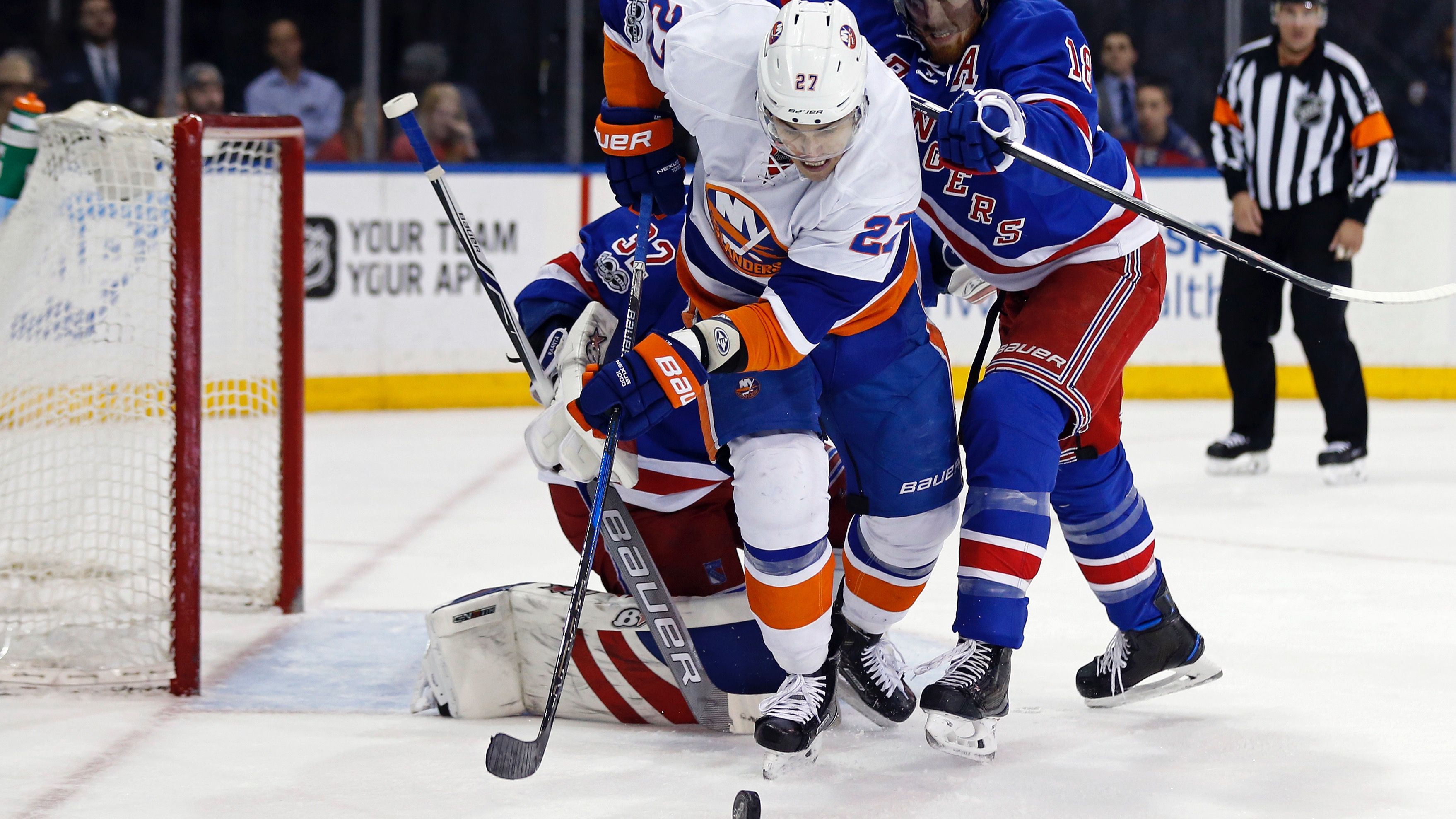 New York Islanders

Anders Lee | LW

Lee, 27, has proven to be a reliable goal scorer in his short NHL career and should balance out his goal-to-assist ratio as he continues to learn the American game. An increase in assists is likely and will only raise his fantasy stock as the season goes on.
Lee is a shot-producer and also chips in penalty minutes, power play points and contributes hits for leagues that track that statistic. A turnaround season from Andrew Ladd, John Tavares, and newcomer Jordan Eberle will help grow Lee's game and point totals.
Tavares, Eberle, and Johnny Boychuk will be the most targeted players on New York and Lee should remain available in mid-to-late rounds as a strong steal.
New York Rangers

Pavel Buchnevich | RW

Buchnevich showed flashes of brilliance last season, his first in the NHL. Injuries limited him to just 41 games, but he managed to put up eight goals and 20 points. He will become a reliable forward for a team moving forward without Derek Stepan, Oscar Lindberg, and Brandon Pirri.
The 22-year-old showed a learning curve in his rookie season, but his success in the KHL will translate to the North American game as the Rangers' Stanley Cup window remains open for now.
Henrik Lundqvist, Mats Zuccarello, and Kevin Shattenkirk lead the way for New York. Buchnevich's flashes of skill make him an easy pick late in the draft unless someone jumped on his potential early.
Ottawa Senators

Jean-Gabriel Pageau | C

Pageau is among many Ottawa players that could be identified as a sleeper pick due to the team's score-by-committee tactic. Entering the prime of his career at age 24, Pageau will find himself in a bigger role after a strong playoff showing and will play with high-caliber NHL players.
Pageau could be on the verge of a breakout year and will increase his cross-category production with a rise in ice time for the win-now Senators.
Erik Karlsson, Mark Stone, and Mike Hoffman have shown to be reliable fantasy assets on the Senators, but Pageau is prepared to take the next step after a strong playoff performance. However, Bobby Ryan, Clarke MacArthur, and Kyle Turris remain viable options as well.
Philadelphia Flyers

Ivan Provorov | D

Provorov was another overshadowed rookie who was a victim of the strong class. At a ripe 20 years old, he was hot and cold but earned big minutes for this stage of his career, and he could prove to be a better cross-category player than Shayne Gostisbehere, who will be eyed as the Flyers' number one fantasy defenseman.
Provorov is a strong hitter and blocker worthy of you pick if your league tracks those stats.
Claude Giroux, Jakub Voracek, and Wayne Simmonds remain the best options on Philadelphia, leaving Provorov open in mid-to-late rounds.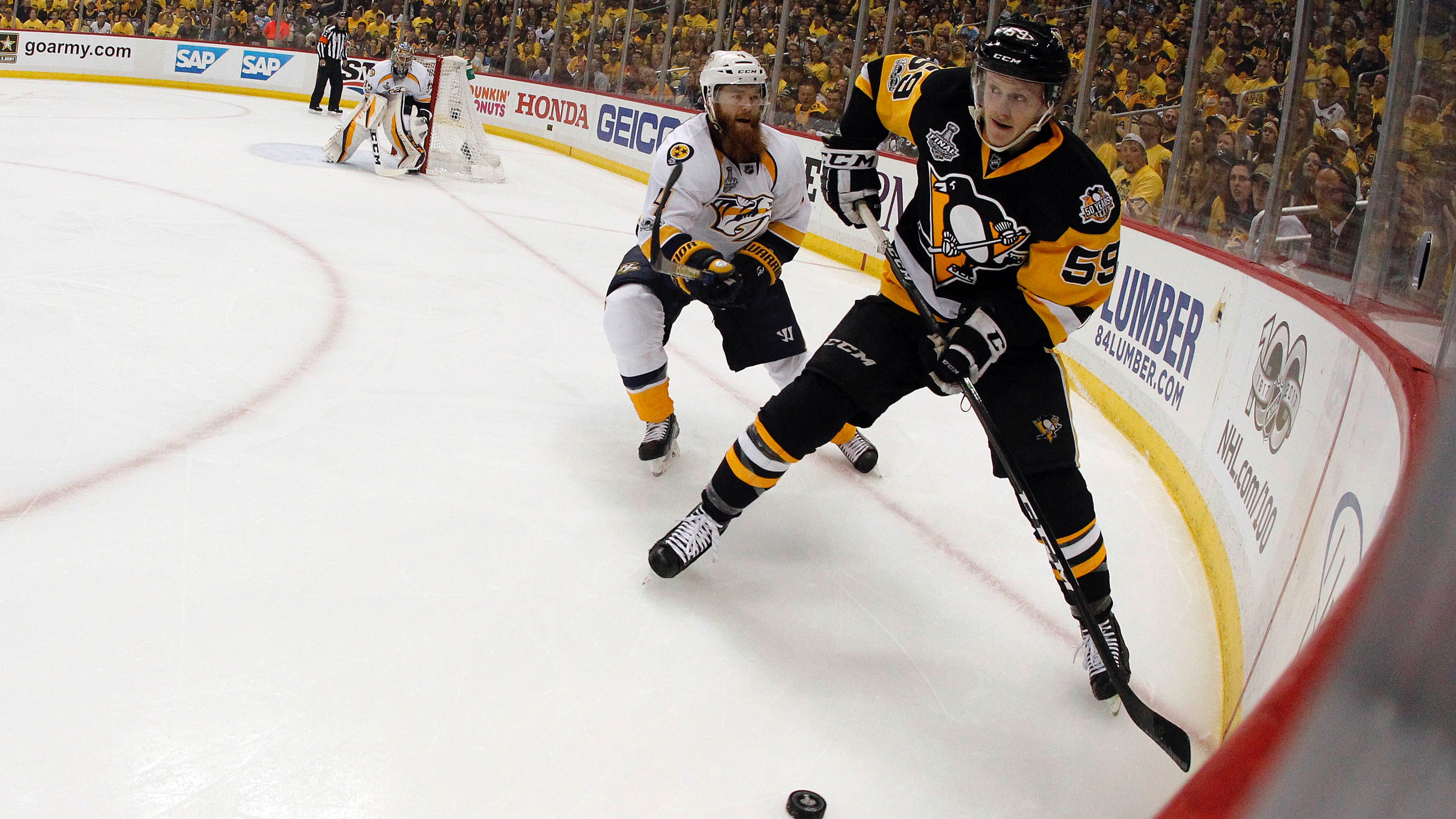 Pittsburgh Penguins

Jake Guentzel | C

Guentzel played with the best linemate he's ever seen last season in Sidney Crosby and was able to establish solid chemistry with the superstar, which is easier said than done. Guentzel scored near a point per game and even managed to up his play during the playoffs, helping the Penguins win back-to-back Stanley Cups. The combination of youth -- Guentzel is 22 -- and experience will help him continue to grow.
He'll see significant minutes alongside Crosby again in 2017-18 and his ability to benefit from his linemates makes him a solid sleeper pick.
Crosby, Evgeni Malkin and Kris Letang will lead Pittsburgh's players in the draft, but Guentzel has shown proven chemistry with Crosby and will score his way into 100 percent ownership.
Tampa Bay Lightning

Brayden Point | C

Point, 21, displayed the depth of the Lightning last season and he could surpass Tyler Johnson as the team's second line center in 2017-18. Tampa Bay is destined to bounce back next season and Point will play a big part after Steve Yzerman traded Valtteri Filppula and Brian Boyle.
Point scored 18 goals and 40 points in 68 games and will see a rise in games played, ice time, and scoring across the board. He'll play with legitimate NHL linemates wherever he falls in the lineup.
Nikita Kucherov, Victor Hedman, and Steven Stamkos are undoubtedly the Lightning's best fantasy players, but Point is in prime position to be a draft steal.
Toronto Maple Leafs

James van Riemsdyk | LW

Van Riemsdyk has scored at a consistent 25-goal and 55-plus point pace over the past four seasons. He has grown into a reliable winger for the Maple Leafs and has continued his scoring rate even as his average ice time has decreased by roughly five minutes since 2013-14. At 28, he should be at the peak of his abilities.
He produces shots at an elite level, chips in power play points, and is surrounded by young players that will continue to develop to help maintain his stellar play.
However, Auston Matthews, Mitch Marner, and William Nylander will be the first Leafs chosen, but van Riemsdyk's consistency makes him a prime target among Toronto's players.
Washington Capitals

Andre Burakovsky | LW

Burakovsky is a prime candidate for a breakout year. The young Russian -- Burakovsky is just 22 -- will be handed a larger role for the Capitals after the loss of wingers Marcus Johansson and Justin Williams.
He will see an increase in ice time, which will help support an increase in shots, which will translate to an increase in production of goals, assists, points, and other categories.
Alex Ovechkin, Nicklas Backstrom, and Braden Holtby remain the forefront of Washington's fantasy assets and will leave Burakovsky open to be had in middle rounds.
---
You can find the Western Conference dark horse list
here
.
Have a question or a comment for Jacob Messing? You can find him on Twitter
@JMessing23
.